This past weekend @mrsbozz and I decided to do some Fall camping. I wrote a quick Partiko post about it on Saturday.
That same day, we woke up a bit early and decided to go for a walk with Jovi. This was the latest in the year we have ever gone camping and it was weird to wake up in the morning and see frost on the ground.
Thankfully, we have a camping trailer to keep us warm, but temperatures in the 20's (F) are cold no matter what kind of shelter you have.
We had a little bit of breakfast while we waited for it to warm up a little bit and then we headed out. The first picture here is one of the trails we followed after we left the campground.
---
The campground sits on Lake Cadillac in Cadillac, MI. There is a canal on the North side of the campground that connects Lake Cadillac to Lake Mitchell on the other side of Highway 115. There is a bridge on 115 that runs right over the canal and you can walk under the bridge to get from one side of the road to the other.
The camping sites on the canal are prime real estate in the Summer months. We have only been able to get a spot on the canal one other time. This late in the year, finding a spot on the canal was no problem.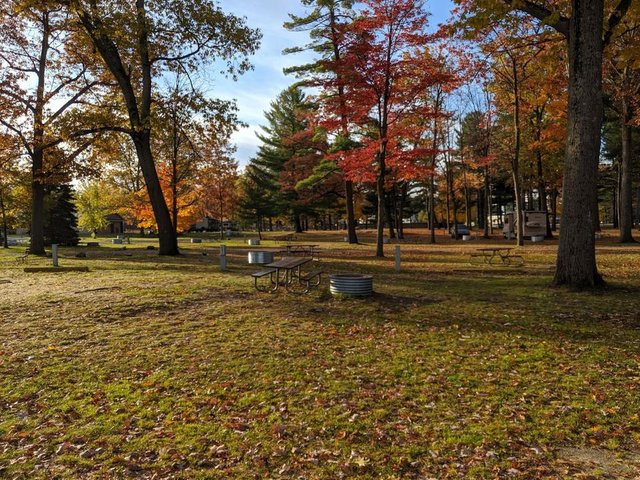 ---
In fact, I can think of only one other time that I have ever seen this park so empty. Usually it is packed full with campers, motor homes, pop ups, and tents in the 200+ lots that are available. Although it isn't very isolated like some of the State Parks in Michigan it continues to be a popular place for people to visit.
I think part of the reason is the sunrises and sunsets are so amazing over each of the lakes. The other reason is Lake Mitchell has a pretty clean and expansive beach that allows for wonderful weekends of water play.
They are both decent fishing lakes as well sporting many varieties of fish. I have caught my fair share of pan fish on these lakes and on any given day in the Summer the lakes are packed with fishermen, tubers, water skiers, jet skiers, pontoons, and kayaks.
---
There is a path that runs along the North shore of Lake Cadillac and takes you all the way into town. @mrsbozz and I walked over a mile down the path before we decided to turn around and head back to the campground.
Later that night she would take another walk with her friend, Jovi, and her friends kids. She ended up clocking over five miles for the day on her Fitbit!
---
We arrived back at the campground and decided it was time to start a fire. I had used up all of the wood for the fire the previous night so my friend and I went out with his truck and got some more.
Here is another shot of just how desolate the campground is in Fall.
---
We finally got our hands on some wood and that evening while @mrsbozz was taking her aforementioned second walk, I sat by the fire.
---
This has been a post for #wednesdaywalk started by @tattoodjay. It is a great project to get people out and moving and sharing the world around them!
all pictures were taken by me or @mrsbozz
---
---