Introducing NEOXAG Bid Bot Sink !! Delegate Steem Power and Earn NEOXAG Each and Every day + Passive profit for Upvote buyers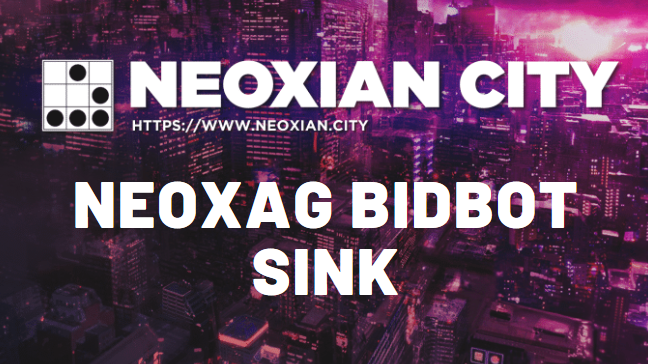 There have been some exciting things happening in the last few days, almost every active steem users know about NEOXAG (a.k.a Neoxian Silver) Token and also brand-new tribe neoxian.city which is a Nitrous instance of Condenser. For more information please read Neoxian City - A New Scot Tribe On the Steem Blockchain.In this post i tried to cover everything you need to know about neoxian.city tribe.
There has been many features added on neoxian.city tribe like : Token Delegation, Steempeak tribe active etc and all this happens in just 5 days , YEAH you heard it right just in 5 days . The NEOXAG Bid Bot Sink has been in the works for last 2 days & it's completed so fast . So, here we are releasing our NEOXAG Bid Bot Sink @neoxiancityvb (Neoxian city voting bot) .
We already know there 5 others SE token based Bid bot has been released and after @neoxiancityvb released there is 6 bot out there who only accept Steem Engine Tokens.
Many people have negative thinking about Bid Bot's , because there is a chance to face loss by using those . But , in this case we are making sure that by using @neoxiancityvb you will not face any loss . The reason is our Min ROI set up , we set our minimum ROI(Return Of Investment) from 0% to 20% . That means it won't calculate and distribute a negative ROI vote, though if someone overbid it will be refunded automatically .
How it works
---
You can send bid to @neoxiancityvb from steem-engine.com , neoxian.city & Keychain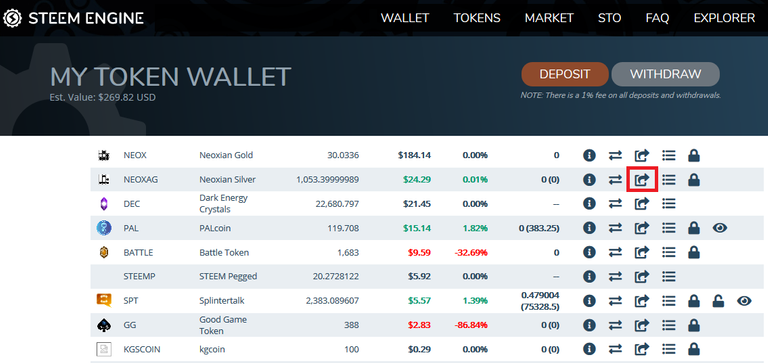 Go to your steem-engine.com wallet , click this

icon to send your tokens as seen in the picture above, click this.
In the TO field type neoxiancityvb, the amount can not be less than 0.01 NEOXAG. In the memo add The URL of the post you want upvoted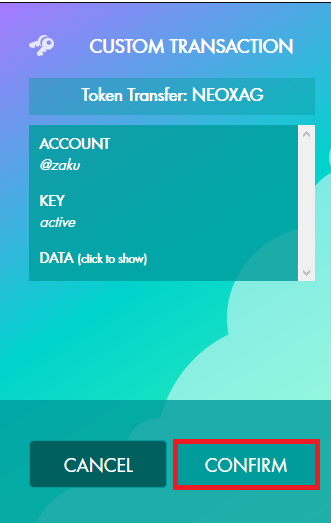 After you have filled all the fields and click send, Key Chain will ask to confirm the transaction.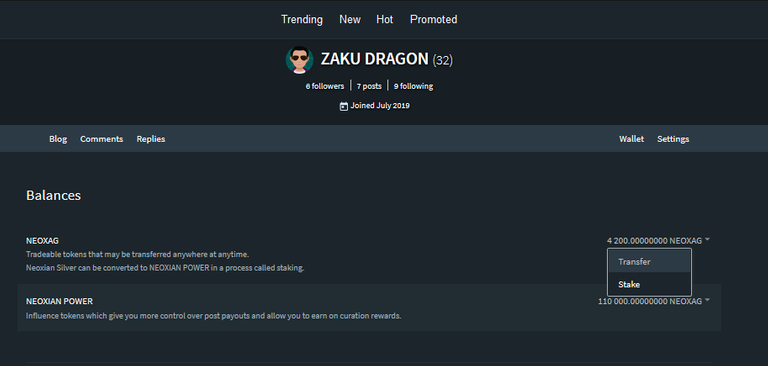 Go to your neoxian.city wallet , click on transfer it will show you a similar wallet window like steemit.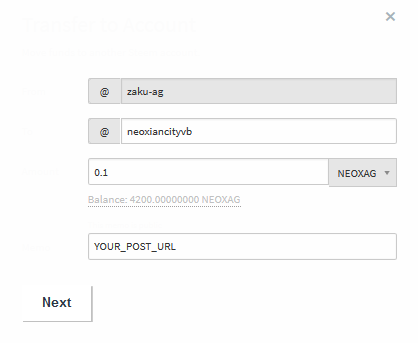 To: neoxiancityvb , Amount: any amount but no less than 0.01 NEOXAG, Memo: URL of link you want upvoted, see the example below.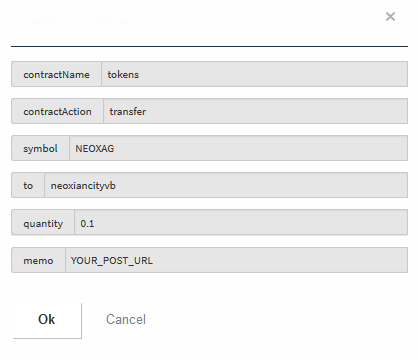 Double check the transaction Details and confirm .

---
To me this is the most easy way to send Bid to @neoxiancityvb .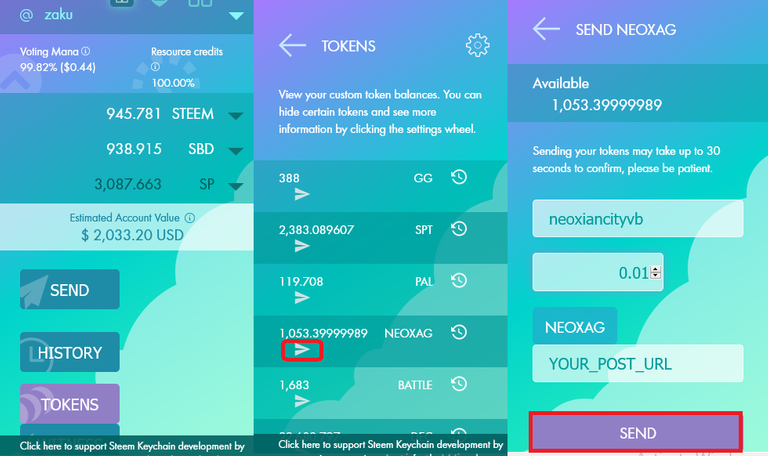 Click on Steem Keychain Browser Extension , Go to your Tokens balance , You will see the list of all the tokens you own, find the NEOXAG token. Click the send icon (small arrow), next fill in the fields To: neoxiancityvb , Amount: any amount but no less than 0.01 NEOXAG, Memo: the URL of the Post you want upvoted. Click send and it's done !!

@neoxiancityvb account has no staked NEOXAG which means the upvote delivered will only earn you steem/sbd rewards. That means you will not receive any NEOXAG coins for using this bidbot.
If the bid window is full, your request will move into the next window. If that is also full you will be refunded.
Do not send posts over 3.5 days old! If you send the fund will be refund to you automatically.
Please remember that 0.01 is the minimum and don't forget to include your URL in the memo. Maybe in future we will increase the limit of minimum , so i suggest you to check steembottracker.com

Delegate to @neoxiancityvb & earn liquid NEOXAG token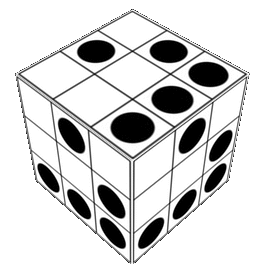 So here is another chance to earn liquid NEOXAG on daily basis . We all know NEOXAG have mining token named NEOXAGM and if you look at the market then you will understand how much rarity maintaining to release new mining tokens on market . Whenever a new NEOXAGM mining token placed to market it gains 10 Steem price . So , the price will keep increasing. In that case you can earn NEOXAG everyday just by delegate Steem Power to @neoxiancityvb Bid bot.
How are we going to Distribute the daily earning between delegators ?
---
Well the distribution process is simple, People will send NEOXAG to buy upvote from @neoxiancityvb & after bid round complete they will get upvote on steemit and the rewards will be STU ( Steem Token Unit ) . The sending NEOXAG will be added on our daily reward pool , after a certain time NEOXAG will be distributed between all delegators according to their delegate amount , below a example which will make it more clear .

So, this is how payout going to be distributed . ( Suppose if total reward pool is 1000 NEOXAG , then SP DELEGATOR A will get 50% of that reward pool which is 500 NEOXAG .)
Some quick delegation links
Also you can send Custom Amount of Delegation to @neoxiancityvb From this : Custom Amount

That's all for today , I am inviting you to visit our city : Click on this icon to enter 👉 Though some used to call it Discord channel , but we(citizens) call it our city .

---
---