Who can resist a snack or a quick bite? I know I can't; especially something cheesy and crunchy:)
I dare you to have just one of these flaky Sesame Seed pastries filled with hot English Mustard, Bacon & Mature Cheddar Cheese - and I bet my bottom dollar you will be going to that platter again and again; they were absolutely irresistible!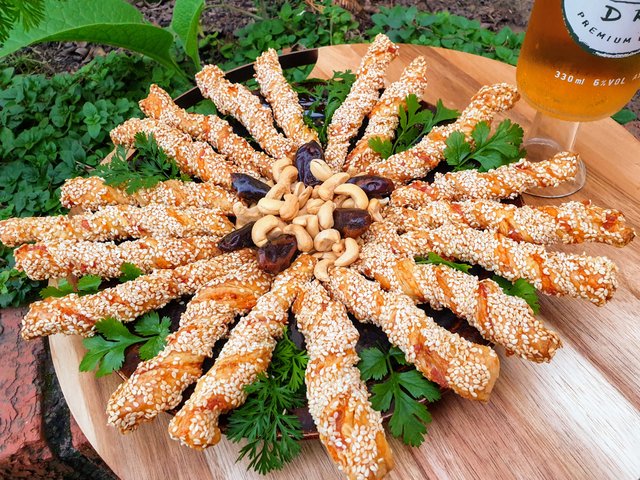 I think most of my foodie friends know by now that I love using ordinary pantry staples in my cooking and baking; not only does it save the bucks, but it also saves a ton of time and effort!
So for this week's Cook With Us Challenge, now on Whaleshares but still run by the masterchefs @pandamama and @offoodandart, I've made Bacon & Cheese Sesame Seed Twists using a flaky buttery homemade pastry filled with a good quality hot English Mustard, Bacon bits & Mature Cheddar Cheese.
Would love to compete with some of our old contestants over there :)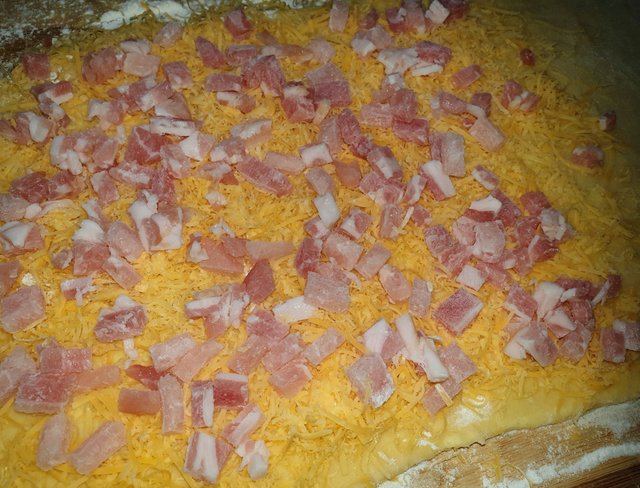 RECIPE
Flaky Pastry
125 gram Ice Cold Butter
375 ml Cake Flour
Salt
1 Egg yolk + enough Cider to make 100ml liquid - you can drink the rest;)
Digressing from my pastry recipe here - it usually calls for 2 tsp vinegar & iced water but I felt like trying cider & it worked like a charm.
Grate most of the butter into flour & salt & work in with a knife till it resembles fine breadcrumbs.
Add liquid and knead to a smooth pastry.
Roll out into a long rectangle, grate some butter on one third, fold over, grate remaining butter over, fold final third over & pastry's ready for action.

Filling
Hot English Mustard
Approx 200 ml Mature Cheddar Cheese - grated
Approx 100 gram frozen Bacon - dice into tiny pieces whilst frozen
1 Egg - beaten
Sesame Seeds
Roll out pastry into a rectangle, fairly thin.
Spread on half with mustard, top with Cheese & Bacon.
Fold over pastry & press down a little to seal.
Cut into strips, give an egg wash on both sides, roll into Sesame Seeds & twist.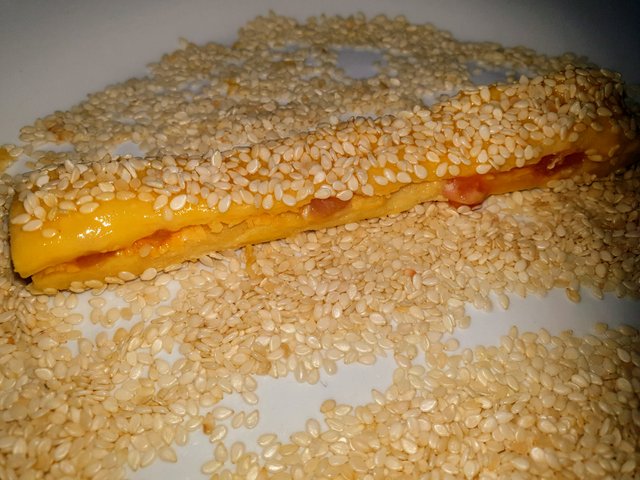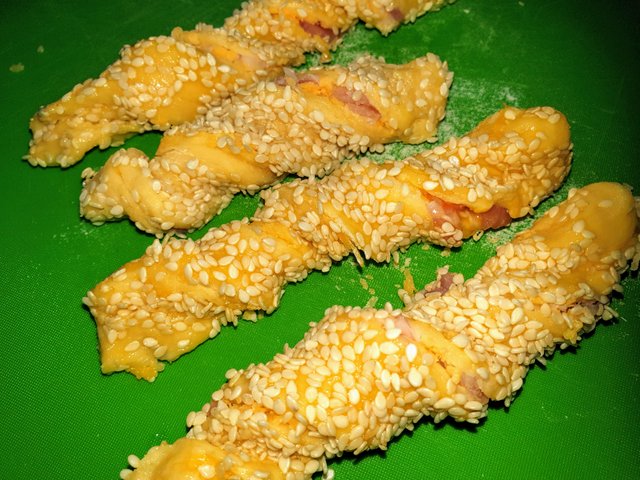 Leave in freezer for approx 10 min.
Bake at 190C till a nice golden brown.
Place on wire racks to cool a little before serving.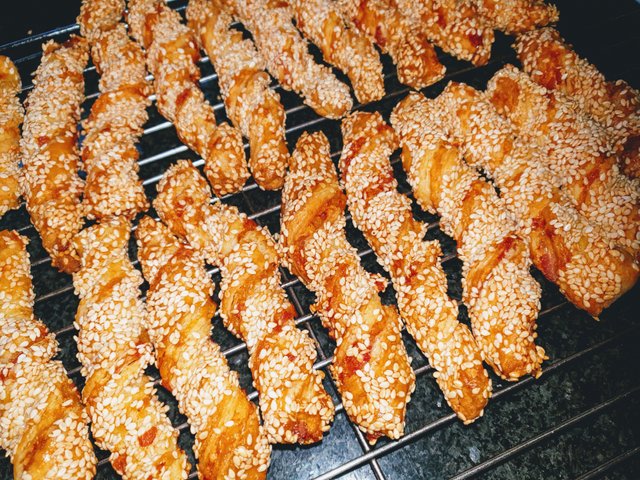 BON APPETIT!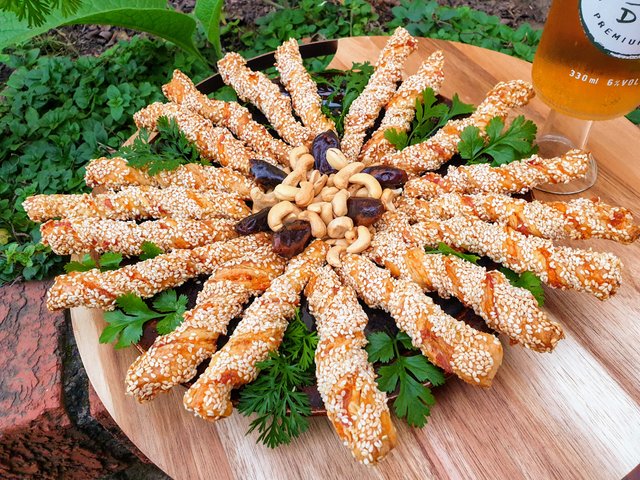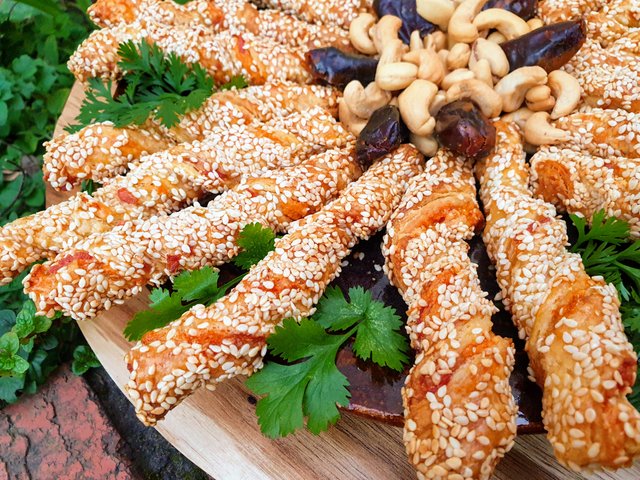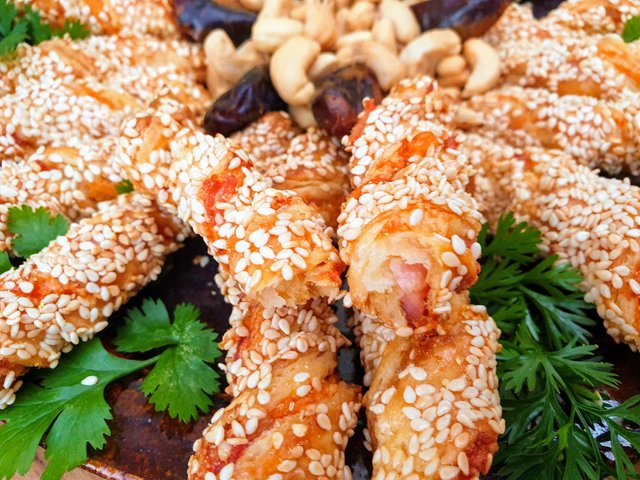 I enjoyed my snacks with a light Cider and served them in these quirky glasses we bought from a street vendor who made them from old cider bottles, quite ingenious!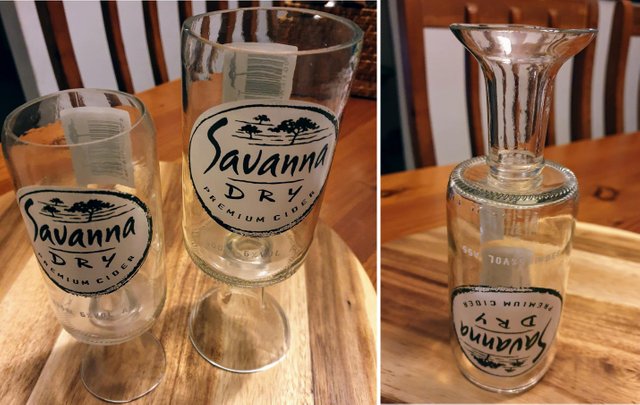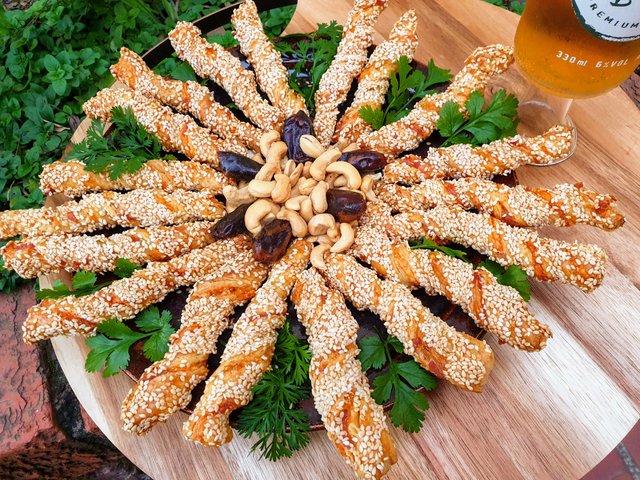 A quick look at the making of these snacks: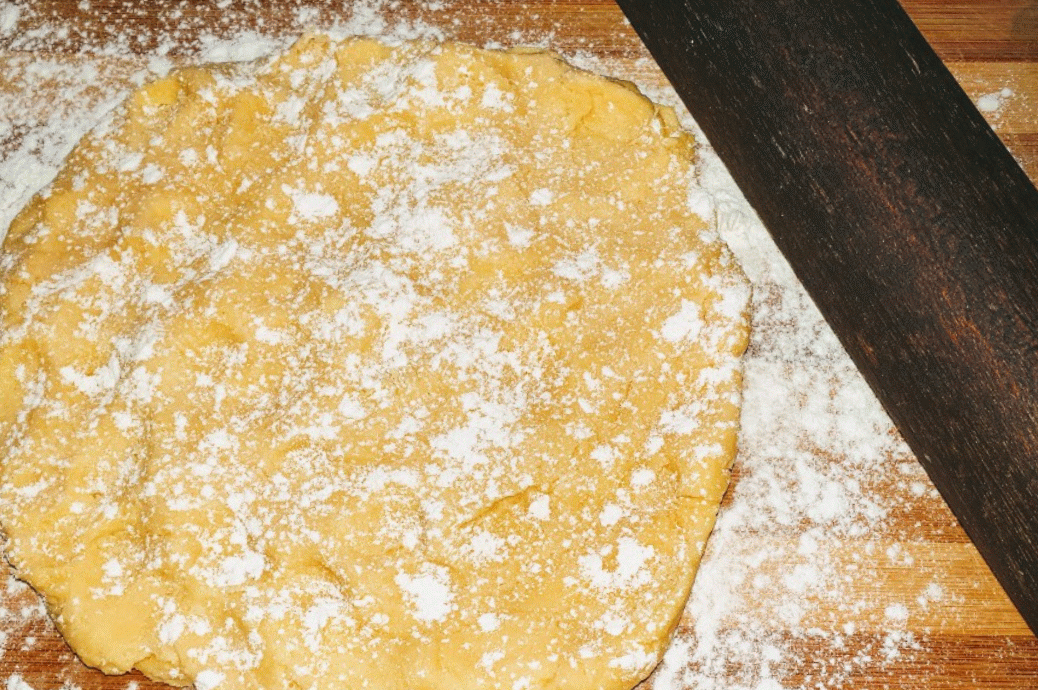 First shared on my Whaleshares blog for #cookwithus.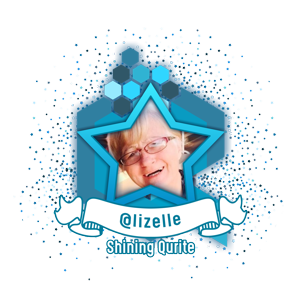 Original Content by @lizelle
Thank you for stopping by
Comments, upvotes & resteems all much appreciated :)
Copyright @lizelle - All Rights Reserved


Team South Africa banner designed by
@bearone