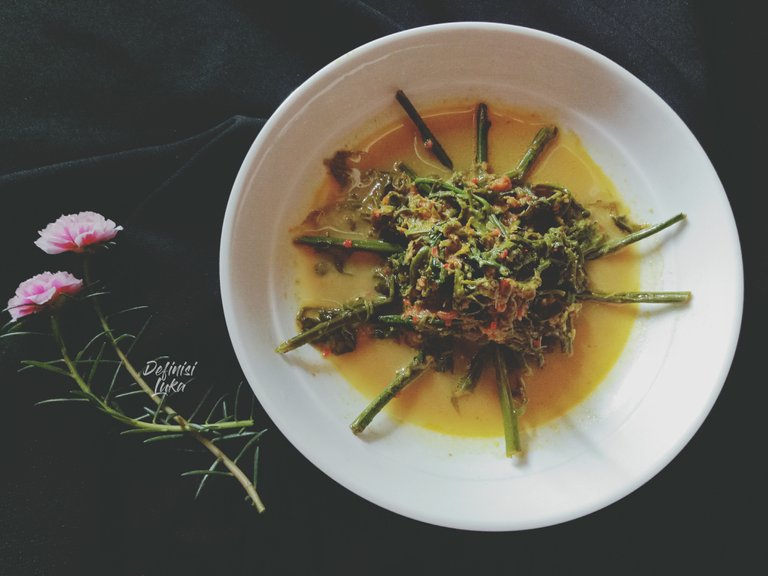 Have you ever seen such beautifully shaped vegetables as a violin head? This circular, curly and feathered fiddlehead is part of a young fern plant. The circles will slowly open into perfect fern fronds.
Fiddlehead Ferns does not look very popular, it does not mean not delicious and does not mean it does not have good nutrition.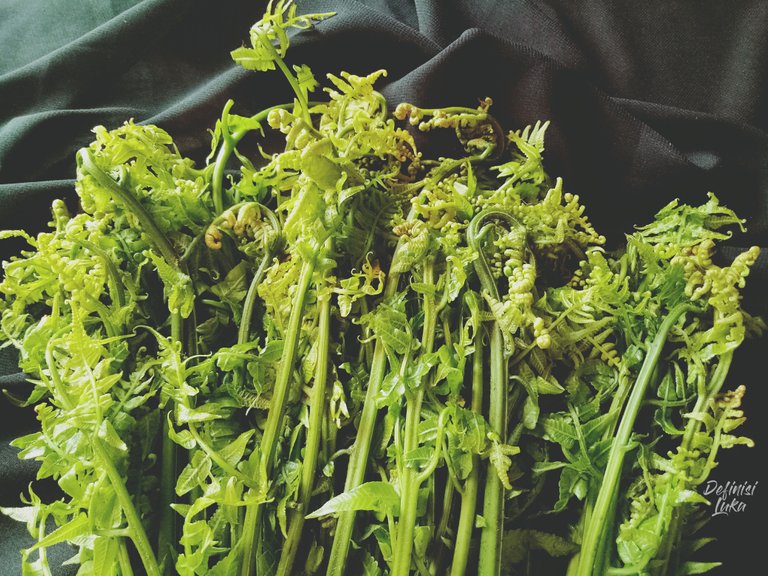 1. Facts about Fiddlehead Ferns
In Indonesia, we named this vegetable "Pakis". In some references, it is said that Fiddlehead Ferns is in great demand by late spring food enthusiasts among residents of Maine, Vermont in the US, and New Brunswick provinces in Canada.
Fiddlehead Ferns are a popular vegetable consumed in northern France, Southeast Asia, India, Nepal, Japan, Korea, China, Japan, and Taiwan.
But we need to be careful because there are Fiddlehead Ferns that are classified as poisonous. So you should make sure there are farmers who are experts in identifying the type of fern that is safe for consumption. In Indonesia, ferns that are safe for consumption are from the Diplazium esculentum species.
The taste of Fiddlehead Ferns is crispy like other green vegetables, like asparagus. Usually, Fiddleheads are taken from young fern plants, in a circular shape, not yet in the form of leaves. Stems near the circular part are still good for consumption, discard the stems that are dark green and are hard to cut stem because it will not be good for consumption anymore.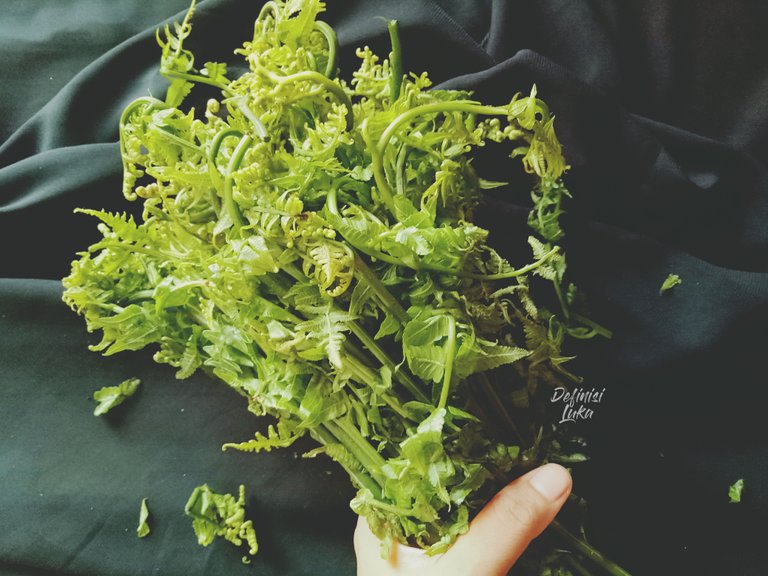 2. Nutrition Content of Fiddlehead Ferns
Fiddleheads contain a variety of vitamins and minerals, antioxidants, dietary fiber, and omega-3 and omega-6 fatty acids.
In addition, Fiddlehead Ferns contains 34 calories per 100 g but is low in sodium, but rich in potassium, which might make it suitable for people who need a low sodium diet.
There are also content of some B-complex vitamins such as niacin, riboflavin, and thiamine.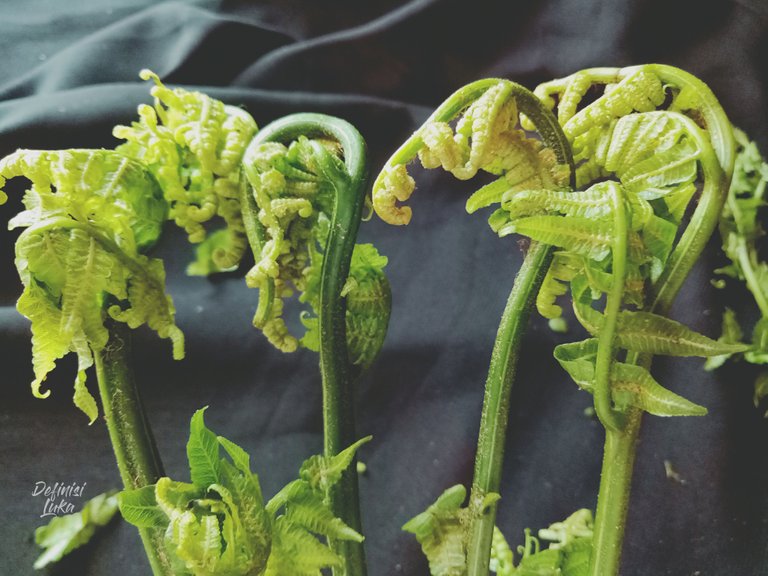 3. Natural Benefits of Fiddlehead Ferns
Prevent free radicals and fight infections in the body
Maintain healthy blood pressure due to high potassium content.
Prevents anemia because Fiddlehead Ferns contain copper and iron which are important components in the formation of new blood cells.
Helps maintain healthy eyes, oral cavity, and lungs because it is rich in vitamin A.
Prohibition For Gout Sufferers
Ferns contain purines which can cause pain in people with gout. This has also been proven in our community in Indonesia. Gout sufferers who eat Fiddlehead Ferns immediately feel the impact of unbearable pain.
Cooking time!
In Indonesia, we can easily find these Fiddlehead Ferns vegetables! The types of dishes we usually serve from Fiddlehead Ferns are cooked together with coconut milk and spices (read: GULAI PAKIS in Indonesia)
Let's look at recipes from Us that are suitable for inclusion in the vegetarian menu list!
1. Ingredients
400 g Fiddlehead Ferns or about 2 bunches
300 ml of water
60 ml of coconut milk
3 white lemongrass stems, bruised
2 cm galangal, bruised
1 sheet of turmeric leaves
2 kaffir lime leaves
1 piece of Kandis acid (if any)
A little oil for sauteing
2. Blended spices
2 red chilies
5 red onions
3 cloves of garlic
3 cm ginger
3 cm turmeric
2 candlenuts
2 teaspoons of salt
1 teaspoon ground pepper
How to cook:
Clean Fiddlehead Ferns. Cut and remove parts of the stem that feel hard and dark green.

Heat the oil. Saute ground spices, lemongrass, galangal, kandis acid, bay leaves, turmeric leaves, and kaffir lime leaves until fragrant.
Add water. Stir and cook until boiling.

Then add coconut milk. Cook on low heat, stirring constantly until it boils.

Enter the Fiddlehead Fern. Add salt and pepper to taste. Cook until cooked.

Raise it up.

Serve as a side dish to complement rice or can be eaten without rice.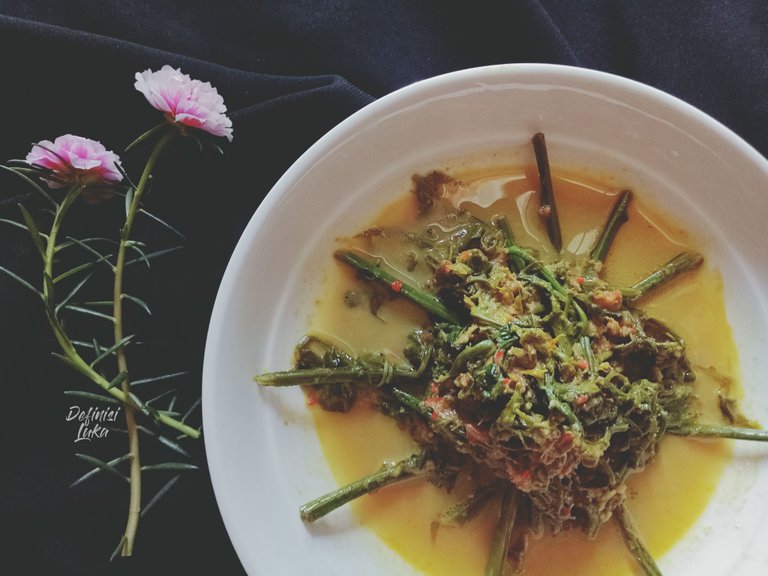 So, the end up Section?
How? Are you interested in this recipe, and are you familiar with these vegetables?
For consideration of health issues, based on our experience in the community. Fiddlehead Ferns is prohibited for people with Gout.
The recipe GULAI PAKIS is the most famous recipe for serving Fiddlehead Ferns. This type of side dish can be added to the appetizing vegetarian menu.
Fiddlehead Ferns served with coconut milk has a taste that tends to be savory, rich in spices and slightly spicy typical of authentic Asian flavors. :)
We hope you like the dish from our kitchen today! We await your advice.
This vegan recipe is special edition for FRUITS AND VEGGIES MONDAY, by @lenasveganliving, with the host @plantstoplanks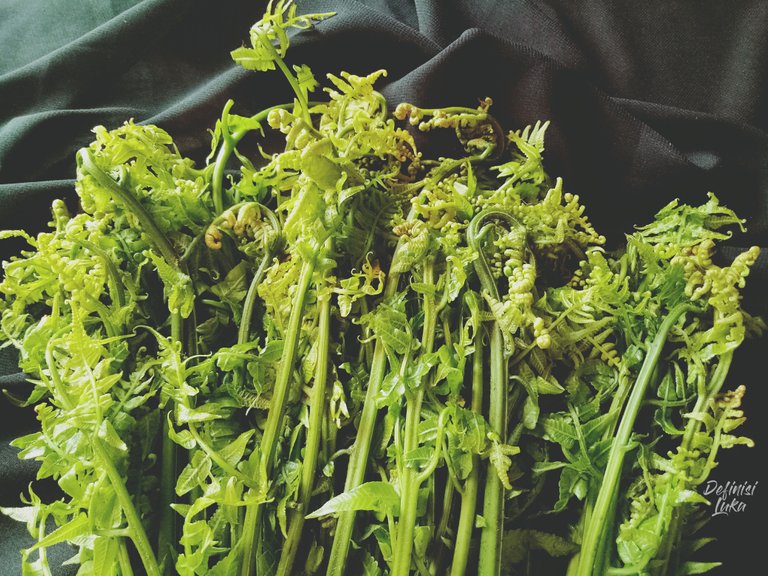 Health References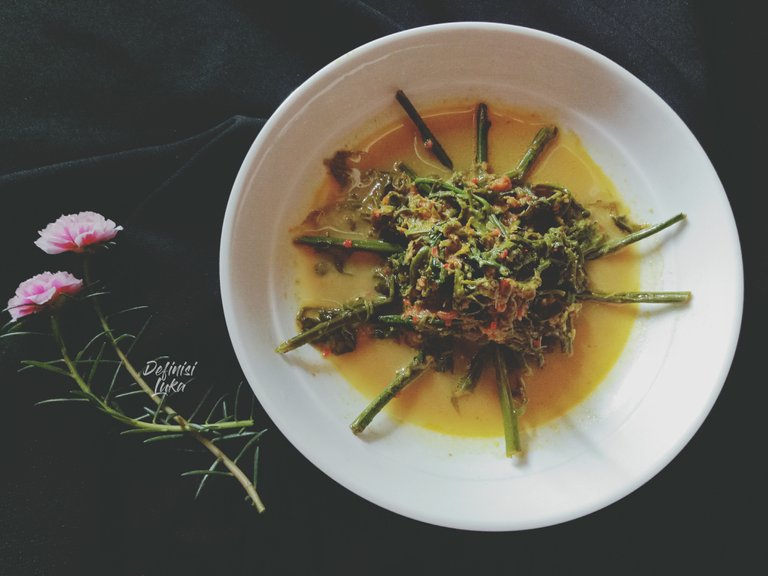 Please, follow us and keep on eyes our feed.
Regards,
Definisi Luka and The Team.