It was just recently while I google searched on watermelon benefits besides its juiciness as my children kept asking for watermelons daily due to our hot weather here, I found that National Watermelon Day do exist. What an interesting cute day to celebrate. We do not have this day here in Malaysia although we absolutely love watermelons as fruits itself or as juice.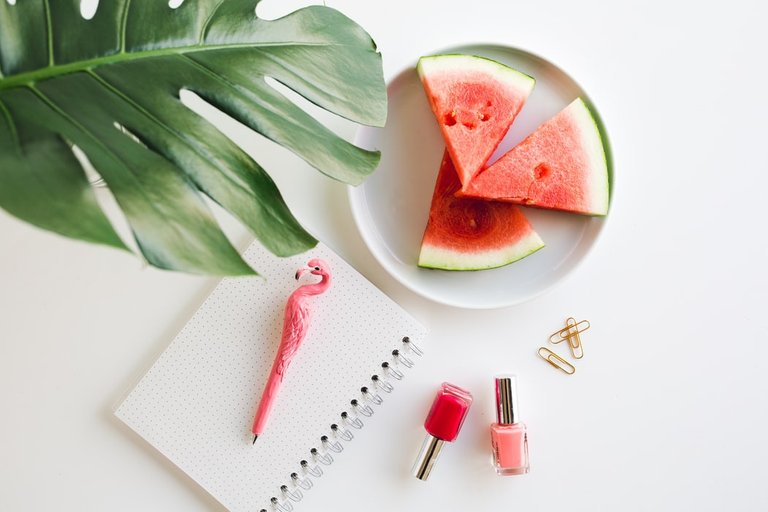 Photo is from unsplash.com, taken by Team Easil
Watermelon is often used as dessert after a full meal on restaurants, it is so cheap, usually it is a complimentary by the restaurants or hotels. However, in Chinese culture, we believe watermelon is cooling to the body, hence consuming it alot may cause our body to be weakened and easily got a cold. So there should not be days on watermelon only.
Nevertheless, it is always comforting to have a drink of watermelon juice when the weather is hot, we really love one particular juice shop called Juice Works which sells watermelon lychee juice. It is so refreshing when you drink it that one cup is not enough. Juices here are not cheap ao it is not our regular.
Often, our normal will be buying that whole watermelon at cheap price and cut them into pieces and we can have watermelon days up to three days. But as of the new norm now, instead of watermelon trucks, we notice there are many trucks on the road selling mangoes of varieties of breed; Rainbow mango, Banana mango, Thai Sweet mango, Kim Leng mango, mango lily, mango susu, at very cheap price too. 2kg at RM20, you get from 6-10 mangoes depending on the size of the mango. So we did have mango daysssss. Haha!
Own photos, just look at those sweet mangoes. Juicy and refreshing too!


This is another 5-minute freewrite using daily prompt by @mariannewest. You can check her out. I love freewrite because anything goes, no right or wrong, but having fun writing your thoughts or story. If you want to know more about 5-minute freewrite, click here.. Join us as at the @freewritehouse