One of the most rewarding aspects about Hive blockchain is that I have been earning 'almost' the same amount as I would have earned during a Bull Market. Ok that's not true, I would have earned 7x-11x USD.
Instead I opted for community. The upvote is the same; just not proportional to USD earnings. Ok yes that matters if you are a maximalist and you want to increase your perspective token. Then again Hive could pump and then I'm tempted to sell some.
The fiat game. I always ask myself what the hell am I cashing out into. I need it for living expenses (kind of important). I need it for fancy things (not so important). Sure I can buy fancy things with crypto just as well.
In actuality I am more from Hive than I ever was from Steem. Hive allowed me to continue my journey on dCITY, BRO FRUND, and of course LEO (shout out to Neoxian). I'm still blogging, and I'm still evolving on this blockchain. When I see so much FUD with twitter and facebook; I ask myself how is Hive so ignored!
What do I know. I'm terrible at marketing. Apparently Hive is just as terrible.
Hive provided me the reason to choose tokens built upoon Hive. Tags I use, tribes I belong to/still belong to. Hive is a journey and it is years in the making. In fact it's like it witnessed it's own exodus movement from STEEM.
Yah it's now Hive. You should check my activity out on STEEM. Even when I could have copy and pasted many of my blogs I just lost total intererst in STEEM. No activity.. even with EXTRA TRON tokens.
I staked that shit on gambling sites long ago.. thanks for the div's Justin dipshit.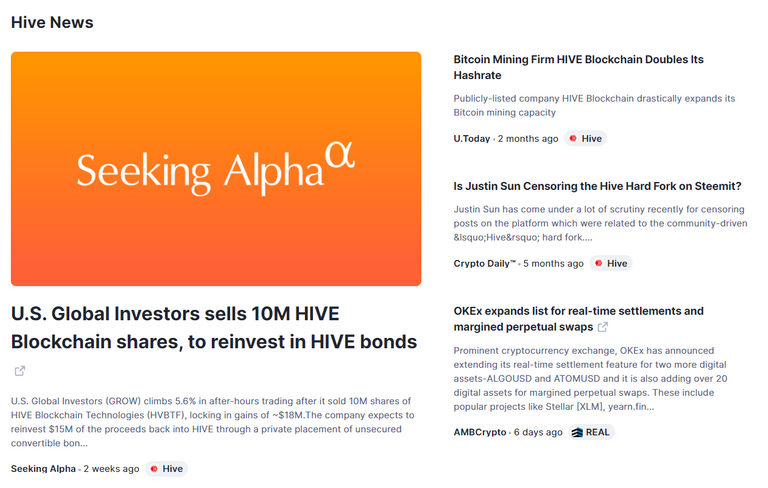 https://seekingalpha.com/news/3647994-u-s-global-investors-sells-10m-hive-blockchain-shares-to-reinvest-in-hive-bonds?utm_source=coinmarketcap.com&utm_medium=referral
Nothing to do with our Hive. Apparently www.coinmarketcap.com needs to realize which articles are actually connected to OUR Hive. It's a shame. I wish I was better at marketing myself. Someone should let coinmarketcap know their stock pick has nothing to do with crypto per say.
Posted Using LeoFinance Beta