La Máquina Bávara Sepultó Al Psg De Las Estrellas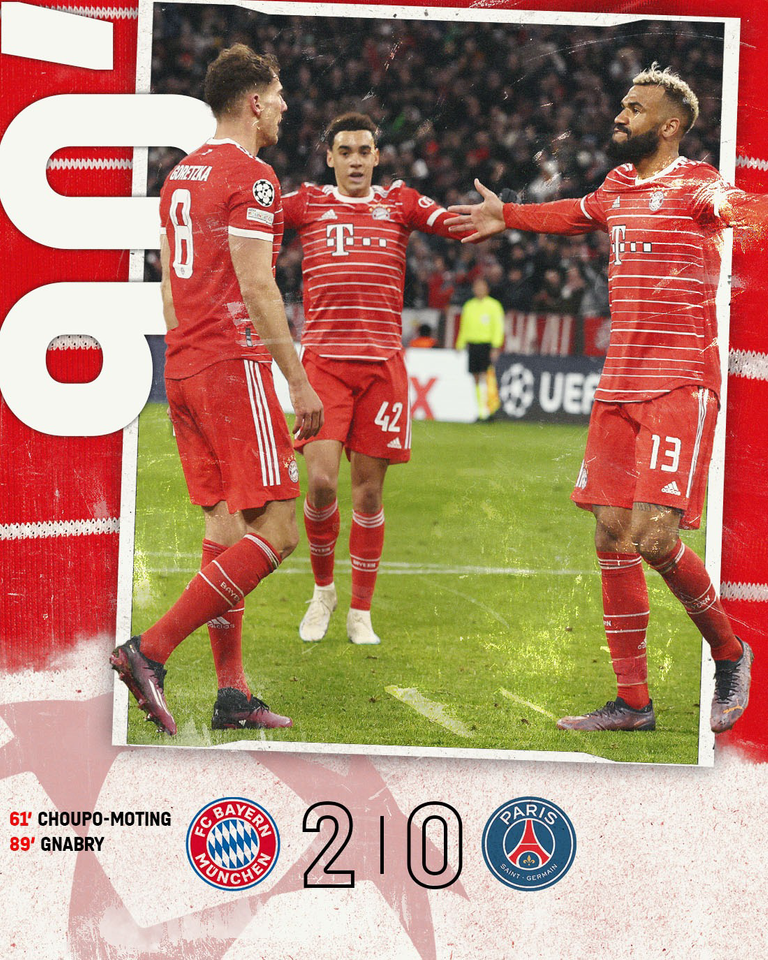 Fuente
Hoy disfrutamos de otra jornada maravillosa de UEFA Champions League. Se concretó otro fracaso para el PSG de Mbappé, Messi y compañía. Ésta vez su verdugo fue el Bayern Munich de Julian Naggelsman, sentenciando la serie con un segundo tiempo que fue para ponerlo en un cuadro y exhibirlo en los mejores museos. El equipo francés en ningún momento tuvo esa "vergüenza deportiva" para dar vuelta a la situación y otro año más se queda en los octavos de final del torneo más prestigioso a nivel de clubes. En los siguientes párrafos les estaré contando cómo se desarrolló el encuentro y cómo el equipo bávaro pasó de 0 a 100 entre el primer tiempo y el segundo. ¡Síganme!
Galtier puso para éste partido una línea de 3 defensores comandada por Danilo Pereira, Sergio Ramos y Marquitos; Hakimi y Nuno Mendes serían los encargados de darle amplitud por los costados al equipo; el medio lo conformó Verratti, Vitinha y Fabián Ruiz, para dejar arriba con total libertad de movimiento a Kylian Mbappé y Lionel Messi.
El Bayern formó con: Sommer; Stanisic, Upamecano, De Ligt, Davies; Kimmich y Goretzka en la mitad de la cancha; Coman, Muller, Musiala y Choupo-Moting en el centro de ataque bávaro.
Today we enjoyed another wonderful day of UEFA Champions League. Another failure for PSG of Mbappé, Messi and company. This time their executioner was Julian Naggelsman's Bayern Munich, sentencing the series with a second half that was to be put in a painting and exhibited in the best museums. The French team never had the "sporting shame" to turn the situation around and, for yet another year, they will remain in the round of 16 of the most prestigious tournament at club level. In the following paragraphs I will be telling you how the match unfolded and how the Bavarian team went from 0 to 100 between the first half and the second. Follow me!
Galtier put for this match a line of 3 defenders commanded by Danilo Pereira, Sergio Ramos and Marquitos; Hakimi and Nuno Mendes would be in charge of giving width on the sides of the team; the middle was formed by Verratti, Vitinha and Fabian Ruiz, to leave up top with total freedom of movement to Kylian Mbappé and Lionel Messi.
Bayern formed with: Sommer; Stanisic, Upamecano, De Ligt, Davies; Kimmich and Goretzka in midfield; Coman, Muller, Musiala and Choupo-Moting in the Bavarian attacking midfield.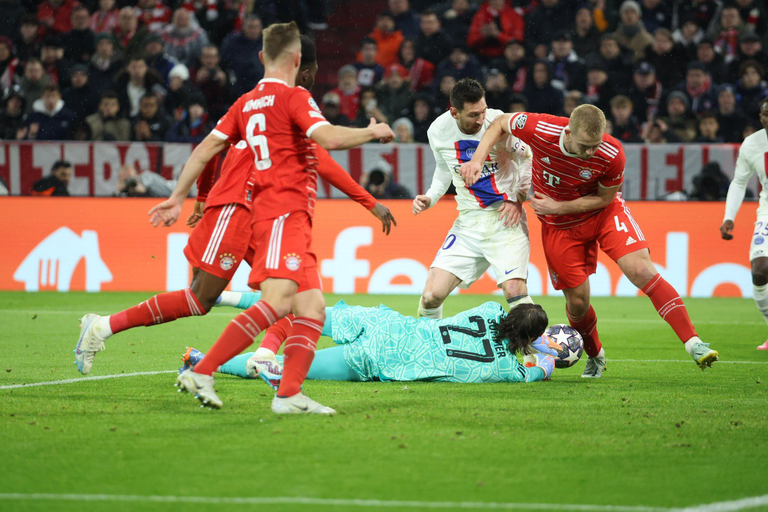 Fuente
El primer tiempo fue muy bien disputado por ambos conjuntos y estuvo demasiado parejo. El PSG se mostró muy bien compensado a la hora de recuperar el balón, no quedaba nadie fuera de lugar y siempre había un jugador encima de los del Bayern. Los mejores intentos en la primera parte, se dieron después de recuperaciones en la mitad de la cancha. Vitinha tuvo en sus pies la más clara del primer tiempo, cuando Sommer se complicó en salida y le quedó el balón al jóven mediocampista lusitano para que definiera a puerta vacía, pero éste no logró impregnar el balón de suficiente potencia y le dió la oportunidad a De Ligt para que la sacara en la línea de meta, evitando la caída de su arco y lo que significaba hasta ese momento el empate en la serie.
El complemento prometía para un golpe por golpe entre ambos conjuntos para ver quién se quedaba con llave que otorgaba el pasaje a los cuartos de final, pero no fue así...
El Bayern Munich activó el modo aplanadora y le pasó por encima a un PSG carente de respuestas, que había hecho un buen primer tiempo, pero que para estos segundos 45' minutos se quedó anonadado viendo como la maquinaria bávara se hacía con todos los balones de la mano de Kimmich y Goretzka y viendo cómo Kylian Mbappé era secado por su compatriota Upamecano, que lo tomó como referencia para estar pegado como una estampilla detrás de él para interceptar cualquier intento de la estrella gala. El primer gol de los bávaros, llegó tras una excelente presión (como toda la que realizó a lo largo de la segunda parte) de Muller sobre Verratti, que al verse sin opciones de salida y que nadie de sus compañeros le daba opciones, en ese momento de duda Muller le robó el esférico, para que el balón le quedara a León Goretzka, que en un acto de generosidad le cedía la pelota al costado a Eric Choupo-Moting para que el camerunés pusiera el 1-0 en el encuentro.
Los alemanes siguieron dominando a placer y tuvieron varias opciones más antes del segundo tanto que llegó al final del encuentro. Sergio Ramos fue el que más cerca estuvo en dos ocasiones de descontar en el marcador para los franceses, pero al minuto 89' las escasas oportunidades del PSG se dilapidarían, cuando Sergy Gnabry finalizaría una excelente contra en conjunto que terminó en asistencia de Joao Cancelo, para el 2-0 definitivo en la pizarra y el avance a siguiente ronda para los de Julian Naggelsman.
The first half was very well played by both teams and was too even. PSG were very well balanced when it came to winning the ball back, no one was out of position and there was always a player on top of the Bayern players. The best attempts in the first half came after recoveries in the midfield. Vitinha had the clearest chance of the first half at his feet, when Sommer got into trouble at the start and left the ball for the young midfielder from Portugal to score an empty goal, but he failed to get enough power on the ball and gave De Ligt the opportunity to clear it off the goal line, avoiding the fall of his goal and what meant until that moment the tie in the series.
The second half promised to be a blow for blow between both teams to see who would win the key to the quarterfinals, but it was not to be...
Bayern Munich activated the steamroller mode and ran over a PSG lacking answers, who had played a good first half, but for these second 45' minutes they were stunned watching how the Bavarian machine took all the balls by the hand of Kimmich and Goretzka and seeing how Kylian Mbappé was dried by his compatriot Upamecano, who took him as a reference to be glued like a stamp behind him to intercept any attempt of the French star. The first goal for the Bavarians came after excellent pressure (like all the pressure he applied throughout the second half) by Muller on Verratti, who, seeing that he had no way out and that none of his teammates were giving him options, in that moment of doubt Muller stole the ball, so that the ball was left to Leon Goretzka, who in an act of generosity gave the ball to Eric Choupo-Moting for the Cameroonian to make it 1-0 in the match.
The Germans continued to dominate at will and had several more chances before the second goal came late in the game. Sergio Ramos came the closest on two occasions to scoring twice for the French, but in the 89th minute, PSG's few chances were squandered when Sergy Gnabry finished an excellent counter-attack that ended with an assist from Joao Cancelo to make it 2-0 and advance to the next round for Julian Naggelsman's side.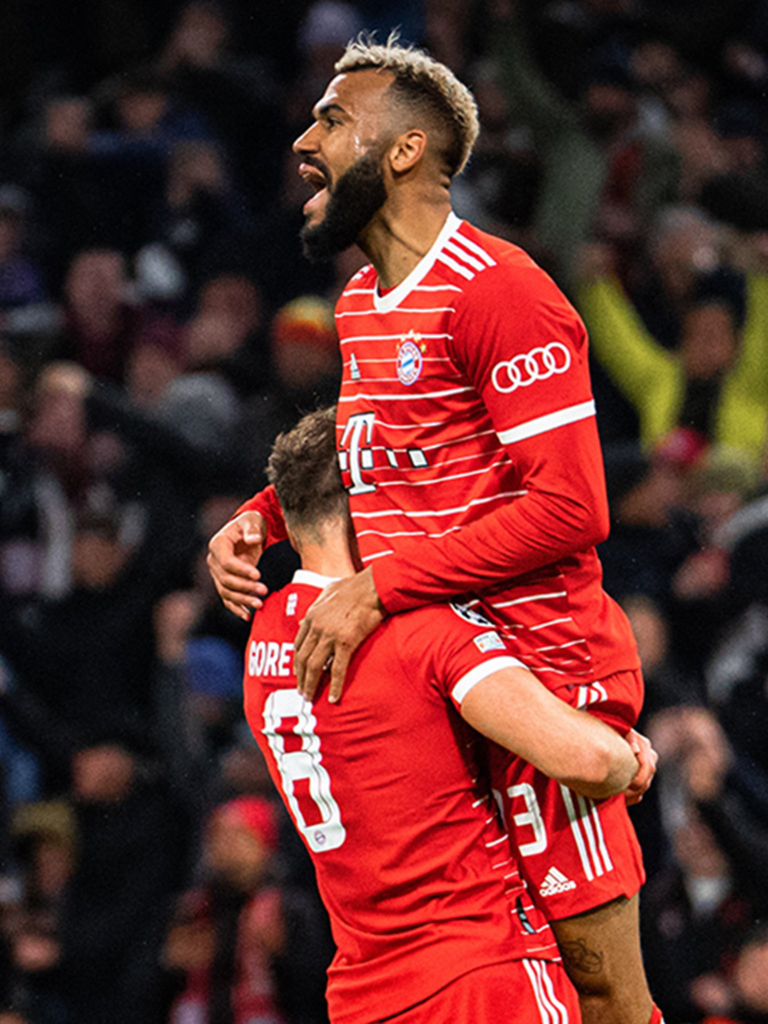 Fuente
Conclusiones - Conclusions
Me quedé pensando sobre la cantidad de entrenadores que han pasado en el último tiempo por el tumultuoso banquillo del PSG. Nombres como Emery, Pochettino, Blanc, hoy en día Galtier y Tuchel que fue el que más cerca estuvo de quedarse con la orejona, ante curiosamente el Bayern Munich. Ves esos nombres y ninguno (con todo respeto lo digo) tiene los galones para dirigir estrellas, ninguno es más importante que los jugadores, no hay un hombre que imponga respeto y que ordene todo en ese banquillo plagado de grandes jugadores. Además que ves el banco de los suplentes, y te das cuenta de que no tuvieron una buena gestión a la hora de buscar los refuerzos necesarios para el equipo. Se concentraron en armar un tridente de ensueño con Mbappé, Neymar y Messi, y salvo Sergio Ramos diría que los demás son jugadores normales y sin la jerarquía para ganar esta competencia. Se deslumbraron con el tridente y creyeron que con eso les bastaba para conseguir su tan ansiada orejona, y la verdad no es tan sencillo como elegir las mejores cartas en el FIFA para que el equipo funcione como uno quiere, no es así de simple, tiene que haber un proceso manejado con sobriedad desde el fondo. En fin, otro fracaso más para ellos.
Para terminar destacar que enfrente estaba un equipo, un verdadero conjunto que con el trabajo de todos se llevó ese boleto a cuartos de final. Upamecano tuvo la casi imposible tarea de detener a Mbappé, y lo frenó sin ningún problema, De Ligt estuvo implacable en las coberturas, Davies fue un auténtico sube y baja por el costado izquierdo y se marcó un gran partido; Kimmich estuvo sublime como siempre en la mitad, ya casi no me sorprende como juega con esa seguridad y con esa templanza para salir desde el fondo, es increíble de verdad; Musiala tuvo un segundo tiempo magnífico hasta que salió del campo; y siempre debo mencionar al infravalorado Thomas Muller, cómo trabaja el capitán bávaro, no solo es inteligente con la pelota en los pies, sino que se hace mejor futbolista cuando no la tiene, la manera en la que interpreta los espacios, cómo controla el equipo cuando tienen que bajar a defender y cuando van a presionar todos juntos, es tremendo lo de este inacabable todocampista alemán.
I was thinking about the number of coaches that have passed through PSG's tumultuous dugout in recent times. Names like Emery, Pochettino, Blanc, nowadays Galtier and Tuchel who was the one who came the closest to winning the last eight, curiously against Bayern Munich. You see those names and none (with all due respect I say it) has the gallons to manage stars, none is more important than the players, there is no man who imposes respect and orders everything in that bench full of great players. Besides that you see the bench, and you realize that they did not have a good management when looking for the necessary reinforcements for the team. They focused on putting together a dream trident with Mbappé, Neymar and Messi, and except for Sergio Ramos I would say that the others are normal players and without the hierarchy to win this competition. They were dazzled with the trident and believed that that was enough to get their long-awaited crown, and the truth is not as simple as choosing the best cards in FIFA for the team to work as you want, it is not that simple, there must be a process managed with sobriety from the bottom. In short, yet another failure for them.
Finally, it is worth mentioning that there was a team in front of them, a real team that with the work of all of them got the ticket to the quarterfinals. Upamecano had the almost impossible task of stopping Mbappé, and he stopped him without any problem, De Ligt was relentless in the coverage, Davies was a real up and down on the left flank and had a great game; Kimmich was sublime as always in the middle, I am almost not surprised how he plays with that security and with that temperance to come out from the back, he is truly incredible; Musiala had a magnificent second half until he left the field; and I must always mention the underrated Thomas Muller, how the Bavarian captain works, not only is he intelligent with the ball at his feet, but he becomes a better player when he doesn't have it, the way he interprets the spaces, how he controls the team when they have to go down to defend and when they go to press all together, it is tremendous from this endless German midfielder.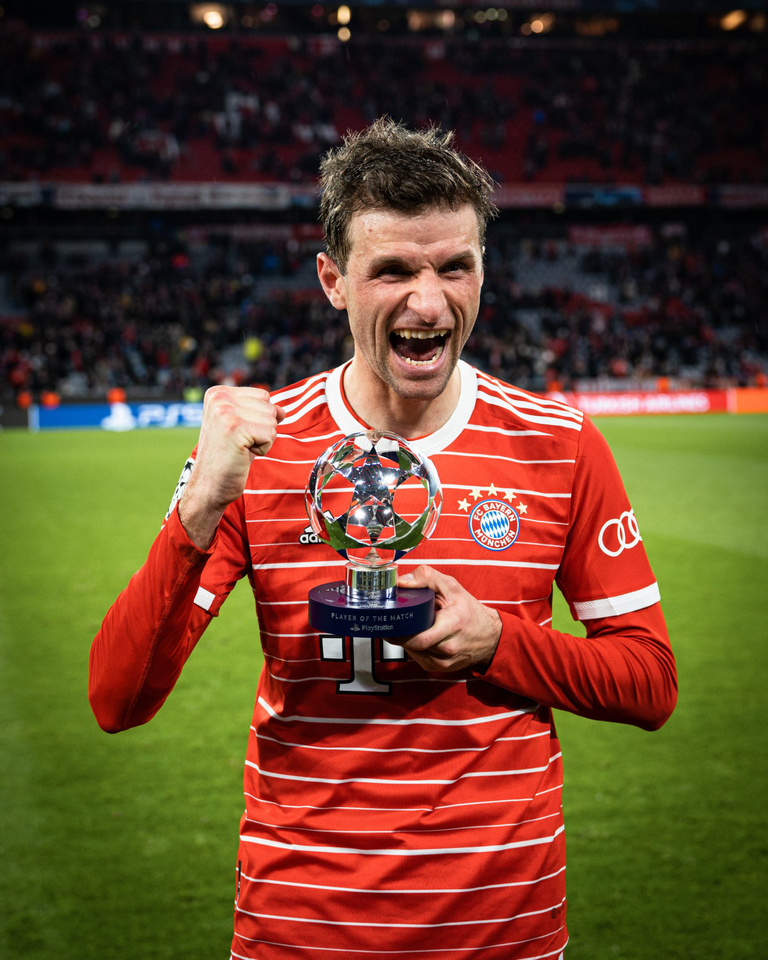 Fuente
Hasta ahora, Bayern Munich, Milan, Chelsea y Benfica aseguraron su estancia en los cuartos de final. La semana que viene se decidirán quiénes son los otros 4 que completarán el cuadro de los 8 finalistas.
Con ésto hemos llegado al final de este Post. Gracias por acompañarme y nos vemos en la próxima.
So far, Bayern Munich, Milan, Chelsea and Benfica have secured their place in the quarterfinals. Next week, the other 4 finalists will be decided.
This brings us to the end of this post. Thanks for joining me and see you next time.
El texto fue traducido con Deepl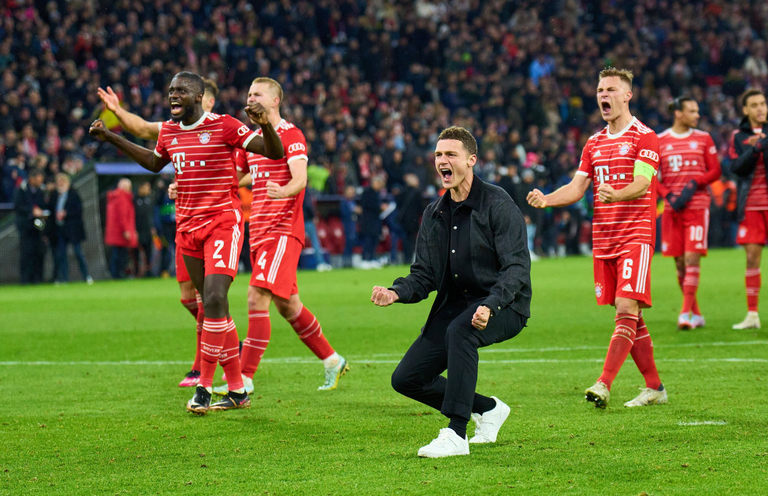 Fuente
---
---