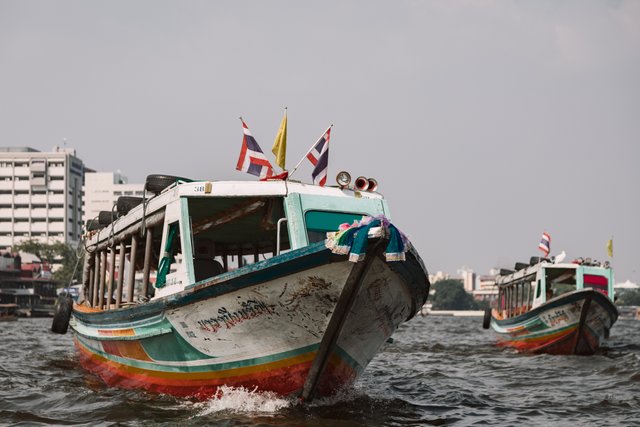 Photo taken by me @derangedvisions
Boats on the River

This photo is my entry in the NEOXIAN CITY PHOTO CHALLENGE - WEEK : #9 photo contest. The theme for this week is boats and I thought that one of my pictures I took while my wife and I were on our boat tour in Bangkok would be a perfect entry for this contest. For the photo I used my Canon 5D Mark IV with a Canon 24-105mm f/4 lens.
When we were in Bangkok for Steem Fest, my wife and I snuck away from the convention for a few hours and rented a private boat and got a tour of the city from the river. While we were on the river we saw the city from a whole different view. It was nice to be away from the confines of the concrete jungle and be out in the open air and see the city in a whole new way. While we were on the tour we passed a few different temples, one of them being Wat Phra Chetuphon - Temple of the Reclining Buddha, which we visited later and I took a ton of photos if you want to check out that post.
Anyways, if you want to participate in the NEOXIAN CITY PHOTO CHALLENGE - WEEK : #9, follow the link for more details. There is a pretty nice price pool for those that participate and are lucky enough to be among the winners.
Thank you for stopping by. You are awesome.