This cake is a perfect example that something with so little fat and sugar can taste great😬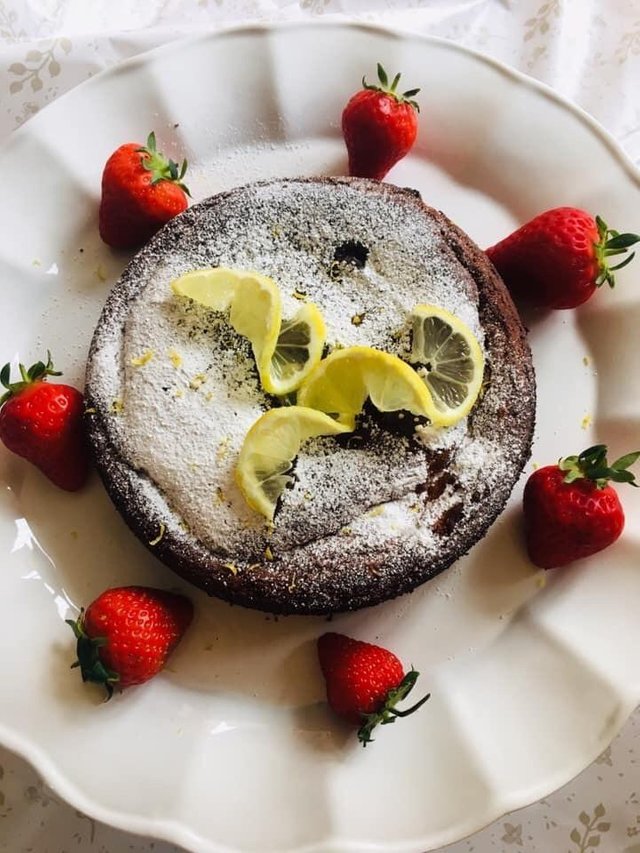 It took me few attempts to get this recipe right but i think i finally nailed it!!
Original recipe called for 2 cups of plain flour but to make this more nutritionally balanced i replaced some of it with coconut flour. I completely omitted butter and used low fat Philadelphia cheese.
Now, after 5 attempts, I feel comfortable to share this recipe with you! I am actually shocked how great it tastes considering its a low fat cake and calories are good too!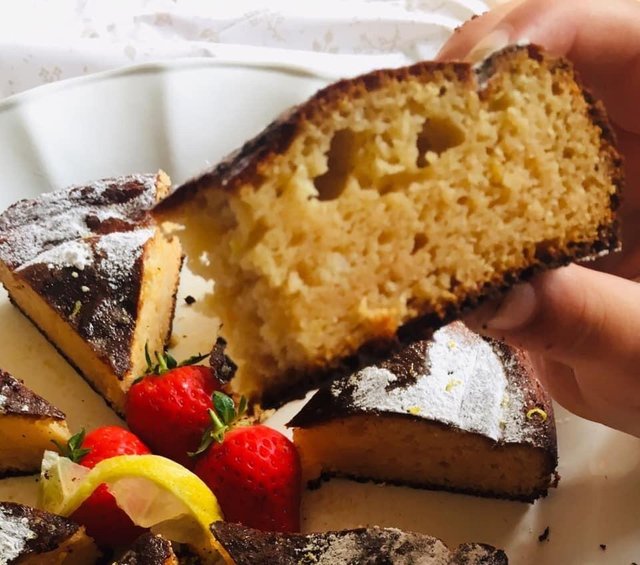 Recipe
45g coconut flour
60g Plain flour
80g good quality granulated sweetener (I did 40g Stevia and 40g Erythritol)
40g Honey
180g Philadelfia cheese ( I used low fat but half fat version will give better taste)
zest from 2 lemons
2 tsp baking powder
Juice from half lemon
2 medium eggs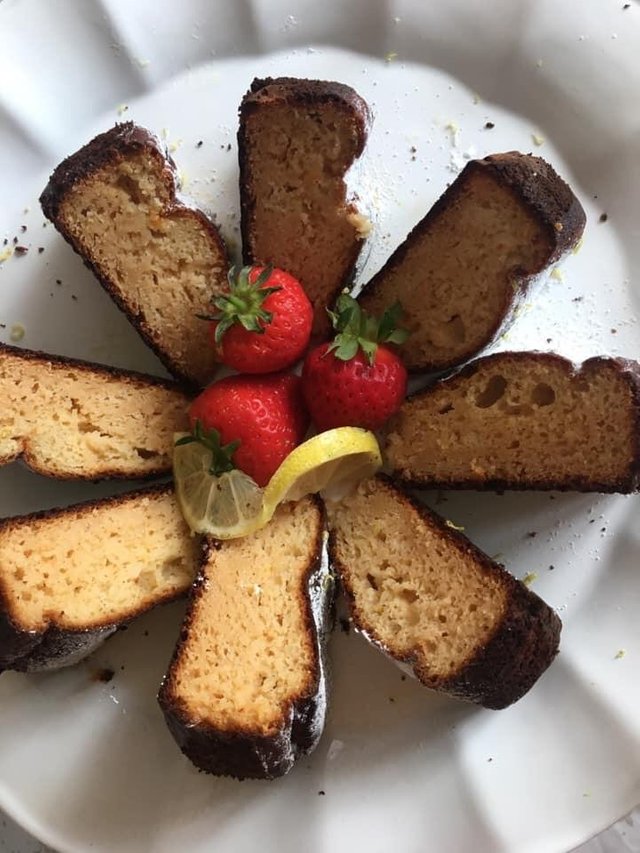 Before you start baking this cake i highly recommend using 2 types of sweeteners in all low sugar bakes.
I did this test long ago and all my cakes using just one sweetener taste different...just not very nice!
You can easy taste sweetener and sometimes large amount like in this recipe can be very overwhelming.
Mixing 2 different sweeteners really does make a different to taste! You can hardly taste sweeteners this way!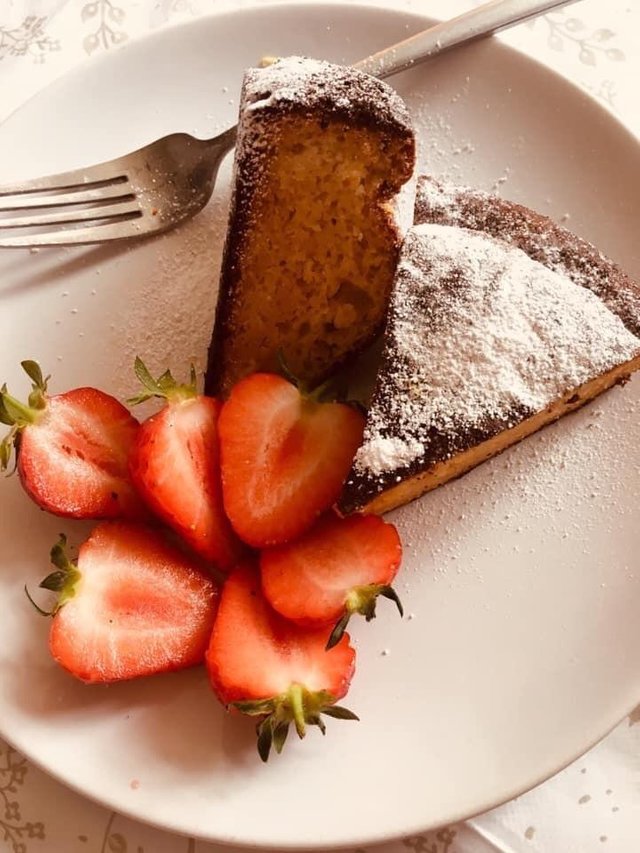 Method
Step 1. You need 1 very small bowl and 1 large.
Step 2. Preheat your oven to 180C
Step 3. In small bowl, mix 2 tsp of baking powder with lemon juice.
It should give you some sort of "foam" looking mixture. Set aside for next step.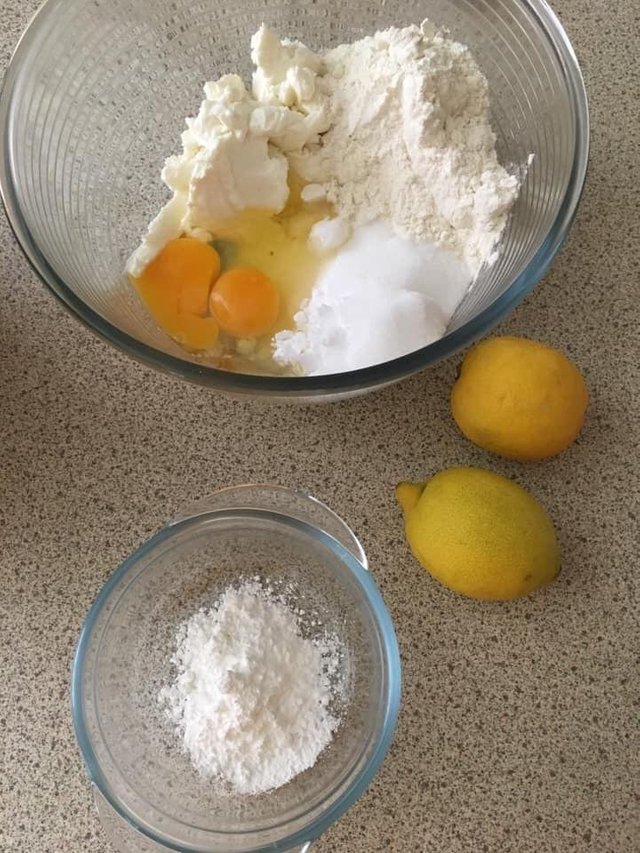 Step 4. Large bowl.
Using large spoon or whisk, mix rest of the cake ingredients together with lemon and baking powder mixture.
It should create creamy and little thick texture. It should not be runny! If your cake mixture is runny, adding little more plain flour will help, just a tbsp for a start.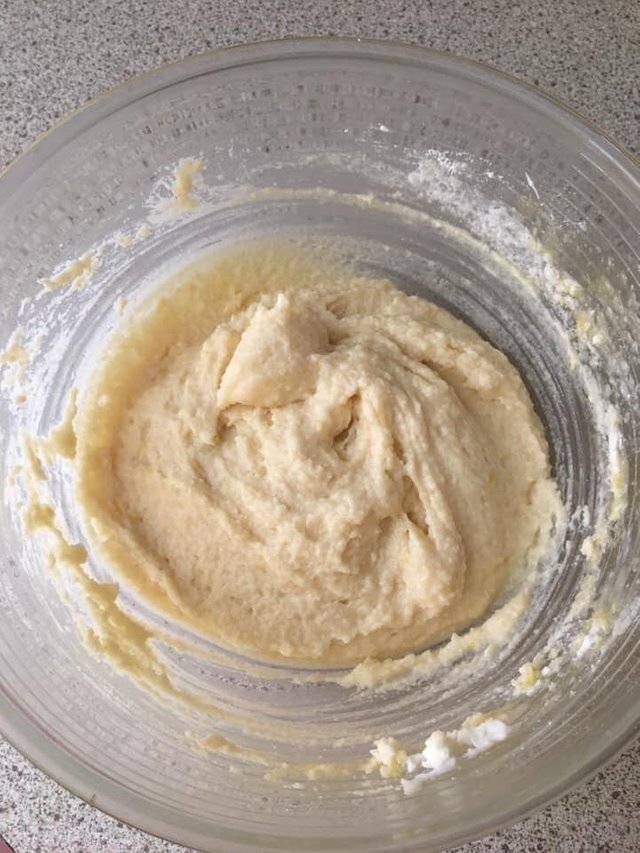 All flours are different at handling moisture and liquid especially coconut flour!
Step 5.
Bake for 30-35 min in small baking tin, lined with non stick baking paper. It should fill half of your baking tin.
I used round 6inch (16cm) baking tin.
It will bake quicker in larger tin but i don't like thin cakes 🙂
If you don't want your cake to look as dark as mine, cover your cake with kitchen foil after 20 min of baking.
Check with wooden stick if your cake is fully baked. I have old oven so my timing may be different to your oven.
Step 6. Take out of oven, cool in baking tin and decorate it 🙂
During one of my attempts i added 1tbsp of poppy seeds and it was delicious!
My sister didn't believe me its a "better for you version" of lemon and honey cake 🙂
Try it and let me know!
I don't count macros anymore but i was curious, so here they are for those who count them:-)
Macros for all cake!
Cal 772
Protein 45g
Carbs 96g
Fat 19g
Fiber 22g
Sugar 48g
If you cut this cake in 8 pieces, macros per one slice are going to be:
Cal 97
Protein 6g
Carbs 12g
Fat 2
Fiber 3g
Sugar 6g
Enjoy:-)
.............Polish..........
To ciasto jest doskonałym dowodem na to, że coś z tak małą ilością tłuszczu i cukru może świetnie smakować😬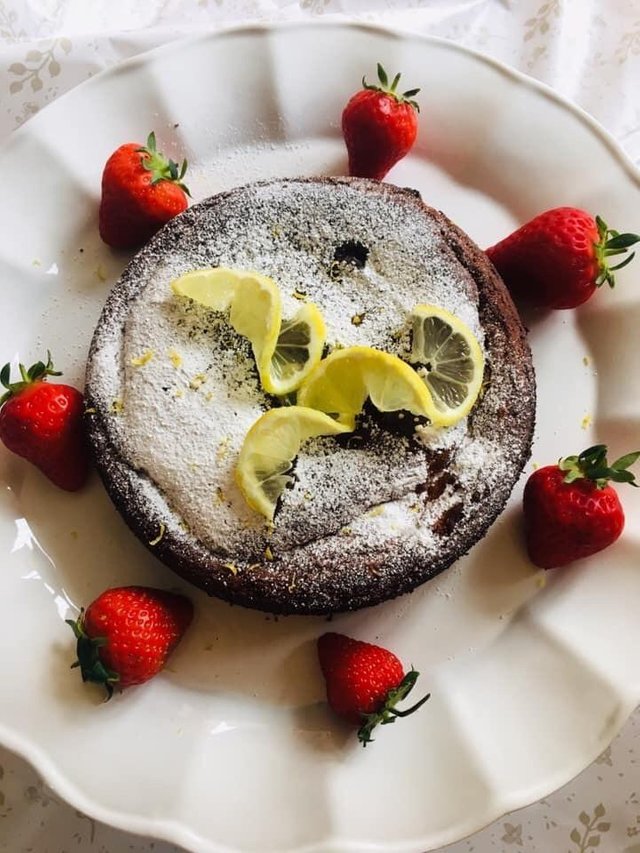 Dopracowanie tego przepisu zajęło mi kilka prób, ale myślę, że w końcu jest dobrze !!
Oryginalna receptura wymagała 2 szklanek zwykłej mąki, ale aby uzyskac zdrowsze ciasto pod względem odżywczym, zastąpiłam zwykla make mąką kokosową. Całkowicie pominąłem masło i użyłam niskotłuszczowego serka Philadelphia.
Teraz, po 5 próbach, mogę się z wami podzielić tym przepisem! Jestem naprawdę zszokowana, jak wspaniale smakuje, biorąc pod uwagę mala zawartosc tluszczu!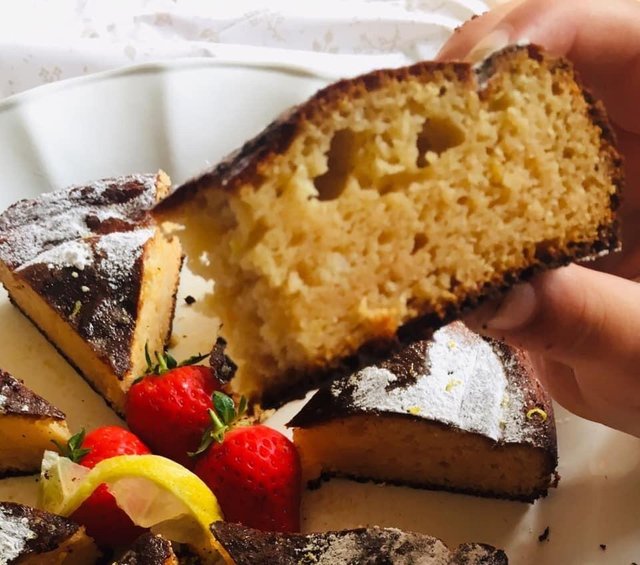 Przepis
45 g mąki kokosowej
60g Zwykła mąka pszenna
80g dobrej jakości granulowanego słodzika (dodalamm 40 g stewii i 40 g erytrytolu)
40g miodu
180g serka Philadelfia (użyłam niskotłuszczowego, ale w półtłustej wersji da lepszy smak)
skórka starta z 2 cytryn
2 łyżeczki proszku do pieczenia
Sok z połowy cytryny
2 średnie jajka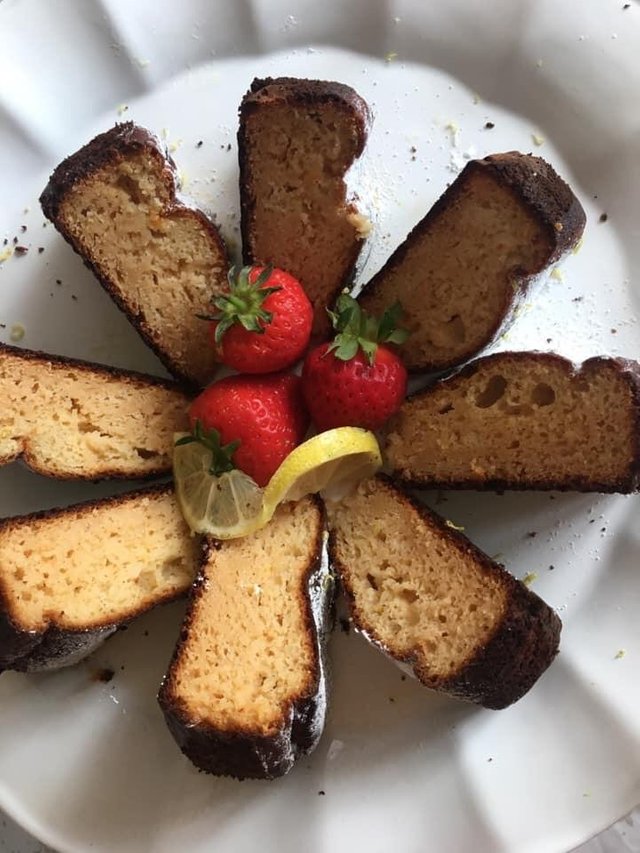 Przed rozpoczęciem pieczenia tego ciasta bardzo polecam stosowanie 2 rodzajów słodzików we wszystkich ciastach o niskiej zawartości cukru.
Zrobiłam ten test dawno temu i wszystkie moje ciasta przy użyciu tylko jednego słodzika smakują inaczej....lepiej!
Czasami duża ilość, jak w tym przepisie, może być bardzo "przytłaczająca".
Mieszanie 2 różnych słodzików naprawdę daje inny, lagodniejszy smak! W ten sposób prawie nie można wylapac smaku słodzików!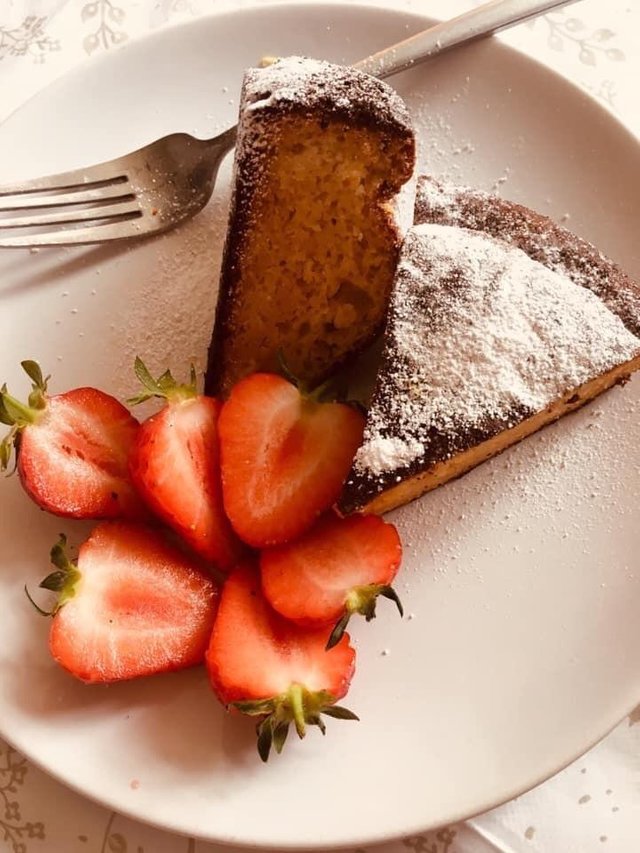 Metoda
Krok 1. Potrzebujesz 1 małej miski i 1 dużej.
Krok 2. Rozgrzej piekarnik do 180 ° C
Krok 3. W małej misce wymieszaj 2 łyżeczki proszku do pieczenia z sokiem z cytryny.
Powinno dać ci taka mieszankę przypominającą piankę. Odłóż na bok i przejdz do następnego kroku.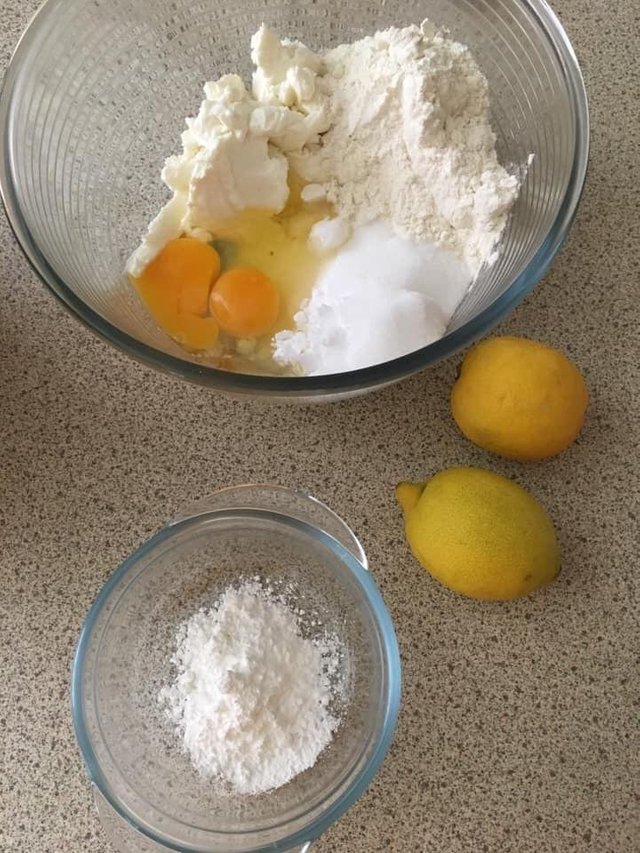 Krok 4. Duża miska.
Za pomocą dużej łyżki lub trzepaczki wymieszaj resztę składników ciasta z mieszanką cytryny i proszku do pieczenia.
Powinien tworzyć kremową i mało gęstą konsystencję. Nie powinno być lejace! Jeśli twoja mieszanka ciast jest rzadka, dodanie trochę więcej zwykłej mąki pomoże, wystarczy łyżka na początek.
Wszystkie mąki różnią się w obchodzeniu z wilgocią i płynami, zwłaszcza z mąką kokosową!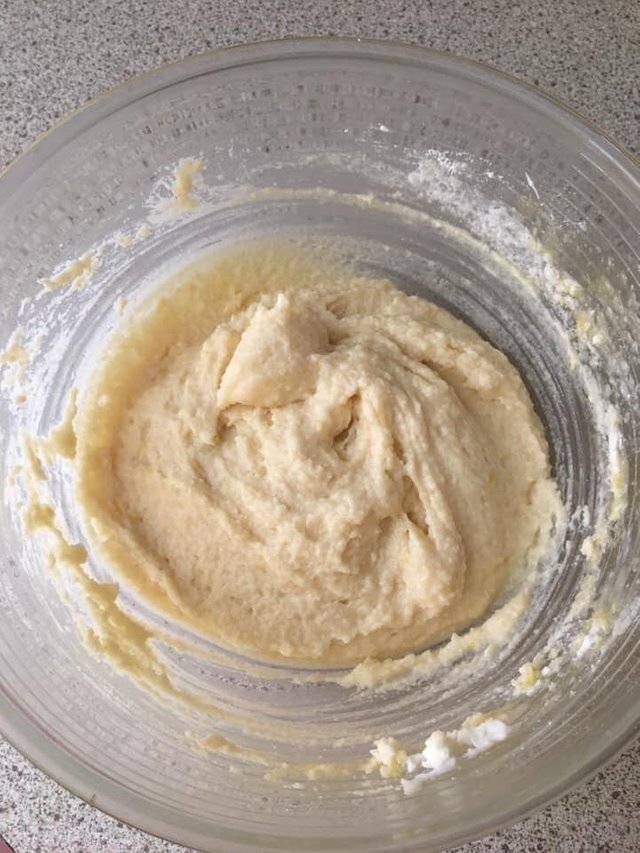 Krok 5.
Piec przez 30–35 minut w małej formie do pieczenia wyłożonej nieprzywierającym papierem do pieczenia. Powinien on wypełnić połowę formy do pieczenia.
Użyłem okrągłej formy do pieczenia o średnicy 16 cm.
Pieką się szybciej w większej puszce, ale nie lubię cienkich ciastek😁
Jeśli nie chcesz, aby ciasto wyglądało tak ciemno jak moje, przykryj je pergaminem po 20 minutach pieczenia.
Sprawdź drewnianym patyczkiem, czy ciasto jest całkowicie upieczone. Mam stary piekarnik, więc mój czas pieczenia może być inny niż twój.
Krok 6. Wyjmij z piekarnika, ostudź i udekoruj owocami.
Podczas jednej z moich prób dodałam 1 łyżkę maku i było pyszne! Tak jakby ciasto piegusek!
Moja siostra nie wierzyła mi, że to "lepsza dla wersja" ciasta z cytryną i miodem!
Spróbuj i daj mi znać!
Nie liczę już makr, ale byłam ciekawa, więc oto one dla tych, którzy je liczą :-)
Makra na cale ciasto!
Cal 772
Białko 45g
Węglowodany 96g
Tłuszcz 19g
Błonnik 22g
Cukier 48g
Jeśli pokroisz to ciasto na 8 kawałków, makra na jeden plasterek będą:
Cal 97
Białko 6g
Węglowodany 12g
Tłuszcz 2
Błonnik 3g
Cukier 6g
Smacznego:-)