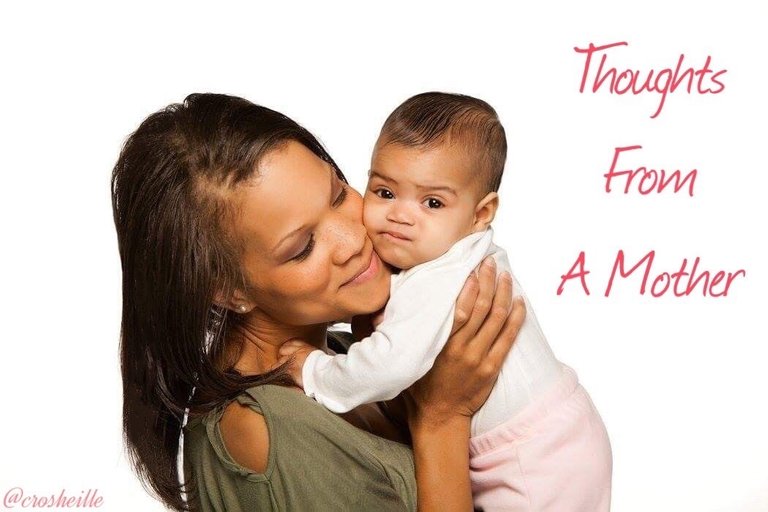 What? Did she just call me mom? Mom...mommy, mama, mother. Wow all of those are really me. I am actually someone's mother. It is up to me to teach, nurture and protect her. But what if I fail? What if I forget to teach an important lesson? What if I don't prepare her enough? What if, what if?
I can still remember when I was a child clinging to my mother. I have fond memories of specific moments like this. Wait, now I have someone that will be clinging to me and counting on me. What if I'm not good enough, what if I make the wrong decisions and she sees? Will she love me as much as I loved my mother? Will she look up to me as her role model? Will she be proud to be my daughter?
Oh gosh my heart feels like it's being squeezed and my stomach is turning. The thought of this precious little being relying on me for everything, knowing her life and upbringing is in my hands makes me cringe. My legs are tingling and my fingers grow numb. Can I do this? Can I really be all that this child needs me to be for her?


This photo of my daughter and I was taken nine years ago. These were some of the thoughts I had when she was first born. It was terrifying thinking of all the responsibilities I had as a mother and daunting thinking of how I could fail. Even today I still have some of those thoughts. It is still surreal to me that I'm a mother of five and I still have fears of failing and not being good enough.
As I go on I am coming to realize that if I focus on being the best that I can and doing all that I can that's in my control then I would have done my duty. Giving my kids the best of me and all of me is as good as it gets. Will I have failures? Yes. Will I disappoint them? Yes. Will they see my flaws? Yes. It's called life and imperfection. Just as I learned from my mother's mistakes and imperfections they too will learn from mine. I think it's important our kids see our flaws and mistakes so they can learn how to bounce back from them and see what it's like not to give up.
As long as I live and as long as I'm a mother I will always wonder, have questions and struggle with doubts about my parenting. But in the end as long as I can say I have given my all then I will be okay.
I sit here thinking about my blessings and how grateful I am to be a mother of five. Life is too short not to ponder on these things while you still can. I still think about the child we lost, the child we never got to meet and will one day see in heaven. Life has so many different turns and obstacles you would have never imagined to be apart of but we keep moving, striving and carrying on. I am just thankful I get to hear the words mommy everyday. I don't want to take that for granted. Thank you Lord for blessing me abundantly.
Thoughts From A Mother
Be blessed ~ ❤️