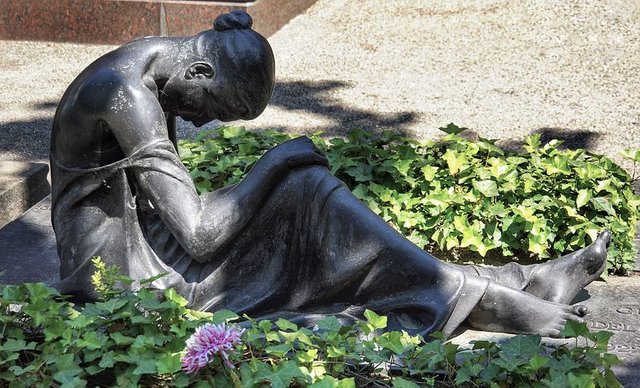 ---
In Life
Chy, that's what you call me,
The first thing you say as you lay eyes on me.
Everyday, I stand by the door
Waiting for you to come home,
Watching for that beautiful smile on your face.
Because it's the one thing I always wish for,
The only thing that keeps me sane and focused.
In Illness
The light never leaves your eyes
Even in the weakest of moments.
I look at you and I see hope.
I hold onto it when everything is gone.
I forget how much I dislike hospitals.
Watching the tubes and your chest rise and fall,
I hold your hands and will everything away.
In Death
It's okay to cry and rant, they say to me.
I listen till I understand no more.
I never object to the hugs and heartfelt wishes,
Somehow I know they are bound to come.
Why did you leave? I ask myself.
Maybe it's time, a voice answers in my head.
It's the only reasonable answer anyway.
After Dark
I miss you terribly.
I think about you all the time.
It's okay to grieve, some may say.
Maybe they are right after all.
The pain will always be here
Even when the tears finally disappear.
Wherever you may be, I hope you know peace.

---
It's so quiet. I'm home for the funeral. I got here on Thursday evening. It's kind of alone and the silence is so loud. There're no tears now, just thoughts which can't stay on one thing for long. I'll stay for 2-3weeks. Don't know how often I'll be coming on here. I'm constantly reminded that all I've got now is memories and pictures. I haven't gone into her room yet. I just can't seem to walk in. This morning, I stood by the door and stared at everything for a long time. Is it selfish to say that I want her to come back, that I prefer to see her everyday even if she was ill? Maybe I'm just terrible, I don't know.
I have to prepare myself for the day. I have to get ready for goodbyes. I don't know how I'll watch while she's been lowered into the ground. I wish it never came to this. I wish she could smile the way she always did. I was going through some old journal I dug up, some dated six years ago. Most of my scribbles then was filled with my life and hers. I was six years younger and full of fears. I never showed her any of it. Now, I wish I had. Wishing does nothing anyway. Sigh. Going away did nothing. All of it is coming back in bits and pieces.