| | | |
| --- | --- | --- |
| | | |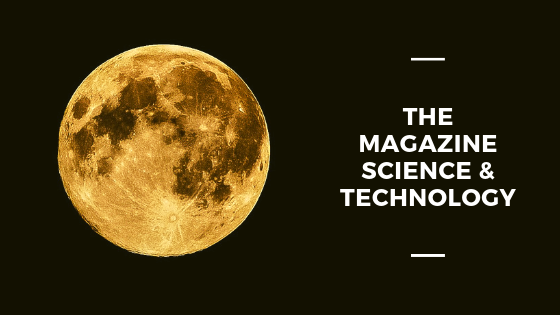 Hyperloop, the transport of the future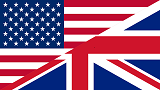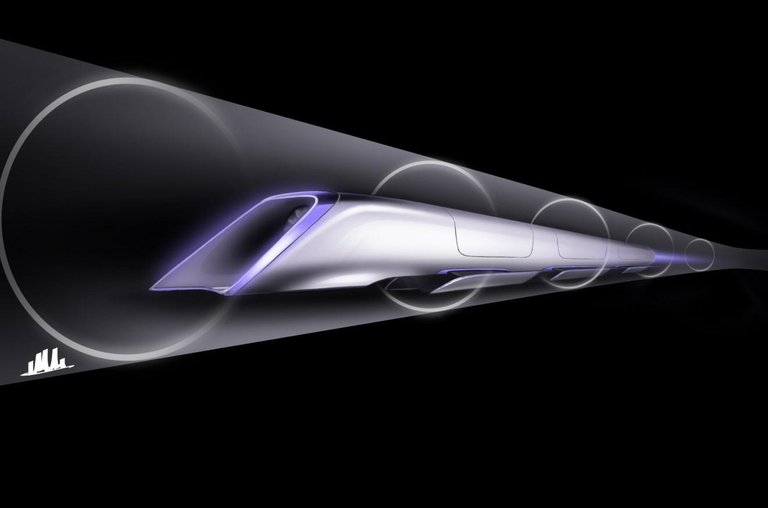 Elon Musk, the most visionary character of this century, founder of Paypal, Tesla and SpaceX in 2013 puts on paper an efficient, clean and cheap transport idea. He writes a paper and shares his idea with the rest of the world, urging anyone with time and resources to turn this idea into reality.
The article
The article in question "Hyperloop alpha" is known in two parts: the first of a popular nature; the second one of a technical nature.
Everything comes from the criticism of the approved "high speed" train project in California for the San Francisco - Los Angeles section, according to him one of the most expensive and slowest in the world.
Musk proposes a transport system that combines the advantages of air travel (short journey times) and the advantages of road transport (low costs) with Hyperloop.
Technology
To reach speeds close to those of sound, the medium (which we call capsule or pod) in question must travel in a low-pressure environment (the vacuum would be ideal but economically unsustainable) made inside a tube which will be the corridor through which the capsule will move. The pressure will be 1/6 of the atmospheric pressure present on Mars and is equivalent to that which can be found flying at a height of 45 km (150,000 feet) of altitude. In this way the friction is considerably reduced also giving the capsule an aerodynamic shape. We must also solve what is called the Kantrowitz limit, avoiding having to spend energy to move the mass of air that the capsule is in front of the high speed. For this purpose a fan is used at the top of the capsule to divert most of the air at the end of the capsule. Due to the high speed, the capsule must remain suspended and not travel on wheels, so once the magnetic levitation system has been set aside due to high costs, Musk proposes an air bearing system to keep the capsule suspended and to avoid contact with the tube . The air used to create the bearing is the remaining part of the air that is not conveyed to the rear of the capsule but diverted downwards with a compressor.
The capsule is accelerated and decelerated by a linear induction electric motor consisting of rotors positioned in the capsule and stators in the tube. The reboost is enough every 112 km (70 miles).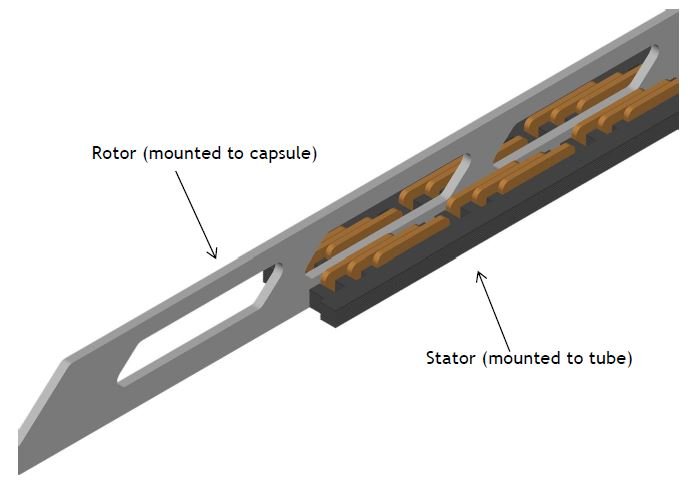 The propulsion system provides these features:
| Speed ​​/ acceleration | Situation |
| --- | --- |
| from 0 to 480 Km/h (300 mph) | Urban areas |
| 480 Km/h (300 mph) | during bends, climbs etc. |
| from 480 Km/h (300 mph) to 1220 Km/h (760 mph) | at the beginning of the straight high-speed corridor (acceleration of 1 g) |
| deceleration up to 480 km/h (300 mph) | at the end of the high-speed corridor |
Capsules
The transport system includes capsules that contain at least 28 passengers or capsules that additionally contain 3 vehicles.
Wall displays project pleasant landscapes or multimedia content at the discretion of the passenger.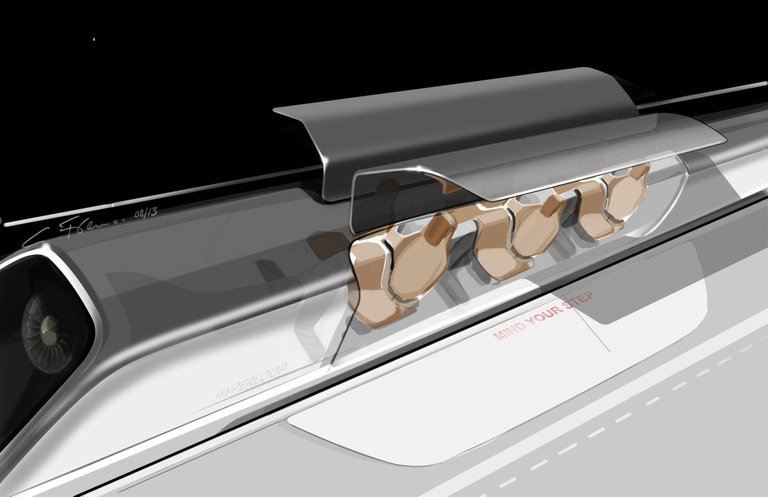 To support a capacity of 840 passengers per hour the capsules must start every 2 minutes, the passenger loading and unloading time is about 5 minutes.
The estimated cost for the passenger-only capsule is $ 1,350,000, while the largest with the addition of 3 vehicles is $ 1,525,000.
Infrastructure
The capsules travel inside tubes, in this case the tubes will be in pairs, one for each direction of travel and do not require occupation of soil because they will be suspended on pillars every 30 meters or buried.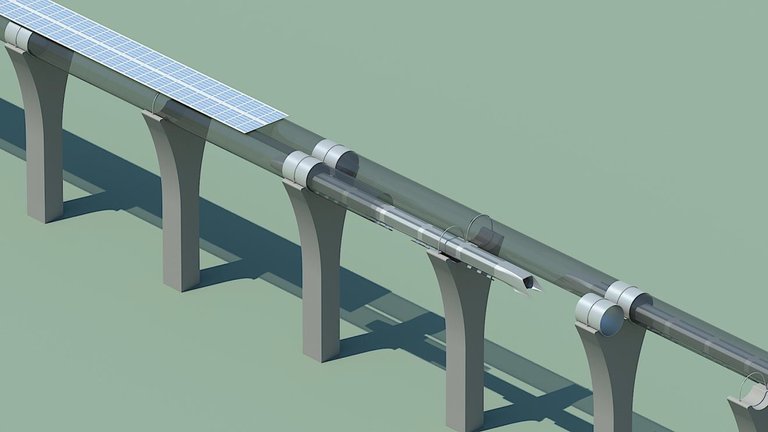 The dimensions of the same will depend on which type of capsules will be used (only passengers or passengers with vehicles) because the correct cross-sectional area of ​​the capsule must be sized with respect to the diameter of the tube in order to avoid the formation of shock waves and therefore of resistance aerodynamics that would require more energy to proceed.
The tubes will have solar panels to store energy in the batteries that power the induction motors.
The pillars are designed to withstand transverse stresses, expansions and deformations of the underlying soil, therefore resilient to natural disasters such as the earthquake.
The cost of the infrastructure depends on how long the journey is, in this specific case Los Angeles - San Francisco is 4.06 billion dollars for the passenger-only version, or 5.31 billion dollars for the version with the transport of vehicles. Solar panels are not included in the calculation.
Hyperloop Pod Competition
Elon Musk has always wanted the OpenSource project to spur the community of experts to collaborate to turn this idea into reality.
In 2015 he announced the Hyperloop Pod Competition in which institutions and universities compete to make the pod that reaches the highest speed in a 1.6 km stretch, even succeeding to stop safely.
The first three editions took place in January 2017, August 2017 and July 2018. The last dates back to last July.
In all editions he won the prize for the highest speed reached the TUM Hyperloop (Technical university of Munich) reaching speeds of 93, 323, 457 and 463 Km/h.
Other types of awards such as technological innovation and design have been awarded to different groups over the years.
The various prototypes of the participants differ from that of the paper presented by Elon Musk mainly for the levitation system, where instead of the air bearing we opted for a magnetic levitation system or a hybrid with wheels for low speeds or air for higher speeds.
Energy efficiency
An aspect that is common to all the projects related to the Hyperloop is the high energy efficiency as the energy required for electric propulsion, as well as being supplied by the Sun through the special panels scattered on the pipes, is also obtained from the kinetic energy supplied by the same movement of the pods and of the energy obtained during the braking phases of the same. Summing up, you get more energy than you spend on running the system, returning from initial costs in just a few years. All this also for the benefit of users who will be able to enjoy the new type of transport at an affordable price.
To make a comparison with the TAV that will link Turin Lyon, the cost of this operation will be amortized over 100 years. A Turin Milan section with Hyperloop has a cost return within 8 years.
Startups
Several companies are starting to emerge in the Hyperloop panorama, and the best known is Hyperloop Transportation Technology HTT is already realizing for the 2020 Expo the Abu Dhabi - Dubai route that will allow for travel the space between the two cities (140 km) in 12 minutes traveling at an average of 700 km/h.
Even the Virgin Hyperloop One is making agreements with several countries to build strategic routes to connect important cities, reducing travel times from hours to a few tens of minutes.
The need to meet
In a world where connectivity between people is achieved in a few seconds and at any time thanks to the Internet ecosystem, the need to be in more people in the same place, both for work, and for discussion, which to share a hobby has been always present and always will be and could not delay a transport revolution like this to bring people "really" closer to each other. Entire families will be able to afford to work in large cities where there are more job opportunities while still living in areas that were previously considered prohibitive due to travel times but will allow for a healthier and more economical life.
Only 7 years have passed since the idea of ​​a visionary to the first realization, made possible also thanks to the cooperation between different minds and competition between groups. Now the government's foresight is needed to complete this revolution.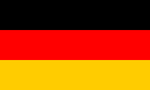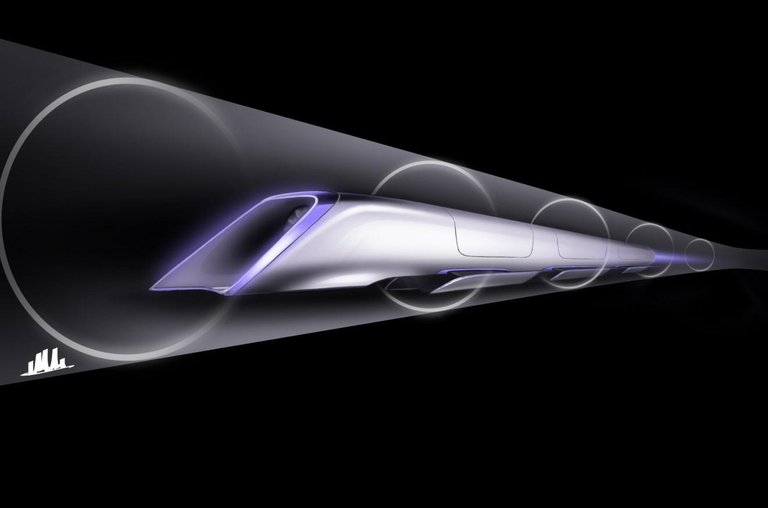 Elon Musk, der visionärste Charakter dieses Jahrhunderts, Gründer von Paypal, Tesla und SpaceX im Jahr 2013, bringt eine effiziente, saubere und kostengünstige Transportidee auf das Papier. Er schreibt ein Paper und teilt seine Idee mit dem Rest der Welt. Er drängt jeden, der Zeit und Ressourcen hat, diese Idee in die Realität umzusetzen.
Der Artikel
Der betreffende Artikel "Hyperloop alpha" ist in zwei Teilen bekannt: Der erste ist populärer Natur; der zweite ist technischer Natur.
Alles rührt von der Kritik an dem genehmigten Hochgeschwindigkeitszugprojekt in Kalifornien für den Abschnitt San Francisco - Los Angeles her, der seiner Meinung nach einer der teuersten und langsamsten der Welt ist.
Musk schlägt ein Transportsystem vor, das die Vorteile des Luftverkehrs (kurze Fahrzeiten) und die Vorteile des Straßentransports (niedrige Kosten) mit Hyperloop kombiniert.
Technologie
Um Schallgeschwindigkeiten zu erreichen, die denen von Schall nahekommen, muss das betreffende Medium (das wir als Kapsel oder Kapsel bezeichnen) in einer Umgebung mit niedrigem Druck (das Vakuum wäre ideal, aber wirtschaftlich nicht vertretbar) in einer Röhre transportiert werden Das wird der Korridor sein, durch den sich die Kapsel bewegen wird. Der Luftdruck beträgt 1/6 des auf dem Mars herrschenden Luftdrucks und entspricht dem Luftdruck, der sich in einer Höhe von 45 km (150.000 Fuß) befindet. Auf diese Weise wird die Reibung erheblich reduziert, und die Kapsel erhält eine aerodynamische Form. Wir müssen auch das so genannte Kantrowitz-Limit lösen, ohne Energie aufwenden zu müssen, um die Luftmasse zu bewegen, die sich die Kapsel vor dem Hoch befindet Geschwindigkeit. Zu diesem Zweck wird ein Ventilator am oberen Ende der Kapsel verwendet, um den größten Teil der Luft am Ende der Kapsel abzuleiten. Aufgrund der hohen Geschwindigkeit muss die Kapsel aufgehängt bleiben und darf sich nicht auf Rädern fortbewegen. Sobald das Magnetschwebesystem aus Kostengründen außer Kraft gesetzt wurde, schlägt Musk ein Luftlagersystem vor, um die Kapsel aufgehängt zu halten und den Kontakt mit dem Rohr zu vermeiden . Die Luft, die zur Erzeugung des Lagers verwendet wird, ist der verbleibende Teil der Luft, der nicht zur Rückseite der Kapsel befördert wird, sondern mit einem Kompressor nach unten abgeleitet wird.
Die Kapsel wird durch einen linearen Induktionselektromotor beschleunigt und abgebremst, der aus Rotoren in der Kapsel und Statoren im Rohr besteht. Der Reboost reicht alle 112 km.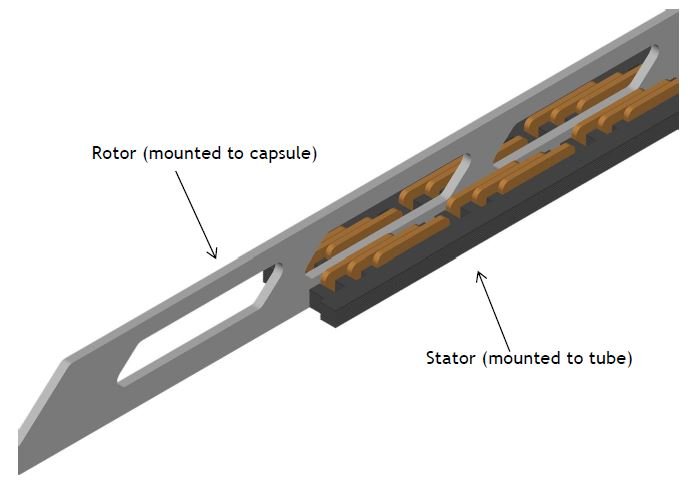 Das Antriebssystem bietet folgende Funktionen:
| Geschwindigkeit / Beschleunigung | Situation |
| --- | --- |
| von 0 bis 480 km/h | Stadtgebiete |
| 480 km/h (300 mph) | in Kurven, Anstiegen usw. |
von 480 km/h bis 1220 km/h am Anfang des geraden Hochgeschwindigkeitskorridors (Beschleunigung von 1 g)
Verzögerung bis zu 480 km/h am Ende des Hochgeschwindigkeitskorridors
Kapseln
Das Transportsystem umfasst Kapseln mit mindestens 28 Passagieren oder Kapseln mit zusätzlich 3 Fahrzeugen.
Wanddisplays projizieren nach Belieben des Passagiers angenehme Landschaften oder Multimedia-Inhalte.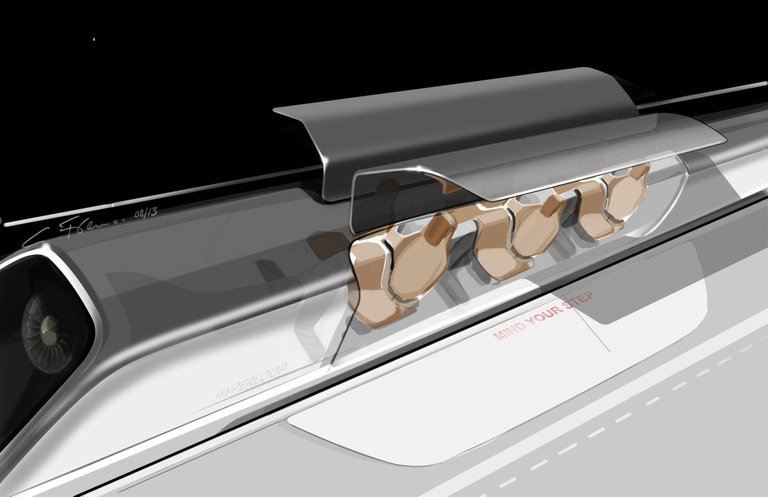 Um eine Kapazität von 840 Passagieren pro Stunde zu erreichen, müssen die Kapseln alle 2 Minuten starten. Die Lade- und Entladezeit für Passagiere beträgt ca. 5 Minuten.
Die geschätzten Kosten für die Nur-Passagier-Kapsel betragen 1.350.000 USD, während die Kosten für die größte Kapsel mit drei zusätzlichen Fahrzeugen 1.525.000 USD betragen.
Infrastruktur
Die Kapseln bewegen sich in Röhren. In diesem Fall sind die Röhren paarweise und für jede Fahrtrichtung einzeln und erfordern keine Bodenbelegung, da sie alle 30 Meter an Säulen aufgehängt oder eingegraben werden.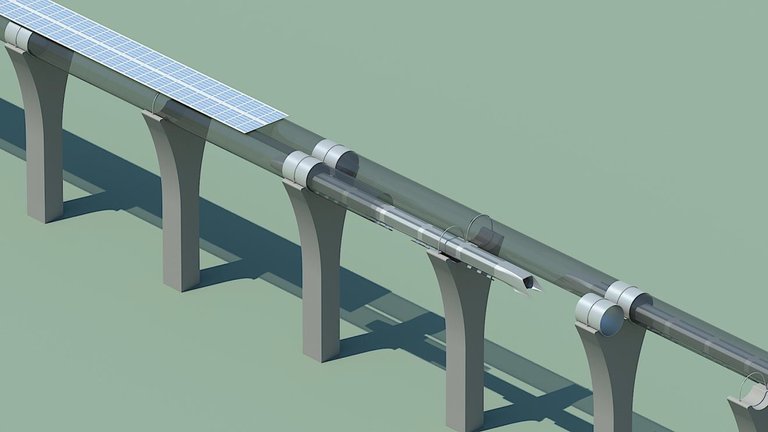 Die Abmessungen derselben hängen davon ab, welche Art von Kapseln verwendet werden (nur Passagiere oder Passagiere mit Fahrzeugen), da die richtige Querschnittsfläche der Kapsel in Bezug auf den Durchmesser des Rohrs bemessen sein muss, um die Bildung von Stoßwellen und damit den Widerstand zu vermeiden Aerodynamik, die mehr Energie benötigt, um voranzukommen.
Die Röhren haben Sonnenkollektoren, um Energie in den Batterien zu speichern, die die Induktionsmotoren antreiben.
Die Pfeiler sind so konstruiert, dass sie Querbeanspruchungen, Dehnungen und Verformungen des darunterliegenden Bodens standhalten und somit auch Naturkatastrophen wie dem Erdbeben widerstehen.
Die Kosten für die Infrastruktur hängen davon ab, wie lang die Reise ist. In diesem speziellen Fall beträgt Los Angeles - San Francisco 4,06 Milliarden Dollar für die Nur-Passagier-Version oder 5,31 Milliarden Dollar für die Version mit dem Transport von Fahrzeugen. Sonnenkollektoren werden nicht in die Berechnung einbezogen.
Hyperloop Pod Wettbewerb
Elon Musk wollte schon immer, dass das OpenSource-Projekt die Expertengemeinschaft zur Zusammenarbeit anregt, um diese Idee in die Realität umzusetzen.
2015 kündigte er den Hyperloop Pod Competition an, bei dem Institutionen und Universitäten gegeneinander antreten, um den Pod, der auf einer Strecke von 1,6 km die höchste Geschwindigkeit erreicht, zum Erfolg zu führen sicher anhalten.
Die ersten drei Ausgaben fanden im Januar 2017, August 2017 und Juli 2018 statt. Die letzten Daten beziehen sich auf den letzten Juli.
In allen Ausgaben gewann er den Preis für die höchste Geschwindigkeit, erreichte den TUM Hyperloop (Technische Universität München) und erreichte Geschwindigkeiten von 93, 323, 457 und 463 km/h.
Andere Arten von Auszeichnungen wie technologische Innovation und Design wurden im Laufe der Jahre an verschiedene Gruppen vergeben.
Die verschiedenen Prototypen der Teilnehmer unterscheiden sich von denen des von Elon Musk vorgestellten Papiers hauptsächlich für das Schwebesystem, bei dem wir uns anstelle des Luftlagers für ein magnetisches Levitazinsystem oder einen Hybrid mit Rädern für niedrige Geschwindigkeiten oder Luft für entschieden haben höhere Geschwindigkeiten.
Energieeffizienz
Ein Aspekt, der allen Projekten im Zusammenhang mit dem Hyperloop gemeinsam ist, ist die hohe Energieeffizienz, da die Energie, die für den elektrischen Antrieb benötigt wird und von der Sonne über die auf den Rohren verteilten Spezialplatten geliefert wird, auch aus der kinetischen Energie gewonnen wird, die von der gleiche Bewegung der Kapseln und der während der Bremsphasen derselben gewonnenen Energie. Zusammenfassend erhalten Sie mehr Energie, als Sie für den Betrieb des Systems ausgeben, da sich die anfänglichen Kosten in nur wenigen Jahren erholen. All dies auch zum Nutzen der Nutzer, die die neue Art des Transports zu einem erschwinglichen Preis genießen können.
Für einen Vergleich mit der TAV, die Turin mit Lyon verbindet, werden die Kosten dieser Operation über 100 Jahre abgeschrieben. Ein Turin Mailand Abschnitt mit Hyperloop hat eine Kostenrendite innerhalb von 8 Jahren.
Startups
Im Hyperloop-Panorama zeichnen sich mehrere Unternehmen ab, und das bekannteste ist, dass [Hyperloop Transportation Technology HTT] (https://www.hyperloop.global/announcement) bereits für die Expo 2020 die Route Abu Dhabi - Dubai realisiert, die dies ermöglichen wird Durchqueren Sie den Raum zwischen den beiden Städten (140 km) in 12 Minuten mit einer Durchschnittsgeschwindigkeit von 700 km/h.
Sogar die Virgin Hyperloop One trifft Vereinbarungen mit mehreren Ländern, um strategische Routen für die Verbindung wichtiger Städte zu entwickeln und die Reisezeit von Stunden auf einige zehn Minuten zu reduzieren.
Das Bedürfnis sich zu treffen
In einer Welt, in der die Konnektivität zwischen Menschen dank des Internet-Ökosystems in wenigen Sekunden und zu jeder Zeit hergestellt werden kann, müssen mehr Menschen am selben Ort sein, sowohl für die Arbeit als auch für Diskussionen, die ein Hobby teilen immer präsent und immer dabei sein und eine solche Verkehrsrevolution nicht aufhalten können, um die Menschen "wirklich" einander näher zu bringen. Ganze Familien können es sich leisten, in Großstädten zu arbeiten, in denen es mehr Beschäftigungsmöglichkeiten gibt, während sie noch in Gebieten leben, die früher aufgrund der Reisezeit als unzulässig galten, aber ein gesünderes und wirtschaftlicheres Leben ermöglichen.
Nur 7 Jahre sind vergangen, seit der Idee eines Visionärs bis zur ersten Verwirklichung, die auch dank der Zusammenarbeit verschiedener Köpfe und des Wettbewerbs zwischen Gruppen möglich wurde. Jetzt ist die Voraussicht der Regierung erforderlich, um diese Revolution zu vollenden.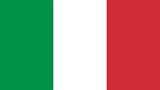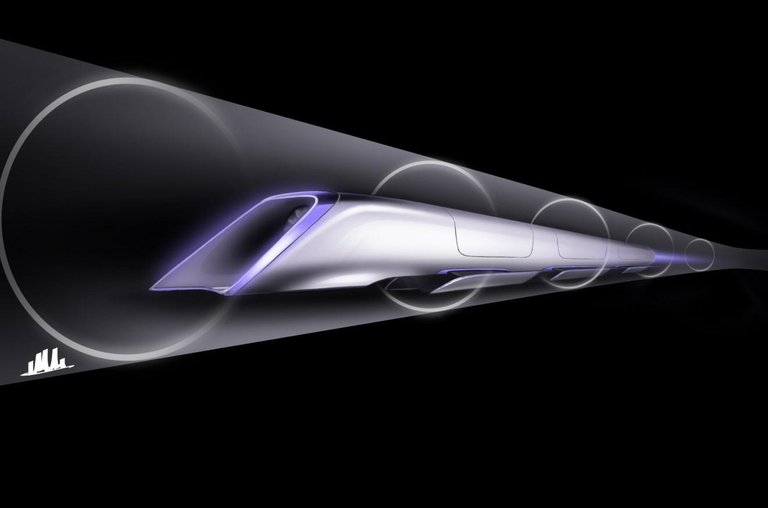 Elon Musk, il personaggio più visionario di questo secolo, fondatore di Paypal, Tesla e SpaceX nel 2013 mette nero su bianco una idea di trasporto efficiente, pulito ed economico. Scrive un paper e condivide la sua idea con il resto del mondo spronando chiunque abbia tempo e risorse a trasformare questa idea in realtà.
L' articolo
L'articolo in questione "Hyperloop alpha" è dviso in due parti: la prima di carattere divulgativo; la seconda di carattere tecnico.
Tutto nasce dalla critica al progetto approvato di treno ad "alta velocità" della California per la tratta San Francisco - Los Angeles, secondo lui uno dei più costosi e lenti al mondo.
Musk propone un sistema di trasporto che coniuga i vantaggi del viaggio aereo (tempi di percorrenza brevi) e i vantaggi del trasporto su strada (bassi costi) chiamato Hyperloop.
La tecnologia
Per raggiungere velocità prossime a quelle del suono, il mezzo (che chiamiamo capsula o pod ) in questione deve viaggiare in un ambiente a bassa pressione (il vuoto sarebbe l'ideale ma economicamente insostenibile) realizzato all'interno di un tubo che sarà il corridoio attraverso il quale si muoverà la capsula. La pressione sarà 1/6 di quella atmosferica presente su Marte ed equivale a quella che si può trovare volando ad una altezza di 45 km (150.000 feet) di quota. In questo modo si riduce notevolmente l'attrito anche conferendo alla capsula una forma aerodinamica. Bisogna risolvere anche ciò che è chiamato il limite di Kantrowitz, evitando di dover spendere energia per spostare la massa d'aria che la capsula si trova di fronte alle alte velocità. A tale scopo si utilizza una ventola in testa alla capsula per dirottare gran parte dell'aria in coda alla capsula. A causa della elevata velocità inoltre la capsula deve rimanere sospesa e non viaggiare su ruote, quindi accantonato il sistema di levitazione magnetica per gli alti costi, Musk propone un sistema di cuscinetto d'aria per mantenere sospesa la capsula ed evitare il contatto con il tubo. L'aria utilizzata per creare il cuscinetto è la rimanente parte di aria che non viene convogliata in coda alla capsula ma dirottata verso il basso con un compressore.
La capsula viene accelerata e decelerata tramite un motore elettrico lineare ad induzione costituito da rotori posizionati nella capsula e statori nel tubo. Il reboost è sufficiente ogni 112 km (70 miglia).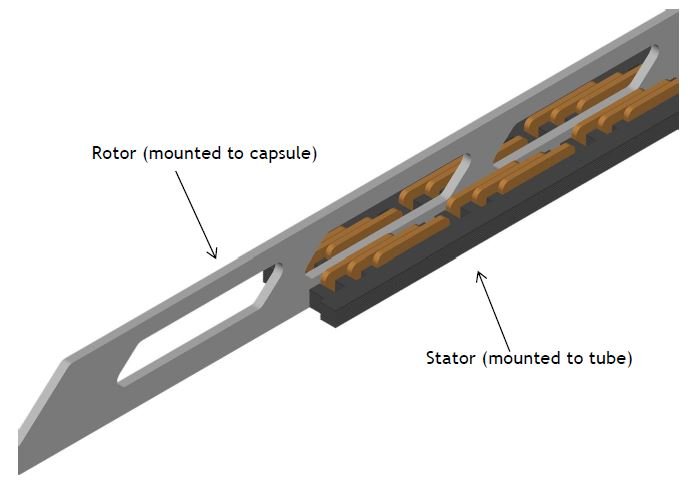 Il sistema di propulsione prevede queste caratteristiche:
| Velocità / accelerazione | Situazione |
| --- | --- |
| da 0 a 480 Km/h (300 mph) | Zone urbane |
| 480 Km/h (300 mph) | durante curve, salite ecc. |
| da 480 Km/h (300 mph) a 1220 Km/h (760 mph) | all'inizio del corridoio rettilineo ad alta velocità (accelerazione di 1 g) |
| decelerazione fino a 480 Km/h (300 mph) | alla fine del corridoio ad alta velocità |
Capsule
Il sistema di trasporto prevede capsule che contengono almeno 28 passeggeri o capsule che contengono in aggiunta 3 veicoli.
Display sulle pareti proiettano gradevoli paesaggi o contenuti multimediali a discrezione del passeggero.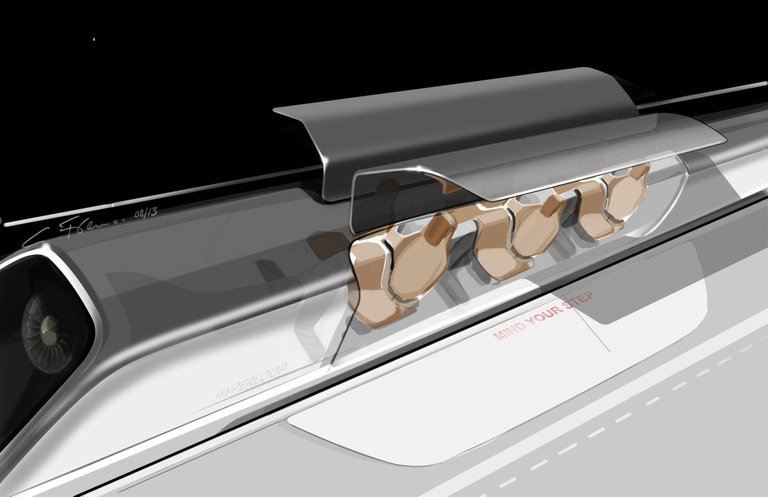 Per sostenere una capacità di 840 passeggeri all'ora le capsule devono partire ogni 2 minuti, il tempo di carico e scarico passeggeri è di circa 5 minuti.
Il costo stimato per la capsula a soli passeggeri è di 1.350.000 $, mentre per quella più grande con l'aggiunta di 3 veicoli è di 1.525.000 $
Infrastruttura
Le capsule viaggiano all'interno di tubi, nella fattispecie i tubi saranno a coppie, uno per ogni senso di marcia e non richiedono occupazione di suolo perchè saranno sospesi su pilastri ogni 30 metri o interrati.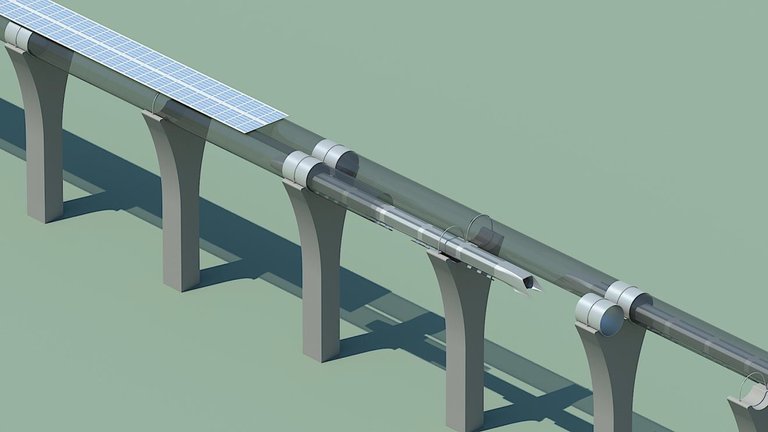 Le dimensioni degli stessi dipenderanno da quale tipo di capsule verranno usate (solo passeggeri o passeggeri con veicoli) perché va dimensionato il corretto rapporto area trasversale della capsula rispetto al diametro del tubo in modo da evitare la formazione di onde d'urto e quindi di resistenza aerodinamica che richiederebbe più energia per procedere.
I tubi disporranno di pannelli solari per accumulare energia nelle batterie che alimentano i motori ad induzione.
I pilastri sono progettati per sostenere sollecitazioni trasversali, dilatazioni e deformazioni del terreno sottostante quindi resilienti a calamità naturali come il terremoto.
Il costo dell'infrastruttura dipende da quanto lunga è la tratta, nel caso specifico Los Angeles - San Francisco risulta di 4,06 miliardi di dollari per la versione con soli passeggeri, o di 5,31 miliardi di dollari per la versione con anche il trasporto di veicoli. I pannelli solari non sono inclusi nel calcolo.
Hyperloop Pod Competition
Elon Musk ha ha sempre voluto il progetto OpenSource per spronare la comunità di esperti a collaborare per trasformare questa idea in realtà.
Nel 2015 ha annunciato la Hyperloop Pod Competition nella quale enti e università gareggiano per realizzare il pod che raggiunge la velocità più alta in una tratta di 1,6 km, riuscendo anche a fermarsi in sicurezza.
Le prime tre edizioni si sono svolte a Gennaio 2017, Agosto 2017 e Luglio 2018. L'ultima risale allo scorso Luglio.
In tutte le edizioni ha vinto il premio per la più alta velocità raggiunta la TUM Hyperloop (Technical university of Munich) raggiungendo le velocità di 93, 323, 457 e 463 Km/h.
Atri tipi di premi come innovazione tecnologica e design sono stati assegnati a diversi gruppi nel corso degli anni.
I vari prototipi dei partecipanti si discostano da quello del paper presentato da Elon Musk principalmente per il sistema di levitazione, dove al posto del cuscinetto ad aria si è optato per un sistema di levitazione magnetica o un ibrido con ruote per le basse velocità o aria per velocità più alte.
Efficienza energetica
Un aspetto che accomuna tutti i progetti inerenti l' Hyperloop è la elevata efficienza energetica in quanto l'energia necessaria per la propulsione elettrica, oltre che essere fornita dal Sole tramite gli appositi pannelli disseminati sui tubi, viene anche ricavata dall'energia cinetica fornita dallo stesso movimento dei pods e dall'energia ricavata nelle fasi di frenata degli stessi. Tirando le somme, si ottiene più energia di quanto si spende per far funzionare il sistema, rientrando dai costi inziali in soli pochi anni. Tutto questo anche a beneficio degli utenti che potranno godere del nuovo tipo di trasporto ad un prezzo abbordabile.
Per fare un paragone con la TAV che collegherà Torino Lione, il costo di questa operà verrà ammortizzato in 100 anni. Una tratta Torino Milano con Hyperloop ha un rientro dei costi nel giro di 8 anni.
Startups
Diverse aziende cominciano ad emergere nel panorama Hyperloop, e quella più conosciuta è Hyperloop Transportation Technology HTT sta già realizzando per l'Expo 2020 la tratta Abu Dhabi - Dubai che permetterà di percorrere lo spazio tra le due città (140 km) in 12 minuti viaggiando ad una media di 700 km/h.
Anche la Virgin Hyperloop One sta stringendo accordi con diversi paesi per costruire tratte strategiche per collegare importanti città riducendo i tempi di percorrenza da ore a poche decine di minuti.
La necessità di incontrarsi
In un mondo dove la connettività tra le persone si ottiene in pochi secondi e in qualsiasi momento grazie all'ecosistema Internet, la necessità di trovarsi in più persone nello stesso luogo, sia per lavoro, sia per discutere, che per condividere un hobby è stata sempre presente e lo sarà sempre e non poteva tardare una rivoluzione nei trasporti come questa per avvicinare "realmente" tra loro le persone. Intere famiglie potranno permettersi di lavorare in grandi città dove ci sono più opportunità di lavoro pur continuando a vivere in zone fino ad ora considerate proibitive per i tempi di percorrenza ma che permetteranno una vita più sana ed economica.
Sono passati solo 7 anni dall'idea di un visionario alla prima realizzazione, resa possibile anche grazie alla cooperazione tra diverse menti e competizione tra gruppi. Ora è necessaria la lungimiranza dei Governi per poter completare questa rivoluzione.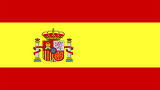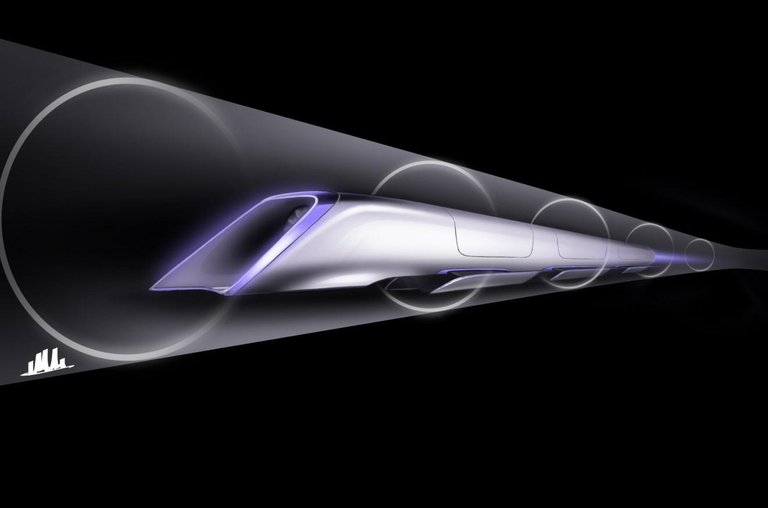 Elon Musk, el personaje más visionario de este siglo, fundador de Paypal, Tesla y SpaceX en 2013, presenta en papel una idea de transporte eficiente, limpia y barata. Escribe un * artículo * y comparte su idea con el resto del mundo, instando a cualquiera con tiempo y recursos a convertir esta idea en realidad.
El artículo
El artículo en cuestión "Hyperloop alpha" se conoce en dos partes: la primera de naturaleza popular; el segundo de naturaleza técnica.
Todo proviene de las críticas al proyecto de tren de "alta velocidad" aprobado en California para la sección San Francisco - Los Ángeles, según él, uno de los más caros y más lentos del mundo.
Musk propone un sistema de transporte que combina las ventajas del transporte aéreo (tiempos de viaje cortos) y las ventajas del transporte por carretera (bajo costo) con Hyperloop .
Tecnología
Para alcanzar velocidades cercanas a las del sonido, el medio (que llamamos cápsula o cápsula) en cuestión debe viajar en un entorno de baja presión (el vacío sería ideal pero económicamente insostenible) dentro de un tubo cuál será el corredor a través del cual se moverá la cápsula. La presión será 1/6 de la presión atmosférica presente en Marte y es equivalente a la que se puede encontrar volando a una altura de 45 km (150,000 pies) de altitud. De esta manera, la fricción se reduce considerablemente, lo que le da a la cápsula una forma aerodinámica. También debemos resolver lo que se llama el límite de Kantrowitz, evitando tener que gastar energía para mover la masa de aire que la cápsula está frente a la altura velocidad. Para este propósito, se usa un ventilador en la parte superior de la cápsula para desviar la mayor parte del aire al final de la cápsula. Debido a la alta velocidad, la cápsula debe permanecer suspendida y no desplazarse sobre ruedas, por lo que una vez que el sistema de levitación magnética se ha dejado de lado debido a los altos costos, Musk propone un sistema de soporte de aire para mantener la cápsula suspendida y evitar el contacto con el tubo. . El aire utilizado para crear el rodamiento es la parte restante del aire que no se transporta a la parte posterior de la cápsula sino que se desvía hacia abajo con un compresor.
La cápsula es acelerada y desacelerada por un motor eléctrico de inducción lineal que consiste en rotores colocados en la cápsula y estatores en el tubo. El reboost es suficiente cada 112 km (70 millas).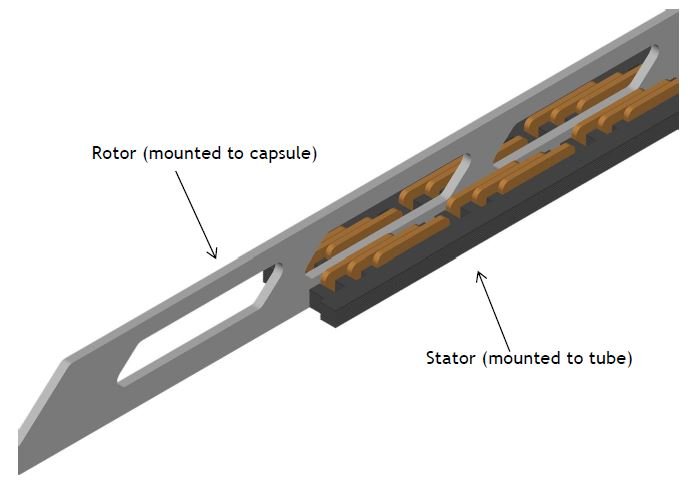 El sistema de propulsión proporciona estas características:
| Velocidad / aceleración | Situación |
| --- | --- |
| de 0 a 480 Km / h (300 mph) | Zonas urbanas |
| 480 Km / h (300 mph) | durante curvas, subidas, etc. |
| de 480 Km / h (300 mph) a 1220 Km / h (760 mph) | al comienzo del corredor recto de alta velocidad (aceleración de 1 g) |
| desaceleración hasta 480 km / h (300 mph) | al final del corredor de alta velocidad |
Cápsulas
El sistema de transporte incluye cápsulas que contienen al menos 28 pasajeros o cápsulas que contienen adicionalmente 3 vehículos.
Las pantallas de pared proyectan paisajes agradables o contenido multimedia a discreción del pasajero.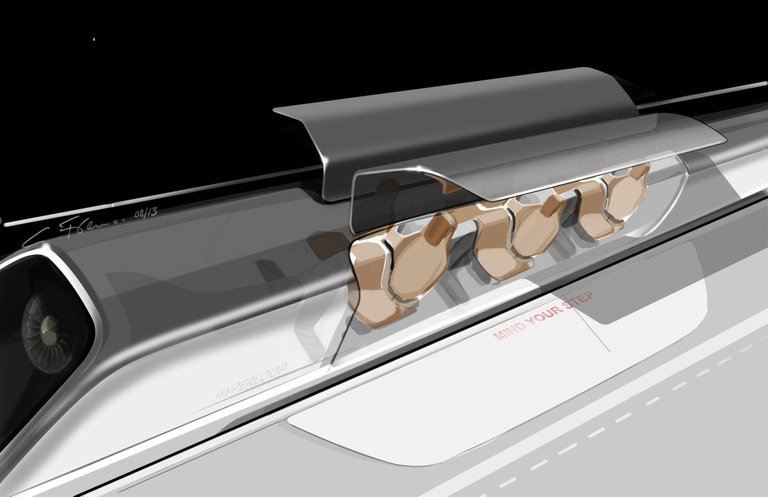 Para soportar una capacidad de 840 pasajeros por hora, las cápsulas deben comenzar cada 2 minutos, el tiempo de carga y descarga del pasajero es de aproximadamente 5 minutos.
El costo estimado para la cápsula solo para pasajeros es de $ 1,350,000, mientras que el más grande con la adición de 3 vehículos es de $ 1,525,000.
Infraestructura
Las cápsulas viajan dentro de los tubos, en este caso los tubos estarán en pares, uno para cada dirección de viaje y no requieren la ocupación del suelo porque estarán suspendidos en pilares cada 30 metros o enterrados.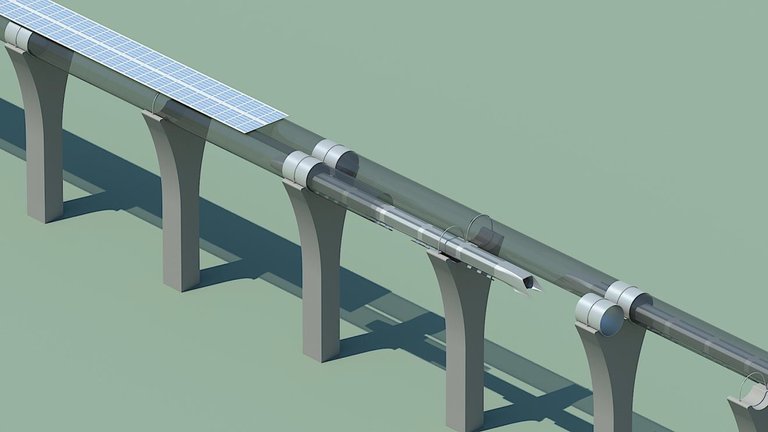 Las dimensiones de la misma dependerán del tipo de cápsulas que se utilizarán (solo pasajeros o pasajeros con vehículos) porque el área de la sección transversal correcta de la cápsula debe dimensionarse con respecto al diámetro del tubo para evitar la formación de ondas de choque y, por lo tanto, de resistencia. aerodinámica que requeriría más energía para proceder.
Los tubos tendrán paneles solares para almacenar energía en las baterías que alimentan los motores de inducción.
Los pilares están diseñados para soportar tensiones transversales, expansiones y deformaciones del suelo subyacente, por lo tanto resistentes a desastres naturales como terremotos.
El costo de la infraestructura depende de la duración del viaje, en este caso específico Los Ángeles - San Francisco es de 4.06 mil millones de dólares para la versión solo para pasajeros, o 5.31 mil millones de dólares para la versión con el transporte de vehículos. Los paneles solares no están incluidos en el cálculo.
Competencia Hyperloop Pod
Elon Musk siempre quiso que el proyecto OpenSource estimulara a la comunidad de expertos a colaborar para convertir esta idea en realidad.
En 2015, anunció la Competencia Hyperloop Pod en la que las instituciones y universidades compiten para hacer que la cápsula alcance la mayor velocidad en un tramo de 1,6 km, incluso con éxito para detenerse con seguridad.
Las primeras tres ediciones tuvieron lugar en enero de 2017, agosto de 2017 y julio de 2018. La última se remonta a julio pasado.
En todas las ediciones ganó el premio a la velocidad más alta que alcanzó el TUM Hyperloop (Universidad Técnica de Munich) alcanzando velocidades de 93, 323, 457 y 463 Km/h.
Otros tipos de premios, como la innovación tecnológica y el diseño, se han otorgado a diferentes grupos a lo largo de los años.
Los diversos prototipos de los participantes difieren de los del artículo presentado por Elon Musk principalmente para el sistema de levitación, donde en lugar del cojinete de aire optamos por un sistema de levitazina magnética o un híbrido con ruedas para bajas velocidades o aire para mayores velocidades.
Eficiencia energética
Un aspecto que es común a todos los proyectos relacionados con el Hyperloop es la alta eficiencia energética, ya que la energía requerida para la propulsión eléctrica, además de ser suministrada por el Sol a través de los paneles especiales dispersos en las tuberías, también se obtiene de la energía cinética suministrada por el mismo movimiento de las vainas y de la energía obtenida durante las fases de frenado de las mismas. En resumen, obtienes más energía de la que gastas en el funcionamiento del sistema, volviendo de los costos iniciales en solo unos pocos años. Todo esto también en beneficio de los usuarios que podrán disfrutar del nuevo tipo de transporte a un precio asequible.
Para hacer una comparación con el TAV que unirá Turín Lyon, el costo de esta operación se amortizará durante 100 años. Una sección de Turín Milán con Hyperloop tiene un retorno de costos dentro de 8 años.
Startups
Varias compañías están comenzando a emerger en el panorama Hyperloop, y la más conocida es Hyperloop Transportation Technology HTT ya se está dando cuenta para la Expo 2020 la ruta Abu Dhabi - Dubai que permitirá recorre el espacio entre las dos ciudades (140 km) en 12 minutos viajando a un promedio de 700 km / h.
Incluso el Virgin Hyperloop One está haciendo acuerdos con varios países para construir rutas estratégicas para conectar ciudades importantes, reduciendo los tiempos de viaje de horas a unas pocas decenas de minutos.
La necesidad de cumplir
En un mundo donde la conectividad entre las personas se logra en pocos segundos y en cualquier momento gracias al ecosistema de Internet, la necesidad de estar en más personas en el mismo lugar, ya sea por trabajo o por discusión, que compartir un pasatiempo ha sido siempre presente y siempre estará y no podría retrasar una revolución de transporte como esta para acercar a las personas "realmente" entre sí. Familias enteras podrán permitirse el lujo de trabajar en grandes ciudades donde hay más oportunidades de trabajo mientras viven en áreas que anteriormente se consideraban prohibitivas debido a los tiempos de viaje, pero permitirán una vida más saludable y económica.
Solo han pasado 7 años desde la idea de un visionario hasta la primera realización, hecho posible también gracias a la cooperación entre diferentes mentes y la competencia entre grupos. Ahora se necesita la previsión del gobierno para completar esta revolución.






edited by @massrado
All immages are open source from Hyperloop Alpha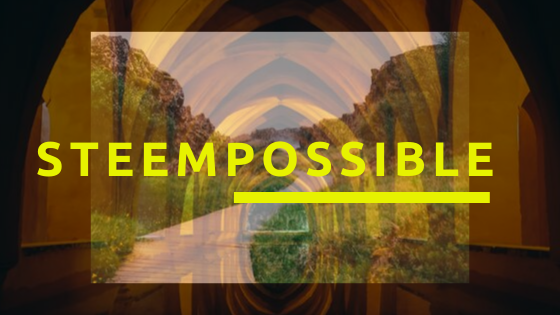 Follow our projects: @steempossible, @themagazine, @storychain and follow the work of our founders @ilnegro and @serialfiller