This mountain did not like me / Dieser Berg mochte mich nicht

| | |
| --- | --- |
| Today I really had the feeling that a mountain does not like me. | Heute hatte ich wirklich das Gefühl, dass ein Berg mich nicht mag. |
Mangart
| | |
| --- | --- |
| Yesterday evening I decided that today I wanted to climb a mountain in the Italian-Slovenian border area and photograph the sunrise. The weather forecast was good and I happily got up at 3:00 to see the sunrise on the Mangart mountain, which is 2,679 meters high (8,783 ft). | Gestern Abend beschloss ich, dass ich heute auf einen Berg im italienisch-slowenischen Grenzgebiet steigen und den Sonnenaufgang fotografieren wollte. Die Wettervorhersage war gut und ich stand mit Freude um 3:00 Uhr auf, um den Sonnenaufgang am 2.677 Meter hohen Mangart zu erleben. |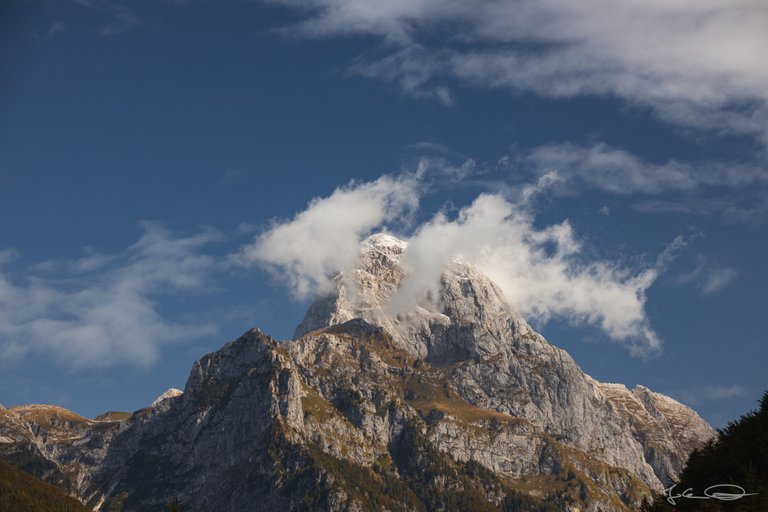 ❖ please click the image for fullsize view ❖
At about 5:00 clock I reached the Mangart saddle at 2,072 meters above sea level. The road to the saddle is tolled in the summer months and only 2.20 meters wide, but there are plenty of passages.
All parking areas were empty and so I was happy to have the summit for myself. The sky was starry, but there was a cold wind.

Um ca 5:00 Uhr erreichte ich den Mangart Sattel in 2.072 Metern Seehöhe. Die Straße auf den Sattel ist in den Sommermonaten mautpflichtig und nur 2,20 Meter breit, aber es gibt genügend Stellen zum Ausweichen.
Alle Parkflächen waren leer und so freute ich mich, den Gipfel für mich allein zu haben. Der Himmel war sternenklar, aber es ging ein kalter Wind.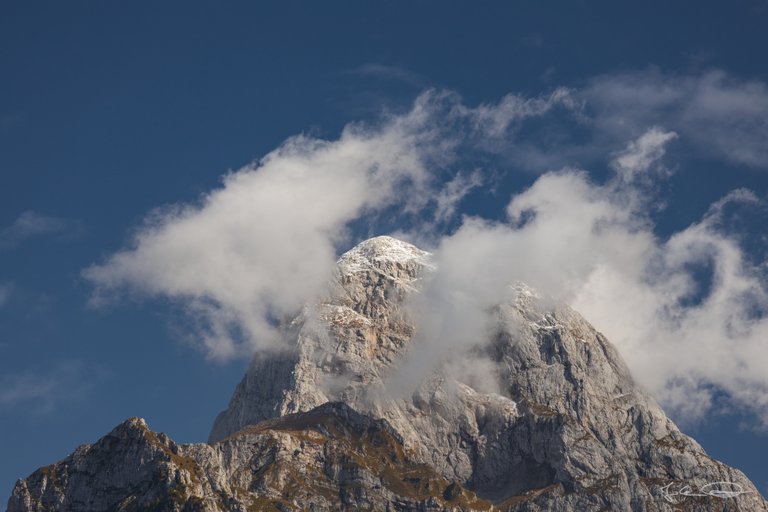 ❖ please click the image for fullsize view ❖
There are 3 official routes to the top of the Mangart: the Normal Route, the Slovenian Via Ferrata and the Italian Via Ferrata. Since I've never been to the Mangart, I wanted to go the normal route. Unfortunately, the paths were not sufficiently signposted, so I then climbed the Slovene via ferrata to the summit.
The Slovenian via ferrata is difficult, but not as difficult as the Italian via ferrata. Of course, I did not have climbing gear with me - just a headlamp, because it was still quite dark, although the full moon was shining a bit.

Es gibt 3 offizielle Wege auf den Gipfel des Mangart: Den Normalweg, den Slowenischen Klettersteig und den Italienischen Klettersteig. Nachdem ich noch nie auf dem Mangart gewesen bin, wollte ich die Normalroute gehen. Leider waren die Wege aber nicht ausreichend beschildert, so dass ich dann am Slowenischen Klettersteig zum Gipfel stieg.
Der Slowenische Klettersteig ist schwierig, aber nicht so schwierig, wie der Italienische Klettersteig. Kletterausrüstung hatte ich natürlich nicht dabei - nur eine Stirnlampe, weil es noch ziemlich dunkel gewesen ist, obwohl der Vollmond ein bisschen leuchtete.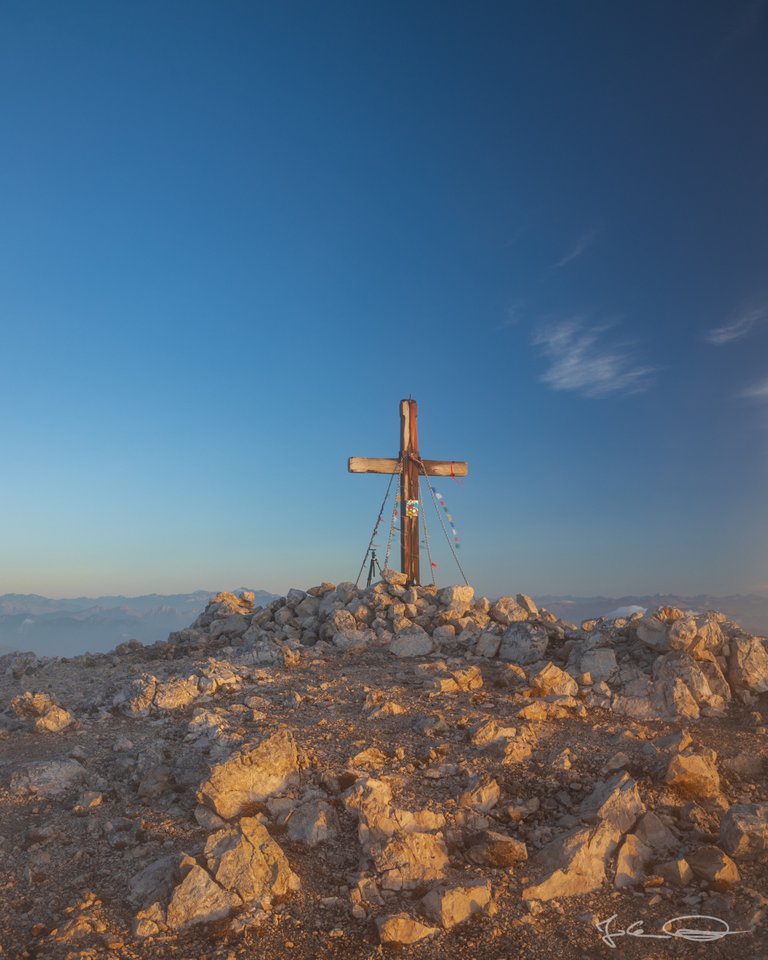 ❖ please click the image for fullsize view ❖
| | |
| --- | --- |
| At 07:20, exactly at sunrise, I arrived at the summit cross and I was happy, because the view was beautiful and the sky above me cloudless. The sun had already risen, but it was hidden behind thick clouds. I could have imagined what would come next, because a few minutes later, thick wet fog with strong and cold wind pulled up the mountain. | Um 7:20 Uhr, genau zum Sonnenaufgang kam ich am Gipfelkreuz an und ich freute mich, denn die Aussicht war wunderschön und der Himmel über mir wolkenlos. Die Sonne war zwar schon aufgegangen, aber sie war hinter dicken Wolken versteckt. Da hätte ich mir schon denken können, was gleich kommen würde, denn wenige Minuten später zog dichter nasser Nebel mit dem starken und kalten Wind auf den Berg. |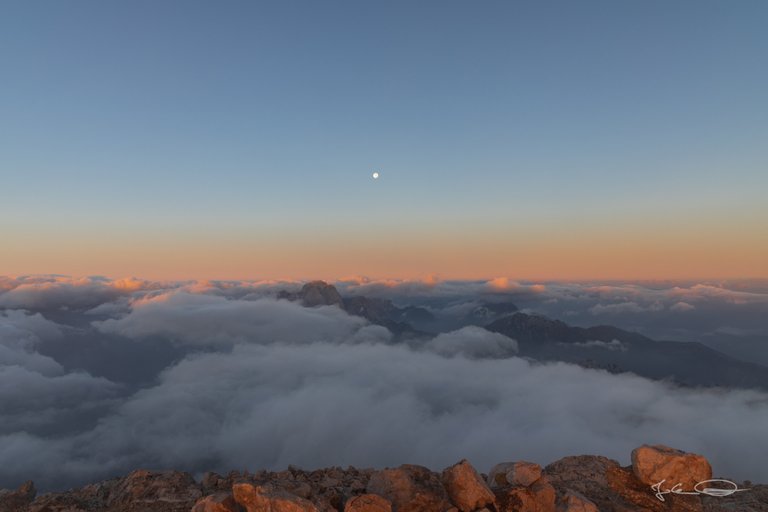 ❖ please click the image for fullsize view ❖
| | |
| --- | --- |
| As long as I still could see enough, I shot a few photos quickly, but did not notice that the front lens of the lens iced, because the viewfinder my camera was already iced and I photographed in good hope, that I get the image that I wanted. Because of the wet and cold weather wanted I do not open the display. | So lange ich noch genug Sicht gehabt habe, habe ich noch schnell ein paar Fotos geschossen, dabei aber nicht bemerkt, dass die Frontlinse des Objektives vereiste, denn der Sucher meiner Kamera war bereits vereist und ich fotografierte auf gut Glück und wegen der nasskalten Witterung wollte ich das Display nicht aufklappen. |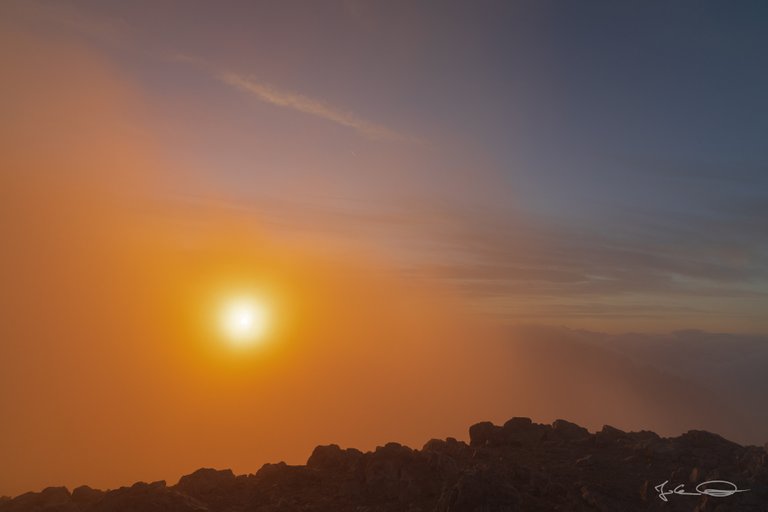 ❖ please click the image for fullsize view ❖
| | |
| --- | --- |
| The clouds around the sun became stronger and from the other side the cold fog moved up, so that I did not see much anymore and made my way back to the valley. | Die Wolken um die Sonne wurden stärker und von der anderen Seite zog der kalte Nebel nach oben, so dass ich nicht mehr viel sah und mich auf den Rückweg ins Tal machte. |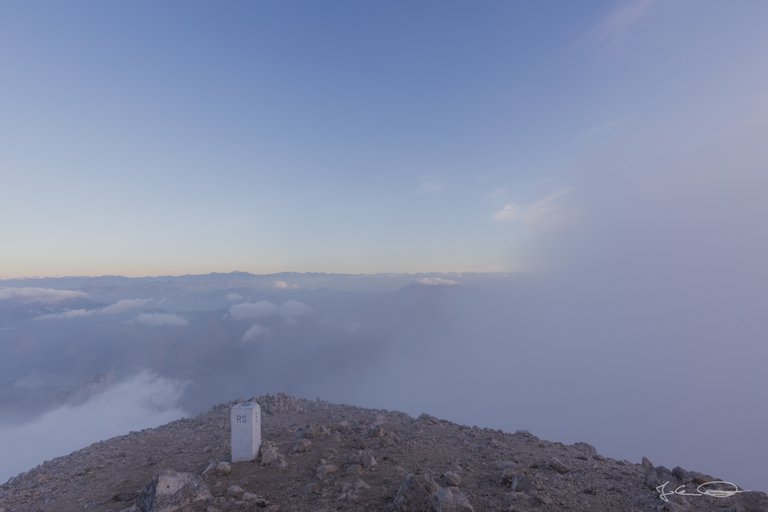 ❖ please click the image for fullsize view ❖
| | |
| --- | --- |
| Because of the fog and the cold many rocks were frozen, making the way back via the via ferrata rather dangerous, but after about two and a half hours I was back at the car. I had actually wanted to go down the normal track, on which also children go to the summit, but at the summit there was no indication whatsoever of this path. | Wegen dem Nebel und der Kälte vereisten viele Felsen, wodurch der Rückweg über den Klettersteig ziemlich gefährlich wurde, aber nach etwa zweieinhalb Stunden war ich zurück beim Auto. Ich hatte eigentlich über den Normalsteig, über den auch Kinder zum Gipfel gehen, nach unten gehen wollen, aber am Gipfel war überhaupt kein Hinweis auf diesen Steig zu sehen gewesen. |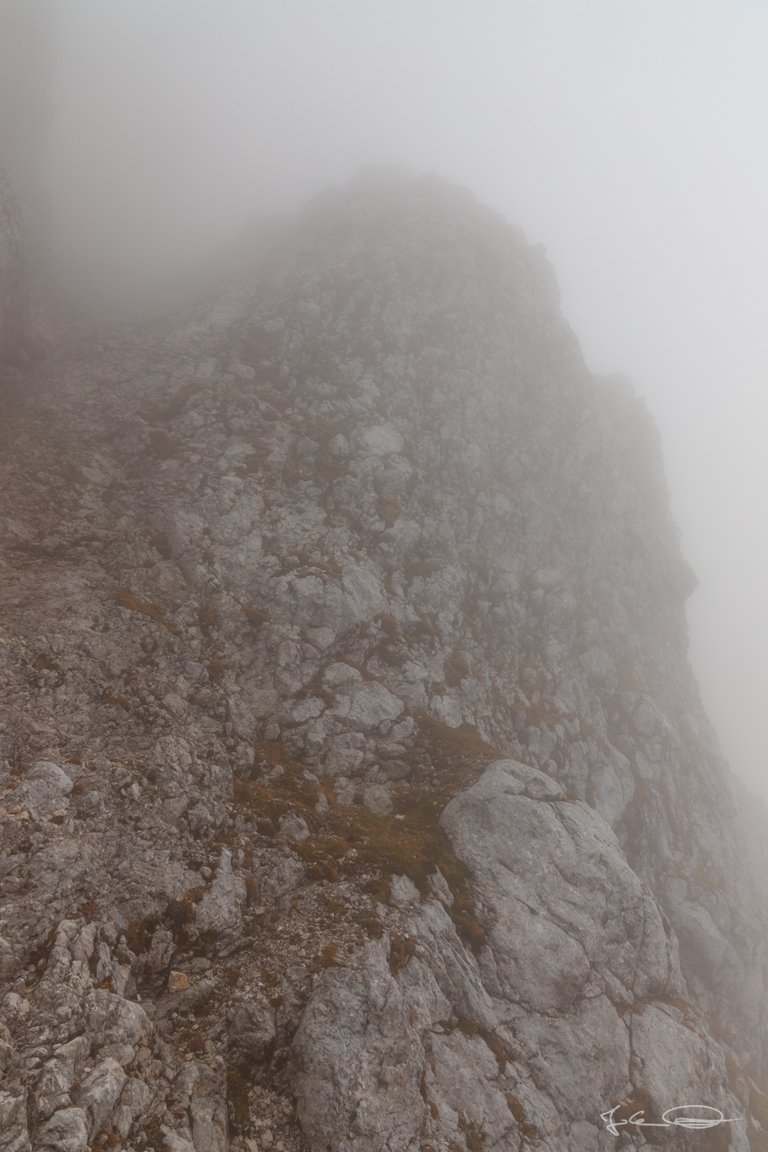 ❖ please click the image for fullsize view ❖
| | |
| --- | --- |
| This post should have been a description of the way to the top of the Mangart and I wanted to take photos of the path and the beautiful view that should extend to the Adriatic Sea, but the mountain was apparently against it. Maybe next time I'll have more luck. | Dieses Posting hätte eigentlich eine Beschreibung des Weges auf den Gipfel des Mangart werden sollen und ich habe Fotos des Weges und der wunderschönen Aussicht, welche bis zur Adria reichen soll, machen wollen, aber der Berg war anscheinend dagegen gewesen. Vielleicht habe ich nächstes Mal mehr Glück. |
| | |
| --- | --- |
| Zum Glück habe ich vor ein paar Tagen die ersten beiden Bilder des Mangarts von unten im Tal gemacht, denn heute wäre das nicht möglich gewesen. | Die ersten beiden Fotos vom Mangart habe ich glücklicherweise bereits vor einigen Tagen vom Tal aus gemacht, denn heute wäre das nicht möglich gewesen. |
All photos taken with the Canon EOS R and one of these lenses: RF 24-105mm f/4 L IS USM, EF 70-200mm f/4 L IS II USM, EF 16-35mm 1:4L IS USM.
Information
---
If you like my photos I would appreciate an upvote, nice comment or a resteem 😊 ... and maybe you would like to follow me, so you do not miss a post from me anymore.
Thank you for visiting my blog,
have a nice evening,



Photos and Text: Johann Piber | All rights reserved - do not use without my permission
#originalcontent #originalworks
---
View this post on TravelFeed for the best experience.
---
---