New Project on the Steem Blockchain: Type….. and Earn!!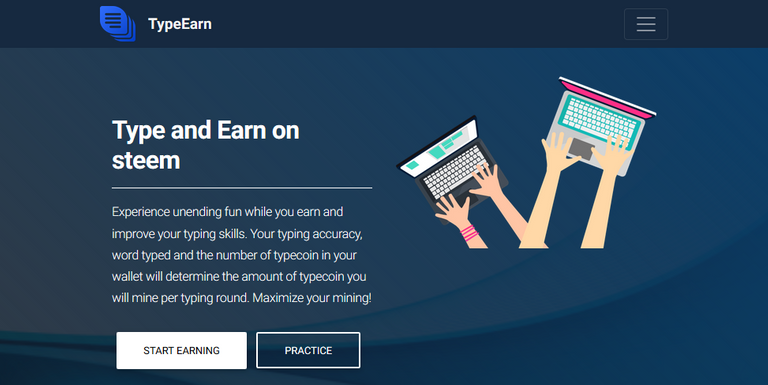 Usually, I love to go around the Steem blockchain from the Trending page to the Promoted tabs and even the New to try and find the kind of contents I'm genuinely interested in. I equally aim at finding new projects, understanding what they bring to the table and keying into them if they are my kind of projects.
Often, due to work related activities, I'm often not gifted the time to do these things I love to do. So basically, I miss out checking these tabs sometimes for a day, other times for two or even three. Thus, I usually tend to miss the announcement post of some of the new projects.
I remember when I missed that of the Steem-engine. After the Utopian project announced its winding up date, I began spending less time on the blockchain. Before then, my time here was already reduced due to job constraints. Then Utopian packed up and left and I virtually stopped visiting.
I was gone for more than a month or two and basically had no time or interest to keep tabs on Steem. Luckily for me, I have friends who use the Steem blockchain on my WhatsApp page. A status update from one of them brought me back to the Steem blockchain.
Ever since then, I have invested in a number of Steem tribes ranging from Actnearn to Realityhubs and the Sportstalksocial platform. I was already using Actifit before now but after their listing on Steem-Engine, I increased my use of the app. All of these tribes somewhat increased my participation on the blockchain and I'm quite pleased. However, this article is not about what I've been up to. It's about the TypeEarn Project.
Type, okay…. And Earn!!
The Type and Earn platform is built on Steem and designed to allow users work on their typing skills and speed while earning from these activities. Some of us started our typing career with the Mavis Beacon Teaches Typing software which helped in grooming us into better users of the keyboard.
I remember back then when I used to peer into my keyboard while trying to kind certain keys with Mavis Beacon. I learnt a lot, and at the end, I became confident enough to focus on the screen and type away instead of looking at the keyboard.
Mavis Beacon helped to groom us, but Typeearn seems more like a platform for users who already know the location of each keys. If you do not know, it could help in the long run especially if you use the practice sessions more often.
The practice section will help you get used to the keys faster while the earn section is where you begin to earn for using the Typeearn platform. There's also a guide section that will help you get used to the platform with the FAQ questions that have been answered for you.
There's a potential task section which is yet to be activated and implemented. Hopefully, this section will bring about more earnings for users. Once successfully logged in with your Steem account, you will see your profile picture by the right top corner of your screen. Clicking on this will display certain important information like your Type power, earned TPC and number of times you have mined so far for the day.
Conclusion
The Type and Earn Platform is one that I cherish a lot basically because I am one who looks to improve my Words Per Minute Speed. I am always on my laptop as a writer so it is only right that I improve my speed at any given interval. Lack of practice makes on blunt, ain't that so?
Typeearn is the perfect platform for me to hone my typing skills while earning for my time. What about you? Purchase some TPC and start earning and practicing on the go!!
---
Posted on RealityHubs - Rewarding Reviewers
---
---