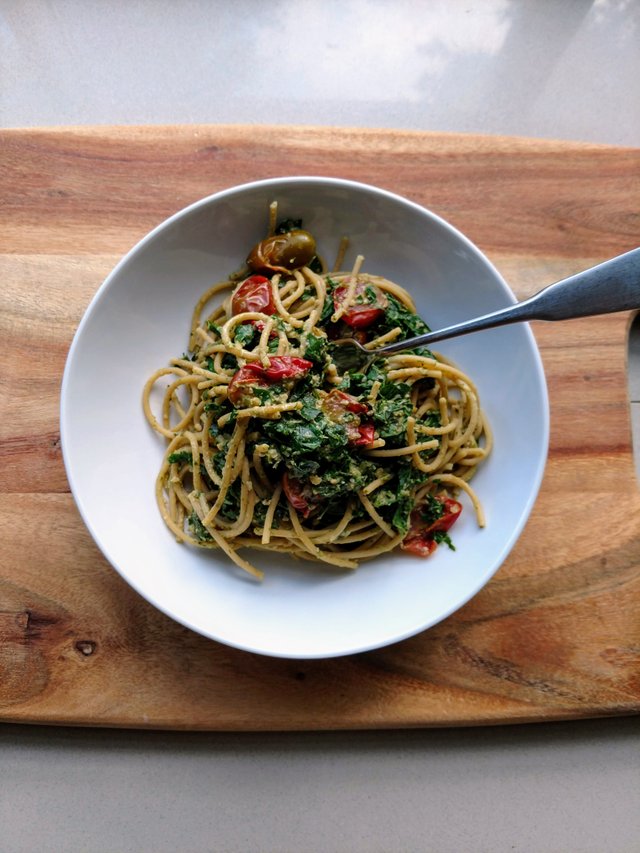 Hey again friends! Things have been pretty busy lately, so as always I'm trying to find that balance where I can accomplish all that I want to in a given day. Luckily healthy food never takes a backseat even when I'm at my busiest. I just find ways to make healthy food easy!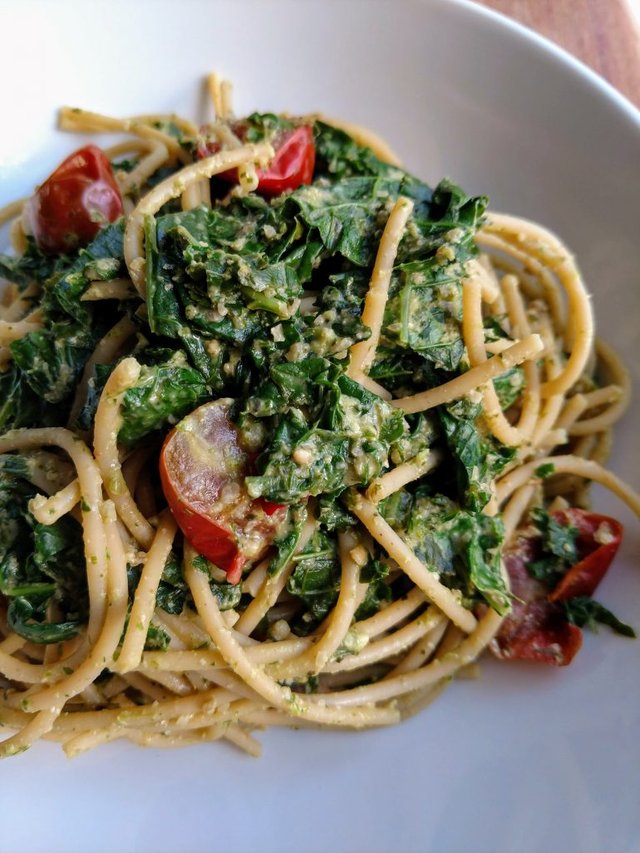 That is exactly what our Friday evening meal was this week. Often on Fridays we are down to the last bit of leftovers from my weekly meal prep, or we need to finish off the farmers market goodies from the week before in order to stock back up the next morning. Either way, we generally spend Friday night in and skip the takeout or restaurant rush. After a few years of sharing recipes and meal ideas, I actually find that some of my random end-of-the-week meals tend to get the most traction when I share them! It makes me happy to know everyone else likes a quick meal tossed together from whatever is left in the refrigerator and pantry.
After teasing this bowl of pasta on my Instagram feed, I thought it would be good to grab a few minutes to write it up on the blog as it turned out delicious! This was a perfect combination of a few items from the market, pantry staples and some delicious fresh-picked items from our very own backyard garden. As I've shared in some of my garden updates, both the cherry tomatoes and basil have been doing well. What better way to put those together than in a comforting bowl of pasta.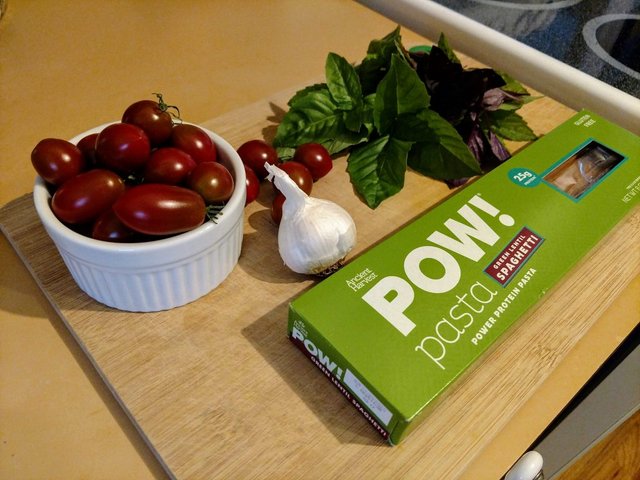 I know some people shy away from pasta because it has too many carbs or a really heavy, creamy sauce. However, when you make it at home you can find all kinds of ways to turn what could be a bomb of a meal into a light, nourishing dish. I really enjoy using all of the different legume-based pastas on the market now. They are packed with plant-based protein and fiber, so they are more filling and nutritious than some of the typical boxed noodles. Maybe some day I'll try my hand at making noodles from scratch, but until then it's nice to have some good options for a fast weeknight meal.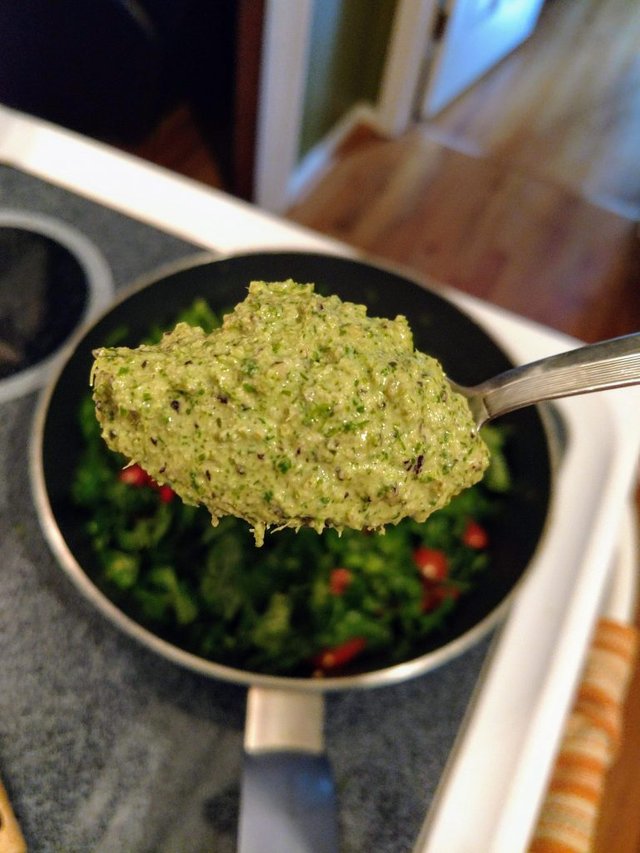 Presto, pesto!
My other favorite way to keep my bowl delicious yet healthy is making my own sauce, or in this case pesto! I make pesto a lot with all kinds of herbs and greens like arugula and oregano, but it was nice to finally have plenty of fresh basil to do the job. I also had a bit of dill left from the market last week (ours died off in the garden a while back), so I mixed that in, as well. You can always sub whatever herbs you have handy. Since I don't use oil much in my cooking, I opted for a bit of tahini for the creamy texture. I adore tahini anyway, so it's not like you have to twist my arm to get me to use it. ;)
From start to finish this probably took less than 30 minutes to throw together. I cooked the tomatoes and kale while the pasta was boiling, all while whizzing the pesto together in the food processor. I try to do all my chopping at once like the fancy restaurants do to make it that much easier to roll from one part of the dish to another once I get going. It definitely took me a while to get this efficient, but now it's a breeze to whip up a dish like this. The hardest part now is ignoring the grumble in my belly while I try to take photos...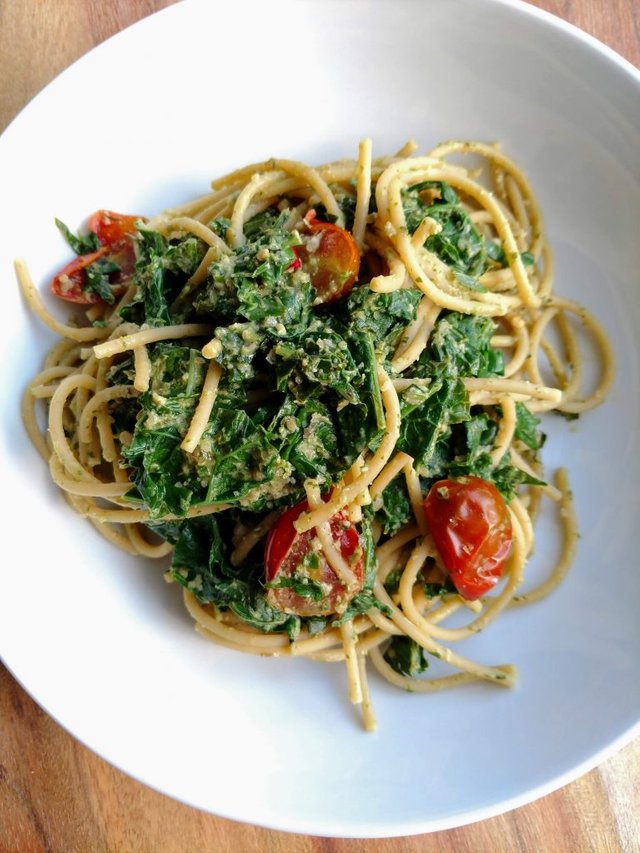 Easy Pesto Pasta
1 box green lentil spaghetti (or other pasta of choice)
1 heaping cup cherry tomatoes, sliced in half
4-5 cloves fresh garlic, minced
3-4 cups chopped fresh kale, tough stems removed
pinch of cayenne or red pepper flakes (optional)
1 big handful fresh basil, rinsed
1 big handful fresh dill, rinsed
1 heaping tablespoon tahini
2 tablespoons sunflower seeds
zest & juice from a small lemon
1 tablespoon mild white miso
Boil a large pot of water and prepare your pasta according to directions on box. Drain, then set aside and keep warm if it is finished before the rest of the components.
Meanwhile, heat a skillet over medium heat and add your cherry tomatoes and garlic. Cook, stirring occasionally, 3-5 minutes or until the garlic is fragrant and the tomatoes are starting to wilt. Use a spoonful or two of the pasta cooking water if needed to prevent sticking. Add in the chopped kale and pepper if using. Cook just until the kale is wilted, then remove from heat.
Finally, prepare your pesto by combining the remaining ingredients in a small food processor. Blend until well combined.
Mix together the pasta, vegetables and pesto. Serve warm.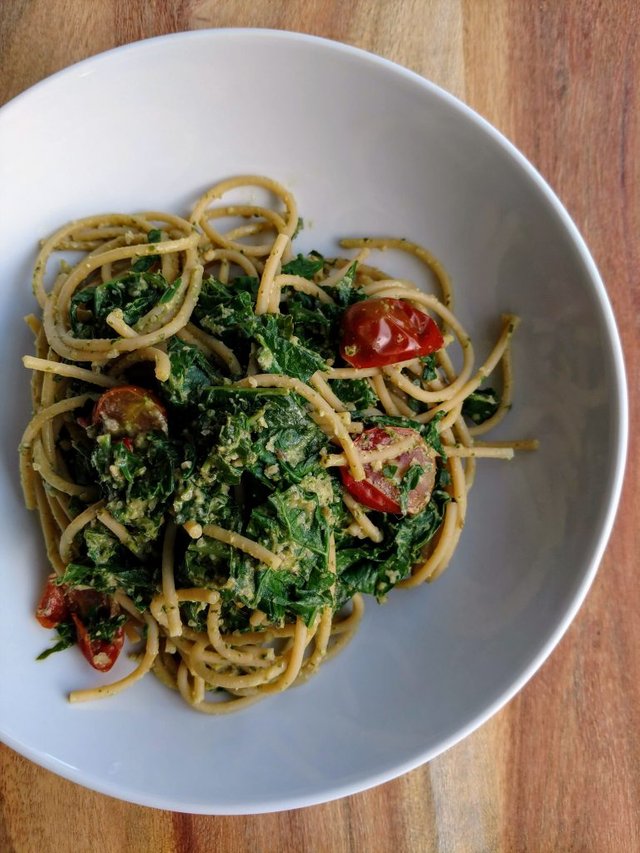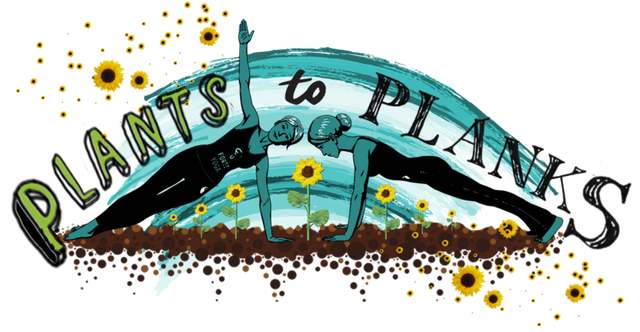 Banners by @zord189, @woman-onthe-wing, @dksart and @bearone for @steemusa


---
Posted from my blog with SteemPress : https://plantstoplanks.com/easy-pesto-pasta-vegan-oil-free/
---