Be careful from people trying to steal your Steam account credentials
Today I wasted almost 1 hour on a crappy conversation where I guess someone was trying to steal my Steam account credentials. It has been almost a year since I played any game on Steam. My account was still active but I didn't use it regularly. I also had a small balance in my account which I couldn't use on any games.
Today I received a message from someone random on Discord. He told me that he reported me by mistake and asked me to contact support and appeal. The first thing I noticed from this user's message was that he was new to discord and his name was Unreleased. Please check the conversation below.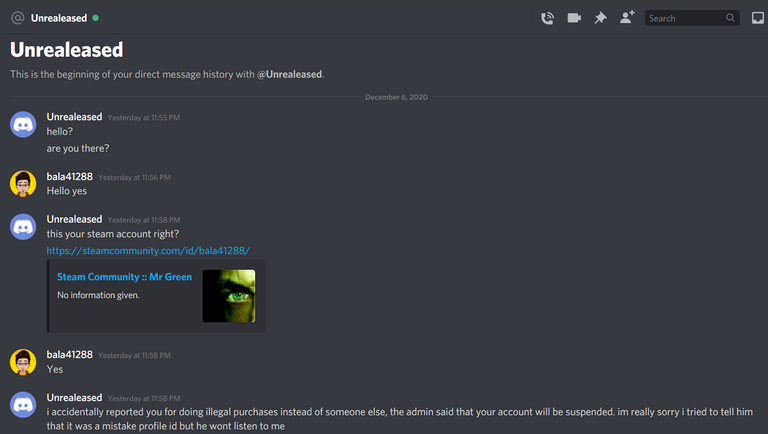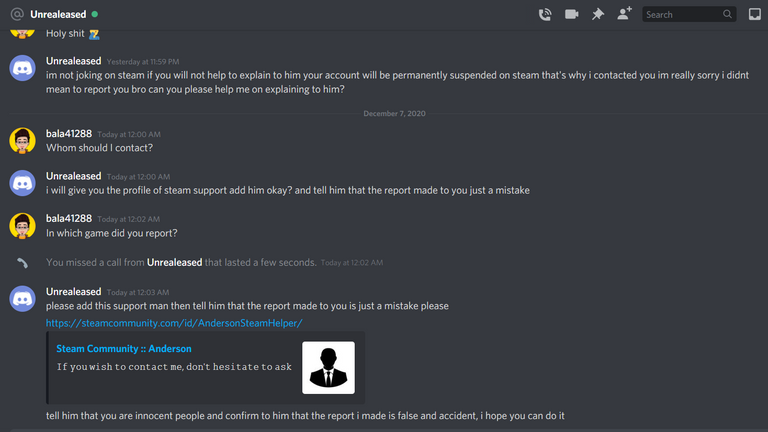 I then went to Steam chat and sent a friend request to Anderson and started chatting with him to understand what the issue was. I really believed that something was wrong with my account and my account would get deleted.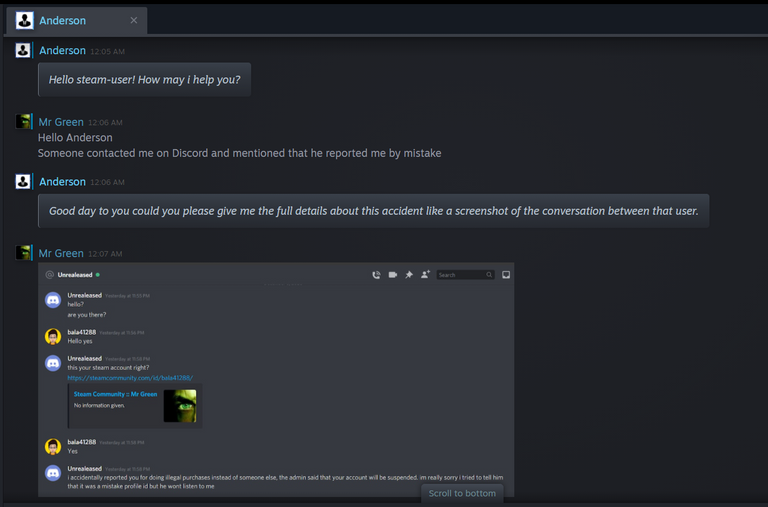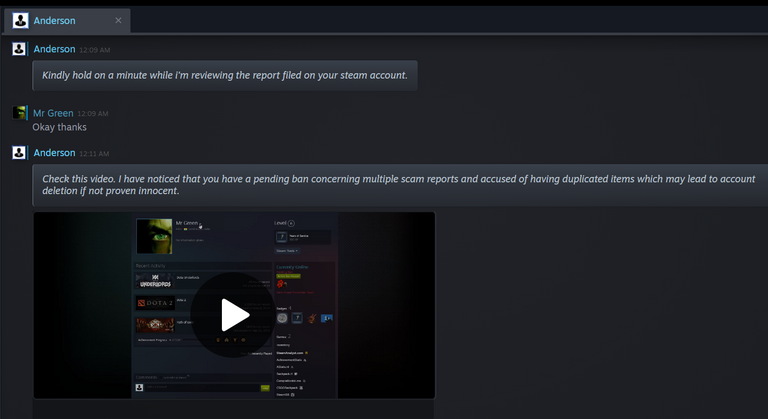 In the above, he sent me a video. That is what made me feel that it was real. Even while writing this article, it still makes me feel that how could he edit something like that in this video. It is still a puzzle to me. Maybe he is maintaining a standard template that he is using for everyone. Then the conversation continued and I also cooperated with whatever he asked.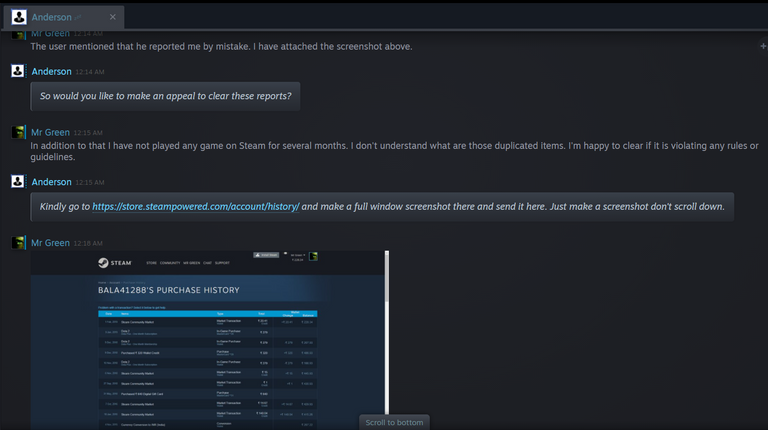 There is nothing confidential so far in whatever he asked me. I even shared my purchase history screenshot with him. Then the conversation moved to discord. I noticed that this discord account was also created only recently. I continued the conversation on Discord.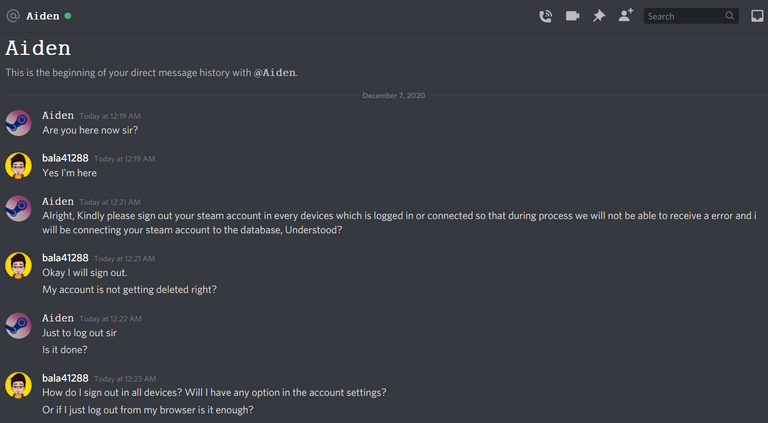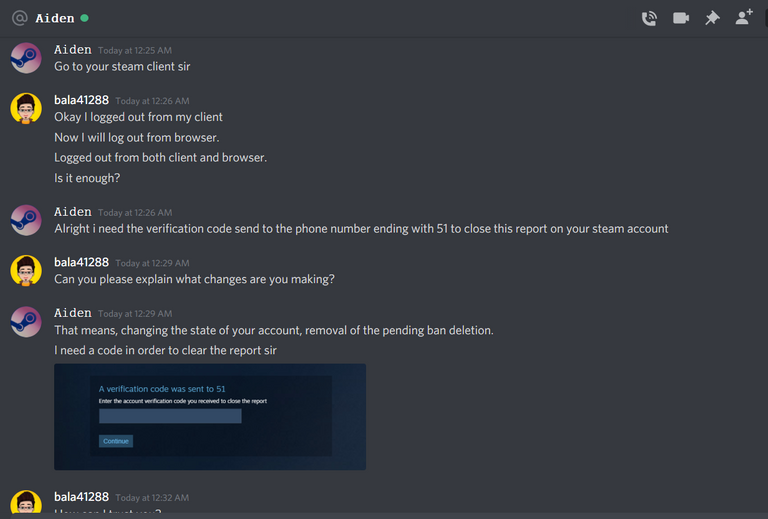 When he asked for the code from my mobile, that is when I opened my eyes. I still had a small doubt that this was a legitimate conversation but then I also tried chatting with the guy who initiated all this with me.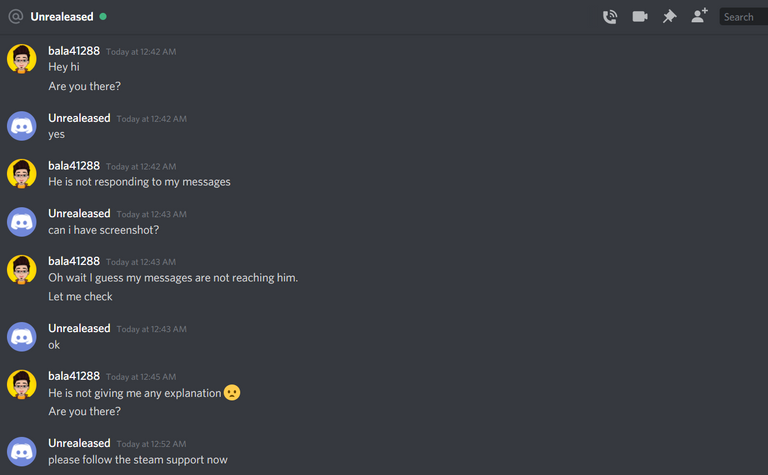 The other guy was also insisting me to follow the instructions given by the support guy. My curiosity increased. I tried poking him again and again. Then after a while when I try to send messages to both of them, I noticed that they escaped away by either blocking me or by removing me from the friends' list.
So ultimately both the guys were one and the same. I never expected people would be so curious to steal Steam account as well. I don't even know what made them get more attracted to my Steam account. My account is already idle where I stopped playing games long ago. Maybe they are attracted to the 200 Rs that I have in my account. I don't know.
A caution note to all the gamers. Be careful with scammers like this who come up with some extraordinary stuff to steal our thing. Some people might already have enough experience with all these but for me, this is the first experience. Not just steam or not just discord, this can happen to anything. It is better to be careful. Overall I wasted almost 2 hours of my sleeping time in this bullshit. That is the only concern for me now. So, I thought I should leave a caution note to others as well to be careful and not waste time with this kind of people.
---




---
Posted via neoxian.city | The City of Neoxian
---
---