BeerSaturday week 282 - Baoding (Brasserie Dunham)
Here is my participation to the BeerSaturday 282. This week, I present you only one beer, the Baoding from the brewery Dunham in Quebec. It's because of its 750ml format that I limited myself this week 😀.
Voici ma participation au BeerSaturday 282. Cette semaine, je vous présente une seule bière, la Baoding de la brasserie Dunham au Québec. C'est à cause de son format 750ml que je me suis limité cette semaine 😀.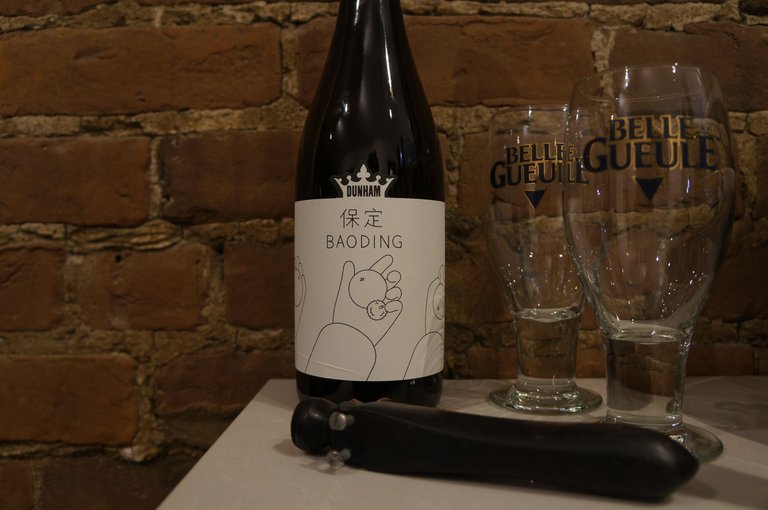 Quebec is quite a huge province so I thought that a map could be useful to show you where the different breweries are located. This week, we're in the very pretty little town of Dunham in the Cantons de l'Est, a wine region, always nice to do the Wine Route in this area. The brewery Dunham is located in the heart of the village in the old Relais de la Diligence, a historical building. Beautiful place.
Le Québec c'est assez grand comme province alors je me suis dit qu'une carte pourrait être utile pour vous montrer ou se trouvent les différentes brasseries présentées. Cette semaine, nous sommes dans la très jolie petite ville du Dunham dans les Cantons de l'Est, région viticole, toujours sympa de faire la route des Vins dans cette région. La brasserie Dunham se trouve au cœur du village dans l'ancien Relais de la Diligence, bâtiment historique.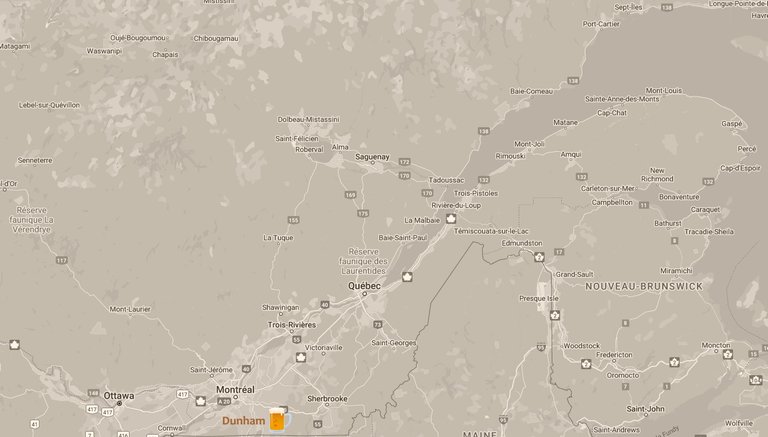 Baoding (Brasserie Dunham)
---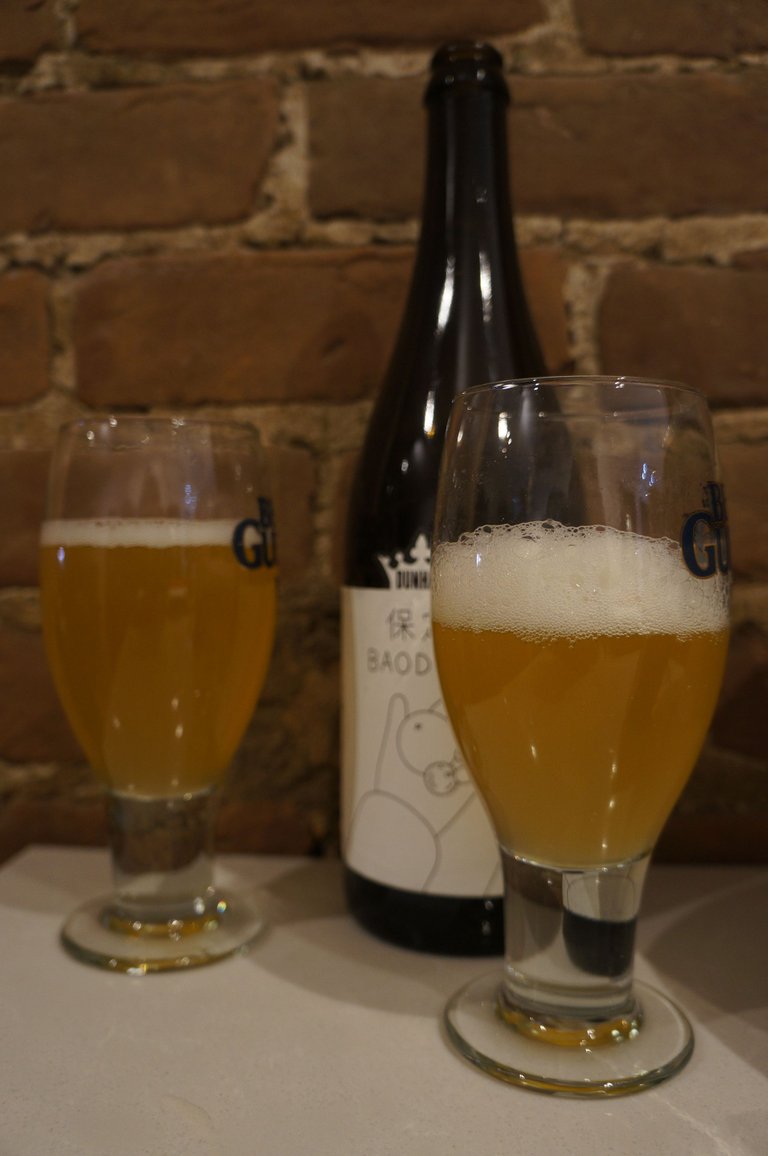 📜 Brewery / Brasserie :
The brewery Dunham is one of my favorite breweries in Quebec. It was founded in 2011 in the spirit of exploring new techniques and flavors. The team of Sébastien Gagnon, director, Eloi Deit, brewmaster and Eric Beaulac, manager, love to try new things. Every year, there is a party for the release of the new beers (better to reserve your bottles well in advance, it sell fast). And finally, the brewery's restaurant is delicious. That's why I always like to go there. Next time I'll take some pictures to show you all this.
La brasserie Dunham est l'une de mes brasseries préférées au Québec. Elle a été fondée en 2011 dans l'esprit d'explorer de nouvelles techniques et de nouvelles saveurs. L'équipe composée de Sébastien Gagnon, directeur, Éloi Deit, maître brasseur et Éric Beaulac, gérant, aime essayer de nouvelles choses. Chaque année, il y a une fête pour la sortie des nouvelles bières (faut mieux réserver ses bouteilles longtemps en avance, cela part vite). Et pour finir, le restaurant de la brasserie est délicieux. Ce que fait que j'aime toujours y faire un tour. La prochaine fois, je prends quelques photos pour vous montrer tout cela.
---
🍺 Tasting / Dégustation :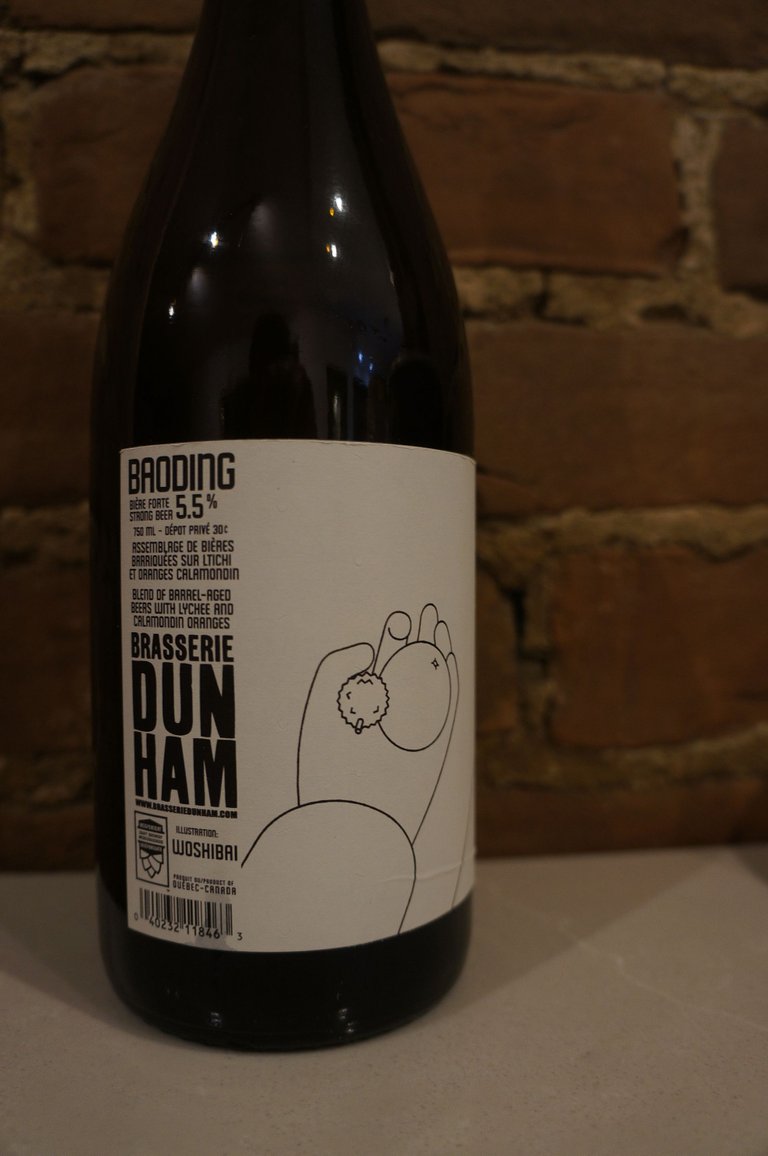 This is already the fourth beer from Dunham. After the Palefroi (BeerSaturday #274), the Borvo (BeerSaturday #275) and the Rauch Pupu (BeerSaturday #277), here is the Baoding, it's a beer made from a blend of beers barreled on lychees and oranges. It's part of the "funk with fruits!" series 😀. Upon opening, it's very effervescent (I made a small mess despite it being in the fridge since the day before) whose foam disappears very quickly. Baoding is very refreshing thanks to its fruity touch with a little taste of lychee. Good beer despite the fact that I'm not too much for fruity mixtures.
C'est déjà la quatrième bière de la brasserie Dunham. Après la Palefroi (BeerSaturday #274), la Borvo (BeerSaturday #275) et la Rauch Pupu (BeerSaturday #277), voici la Baoding, c'est une bière issue d'un assemblage de bières barriquées sur des litchis et des oranges. Elle fait partie de la série "funk à fruits!" 😀 . A l'ouverture, elle est très effervescente (j'ai fait un petit dégât malgré qu'elle était au frigo depuis la veille) dont la mousse disparait très rapidement. La Baoding est très rafraichissante grâce à sa touche fruité avec ce petit goût de litchi. Bonne bière malgré le fait que je ne suis pas trop pour les mélanges fruités.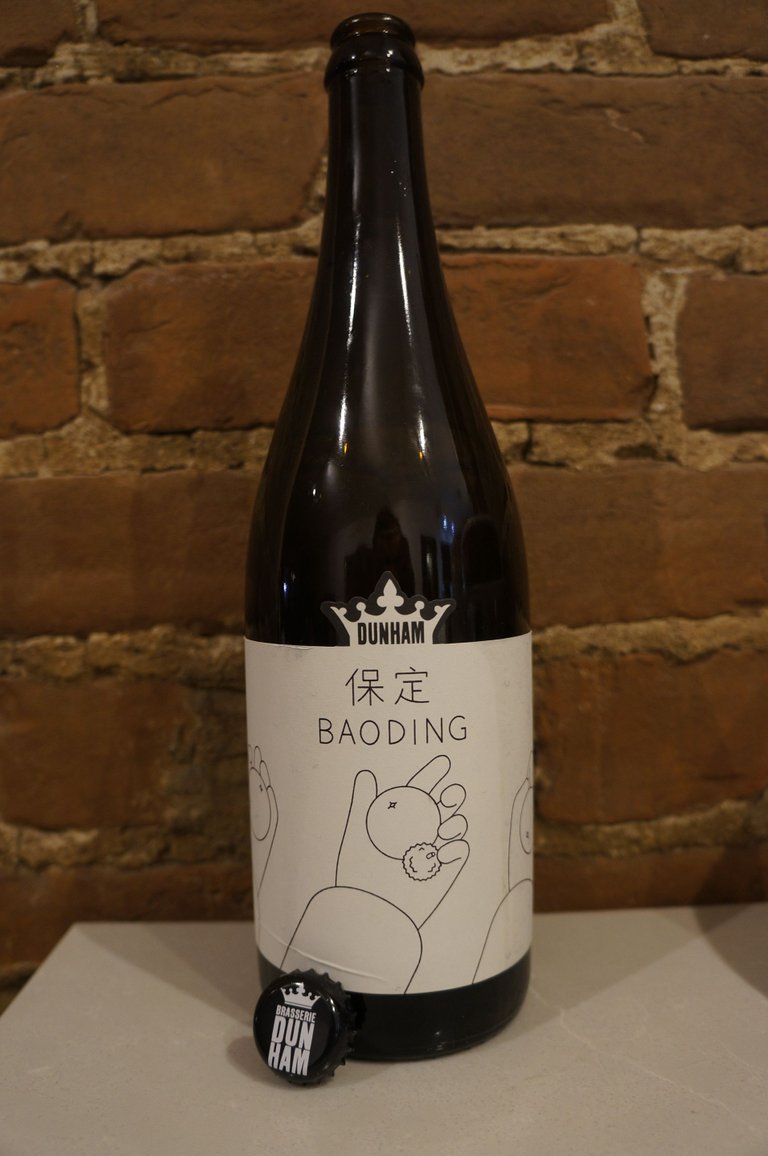 And for your information, the design of the bottle was made by Woshibai, an artist and illustrator based in Shanghai. I would have liked to know when the meeting took place between Quebec brewers and a Chinese artist. But I couldn't find any information about it.
Et pour info, le design de la bouteille a été réalisé par Woshibai, artiste et illustrateur basé à Shanghai. J'aurai bien aimé savoir quand la rencontre a eu lieu entre des brasseurs québécois et un artiste chinois. Mais je n'ai pas trouvé d'informations à ce sujet.

Have a great week. / Très bonne semaine à tous.
Cheers / Santé / Salud 🍻
---
---