My 2022 Hive Goals - Week 9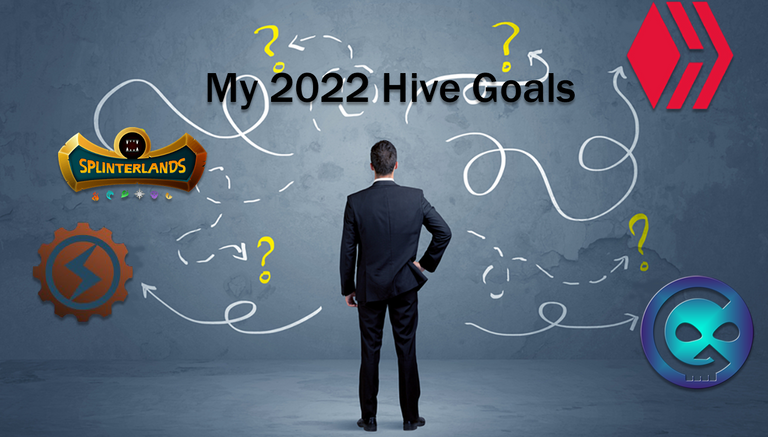 Welcome to my weekly series where I attempt to explain my current hive investment strategies and how they are currently performing in the volatile crypto market. As always I hope to make profitable choices but every choice is a learning experience. This week has been a busy week moving some liquidity around, got some work done on a couple projects I've been working on and Did my first brawl in splinterlands. I am also re-evaluating some of my investments and deciding if I should pull back or drop some of them as I feel some may not be being completely honest and dishonesty and investments do not typically mix well and I am getting too old to be bothered to deal with it.

Liquidity Pools
As I mentioned last week I dropped SWAP.HIVE:DEC because there were more profitable places to put my tokens. I also dropped out of SWAP.HIVE:ONEUP shifting the assets to ONEUP:PIZZA where there was a better APR. Also Added a new pool this week for my LVL
ONEUP:LEO - I was able to get my shares in this pool up to 0.041% from 0.02% with 13% bonus shares. MY APR in the pool has increased from 163.138% to 187.337% APR.
PIZZA:ONEUP - This pool is slightly less APR than ONEUP:LEO at 177.766% but it is self compounding in the fact that 24 hour rewards provide oneup and pizza that can be reinvested in this pool. This week I shifted my lesser performing oneup to here going from 0.008% shares to 0.151%.
SWAP.HIVE:CENT - I added to this pool during the week increasing my shares from 0.116% to 0.133% with 30% bonus shares. The APR increased on this pool slightly from 48.597% to 51.716%. It is a low APR but the other option for CENT is not much better and this pool offers a small amount of UTOPIS in the rewards.
CENT:POB - Another self compounding pool giving POB and CENT rewards. My shares in this pool increased from 0.081% to 0.084% with 30% bonus shares. My APR on this pool has increased from 77.852% to 89.763%
BEE:SWAP.BUSD - My shares went from 0.003% to 0.004% with 22% bonus shares. however my APR decreased from 87.003% to 83.333%.
SWAP.HIVE:PLN - Despite reinvesting my PLN into this pool all week my shares stayed at 0.007% with 39% bonus shares. My APR on this pool increased from 402.879% to 439.971%.
SPS:SWAP.STATE - This pool is another self compounding with a slight addition from my SPS airdrop daily. With daily reinvestment of rewards I have increased my shares from 0.015% to 0.016% with 30% bonus shares. My APR in this pool increased from 123.425% to 234.947%. It looks like more rewards were added to the reward pool.
PIZZA:DEC - I started reinvesting my DEC reward from this pool back into it. This pool give DEC, UTOPIS and THGAMING but I'm mainly interested in more UTOPIS. My shares in this pool are now 0.748% giving me a 52.263% APR.
SWAP.HIVE:BXT - My shares in this pool are now at 0.017% and my APR is now 71.731% leaving me still only collecting ~ 0.003 BXT every 24 hours. This is going to keep providing BTX for reinvesting and staking for HIVE rewards.
SWAP.HIVE:SIM - The APR on this pool keeps dropping from 26.112% to 22.972% and from 14.531% to 12.88% on the BXT. I'm starting to consider other places for these tokens I'm not really getting anything here.
SWAP.HIVE:THGAMING - Despite reinvesting my THGAMING everyday in this pool I am still < 0.001% shares. my 163.317% APR has increased to 205.732% on this pool.
SWAP.HIVE:LVL - Finally a pool for this LVL I have been accumulating. I add to this pool and am reinvesting my LVL tokens into it. I have less than 0.001% with 2% bonus shares giving me a 159.012% APR.
24 hour rewards from Liquidity
| Token | Amount | Token | Amount |
| --- | --- | --- | --- |
| ONEUP | 1.99 | LVL | 0.315 |
| MEME | 0.235 | THGAMING | 2.341 |
| CENT | 0.334 | VIBES | 0.021 |
| POB | 0.002 | BEE | 0.007 |
| PLN | 0.013 | SPS | 0.011 |
| DEC | 11.075 | SIM | 0.604 |
| CROP | 0.055 | GAMER | 0.545 |
| SPT | 0.035 | SWAP.STATE | 2.081 |
| ENTRY | 0.61 | BATTLE | 0.047 |
| SWAP.DFY | 0.378 | NFTM | 0.001 |
| LASSECASH | 0.001 | BXT | 0.003 |
Posts and Curation
Behind on posts like always. Hoping to get a few
splinterlands
posts out this week been gathering data but not making any posts. Missed some tag on my posts last week cost me some income there, need to be more careful going forward this is not the first time.
Play2Earn
splinterlands - running two of my accounts right now, one in Gold and One in Diamond to accumulate more cards for my rental income.
Geno Pets -still waiting for a launch date or beta invite on this one. I am getting busier as the weeks pass but could use some walking and exercise I am sure.
Hash Kings - Have harvested three crops so far. looking into buying some land plots I have been told that is where the money is at.
Dcity - still accumulating resources for this no time to learn how to play yet.

My approximate starting value was $3577.25 with my approximate value in hive this week is $2971.64 the decrease is mostly due the still falling market and some of the volatile assets I'm holding like CHAOS packs and CARTEL. The shift in my liquidity pools has improved the rewards I'm getting every 24 hours and overall I think I have improved on the investments this week.
| Token | Current Price | Total Value | Liquid | Liquidity | Staked | Delegated |
| --- | --- | --- | --- | --- | --- | --- |
| SWAP.HIVE | 0.91300000 | 9.25776413 | 0.64023226 | 9.49970655 | 0 | 0 |
| HIVE | 0.91300000 | 0.53136600 | 0.582 | 0 | 0 | 0 |
| HP | 0.91300000 | 108.05355000 | 0 | 0 | 71.266 | 47.084 |
| HBD | 1.00000000 | 29.17600000 | 0 | 0 | 29.176 | 0 |
| SWAP.HBD | 1.00000000 | 0.00000000 | 0 | 0 | 0 | 0 |
| BXT | 5.91851000 | 19.05168369 | 0 | 0.924 | 2.295 | 0 |
| UTOPIS | 0.70672000 | 0.38116656 | 0 | 0 | 0.53934594 | 0 |
| CARTEL | 8.53373000 | 179.20833000 | 21 | 0 | 0 | 0 |
| ASII | 1.20096000 | 205.36416000 | 171 | 0 | 0 | 0 |
| SPT | 0.00235000 | 41.04667123 | 0 | 0 | 5868.13571 | 11598.5329 |
| ONEUP | 0.02059000 | 21.44718574 | 0.71178058 | 286.9639797 | 20.01063099 | 733.94477617 |
| LEO | 0.25600000 | 5.68371200 | 0 | 11.439 | 4.869 | 5.894 |
| POB | 0.01986000 | 0.66676174 | 0.00836739 | 16.2911664 | 5.33156172 | 11.94200343 |
| CTP | 0.01732000 | 0.52987076 | 0 | 0 | 10.399 | 20.194 |
| CENT | 0.00955000 | 2.07379832 | 0.00328633 | 200.1316697 | 17.01670059 | 0 |
| VYB | 0.01712000 | 0.22569815 | 0.00485614 | 0 | 13.17844692 | 0 |
| NEOXAG | 0.00063000 | 0.02817902 | 6.26795019 | 0 | 18.46062331 | 20.00003495 |
| SPS | 0.11694000 | 177.08929145 | 0 | 14.22528264 | 1500.135 | 0 |
| DEC | 0.00307000 | 31.95490241 | 5252 | 5156.763 | 0 | 0 |
| CHAOS | 2.97000000 | 2120.58000000 | 714 | 0 | 0 | 0 |

---
---